The start of Minnesota Wild hockey is getting closer each day. While the 2015-16 season continues to creep closer, we'll carry on with our Wild previews and predictions. Today's preview features defenseman Jonas Brodin.
Previous previews: Mikko Koivu
2014-15 Review
Last season, Jonas Brodin became one of Minnesota's top defencemen, and proved he's very much worth that six-year, $25 million contract extension he recently signed.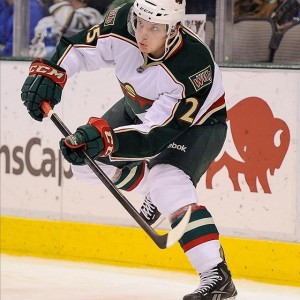 From the beginning of the season, the 22-year-old Swede seemed determined to bounce back from his sophomore slump of 2013-14. Brodin spent most of this year playing primarily alongside Ryan Suter and becoming a staple on Minnesota's blue line. Together, the two formed one of the best defensive pairings in the league.
Throughout 2014-15, Brodin logged the second-highest time on ice with an average of 24 minutes and ten seconds a game. Only Suter had a higher TOI for the Wild. Brodin also became Minnesota's plus/minus leader, as well as one of the most gentlemanly players in the league.
While Brodin grew tremendously in terms of defense, his offense almost completely disappeared. After scoring eight goals in 2013-14, Brodin dropped to only three goals this past year. His shot percentage also decreased dramatically, going from 10.8 percent to a mere 3.2 percent.
Nonetheless, Brodin is a defenseman and his primary job is not to put pucks in the net. Aside from his offensive decline, Brodin had a solid year in 2014-15.
2014-15 Regular Season Stats
Games played: 71 Goals: 3 Assists: 14 Points: 17 +/-: 21
When looking at these stats, remember Brodin is a lot younger than he seems. At only 22 years old, he has a lot of time to improve his game. The fact that Brodin is already playing as well as he did last season is a great sign for the Minnesota Wild.
2015-16 Predictions
Brodin undoubtedly has a bright future ahead of him.
In 2013, Brodin demonstrated his ability to produce offensively. In 2014, he showed he can be one of the best defencemen on the team, if not the entire league. It's clear Brodin can do it all; he just needs to find a way to combine both solid defensive play and offense.
This season, Brodin should be looking to put those two pieces together. If he continues to play alongside Suter, that will give him a good opportunity to take more shots and work on bringing back the offense.
This will be Brodin's third season in the National Hockey League. The 22-year-old may be young, but he's definitely not a rookie anymore. With 195 NHL games under his belt, Brodin knows what is expected of him, and most likely knows what he needs to improve on. This year, I'd expect to see him continue to mature and develop into a player that can provide both solid defense and some extra goals for the Wild. It seems like there's no going backwards for Brodin; he's only going to keep getting better.
Brodin may still have six years left on his contract with Minnesota, but now is the perfect time to prove he's a player this team can't be without.
Alli covers the Minnesota Wild and has been a contributing writer with THW since August 2014. She is currently a journalism and sports management student at the University of Minnesota. For all of your Minnesota Wild news and updates, follow her on twitter: @allibaker23