At the moment, defenseman Andrew Ference leads the Edmonton Oilers both on and off the ice, and as a result wears the captains "C" proudly.
Named team captain of the Oilers in September of 2013, Ference has not only been a tremendous leader on the ice since his arrival from Boston, but even more so off of the ice, hosting various community events as well as organizing the November Project.
The November Project is a fitness based gathering which welcomes all people in Edmonton to meet Ference, who leads the event, in an early morning work-out focused on building healthier bodies as well as relationships with others in the community.
However, despite all of the tremendous work Ference has done in his hometown of Edmonton, his contract is due to expire following the 2016-17 NHL season, which, paired with the sudden influx of many young, skilled defensemen on the Oilers, makes the likelihood of Ference's career continuing in Edmonton highly doubtful.
As a result, when Ference does, unfortunately, move on from Edmonton, the Oilers will be in search of a new team captain, and as Ference indicated in late August, that there are a number of highly capable captains on the current roster.
---
Oilers Have a Strong Leadership Group
According to Ference, he has a strong idea of who could and should take over the captaincy once he moves on, however, he quite obviously refused to name any specific player.
"It's not like I'm going to give you a list, but I definitely know who I'd pick."
Despite the Oilers boasting an incredibly young core of players, it is clear that a number of such individuals have displayed leadership qualities reflective of Ference's high standards, making them strong leaders in the locker room, despite how they may appear in front of a camera.
""Who's more talkative with the media doesn't mean they're super loud in the dressing room and, conversely, somebody who's quiet (in front of a microphone) doesn't mean they're quiet in the room."
Resulting from Ference's well spoken words is the speculation to which players he is referring. Certainly a number of players come to mind, especially those younger individuals who have been with the team throughout its recent years of ineptitude. In looking forward, lets take a quick moment to discuss the top candidates for Oilers team captaincy in the coming years.
---
Captaincy Candidates:
Taylor Hall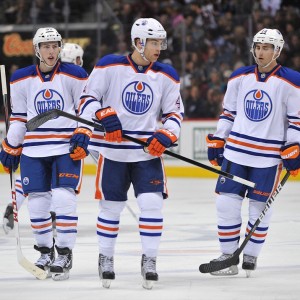 Alongside Jordan Eberle, Taylor Hall is the longest tenured player on the Oilers roster, as he and Eberle are the only players remaining from 2010-11 roster. In his five seasons with the Oilers, Hall has been the teams most lethal player offensively, yet has been set back by various injuries throughout his career.
Named an alternate captain by the Oilers in January of 2013, Hall is arguably the teams most competitive player, and has shown his determination to win in Edmonton throughout his young career despite the teams struggles, illustrated by his signing of a seven-year contract extension in the summer of 2012.
Ryan Nugent-Hopkins
Despite his quiet demeanour, Ryan Nugent-Hopkins is clearly a strong leader, and as a result has been named a team captain virtually everywhere he has played. Not only was Nugent-Hopkins named an assistant captain of the Red Deer Rebels, his junior team in the Western Hockey League, but he was also named captain of Team Orr in the 2011 CHL/NHL Top Prospects Game, as well as captain of Team Canada at the 2013 World Junior Hockey Championship. Quite clearly, Nugent-Hopkins is an exceptional leader, although he is portrayed as quiet and reserved by the media, a portrayal which Ference has indicated is of little relevance to a true leader.
Connor McDavid
Could Connor McDavid be the captain of the Oilers in 2017-18? Now, before a heated debate begins based on the fact that he has yet to play an NHL game, it is important to remember that this change would come following two seasons of play for McDavid.
Although he would be a young captain at the age of 20, let's not forget about other young stars named team captains in NHL history. Sidney Crosby was named captain of the Pittsburgh Penguins at the age of 19, and so too were Vincent Lecavalier and Gabriel Landeskog, Lecavalier with Tampa Bay and Landeskog, the youngest in NHL history, with the Avalanche. So, based on recent history, McDavid becoming the captain of the Oilers would not be odd, but would rather be reflective of the generational skill and talent of he and other young stars before him.
---
Have Your Say! Who Will be the Oilers' Team Captain of the Future?
Brett Slawson is a four-year veteran of The Hockey Writers who covers the Toronto Maple Leafs, NHL prospects, and the OHL's Mississauga Steelheads.
Contact Brett on Twitter @brettslawson92, or by email at brett_slawson@hotmail.com.