by Eldon MacDonald (edited by @ChrisRalphTHW)
Sensational Summer Prospect Happenings
The three main prospect happenings this summer for the Ottawa Senators were:
The Robin Lehner Trade: I like Robin Lehner but Ottawa just could not keep three NHL goalies. The return for Robin was good for the depressed goalie market – a first round pick in 2015.
The 2015 NHL Draft: The Ottawa Senators drafted three of my personal favourites so, needless to say, I thought the Senators did particularly well. My three favourites were:

Colin White: 1st round at 20th – If you like Dylan Larkin or Curtis Lazar, you will love this guy.
Gabriel Gagne: 2nd round at 36th – Huge guy (6'5) with huge potential and an excellent finishing touch.
Christian Jaros: 5th round at 139th – For me, the best defenseman out of Slovakia in the draft. His critics accuse him of having slow feet. While this may be true, I don't think they are nearly as bad as some of his critics suggest.

The Matt O'Connor Signing: The Matt O'Connor signing may not make much of a difference this year but I suspect it might a few years down the road. This is what Matt told NHL.com after the signing, "I'm a big goalie and I always need to get quicker moving laterally. I think my game really improves working with a good strength coach as well, but (Senators goalie coach) Rick Wamsley will work me hard. He's a good, hard-nosed guy that's going to develop my game as a goalie in many aspects like playing the puck, positioning and playing a bit more of an aggressive style."
E-Mac's Impact Prospects
The top five players on the Senators Prospect List have a strong chance of making the NHL and being impactful when they do. In addition, there will likely be some of the others who make the NHL, but they are either less likely to have an impact or less likely to make the NHL. Possessing five impact players is around the average amongst NHL teams.
As for the rest of the league, the team with the most impact players is Winnipeg with 9 followed by Arizona and Detroit with 8 apiece. Los Angeles trails with just 1.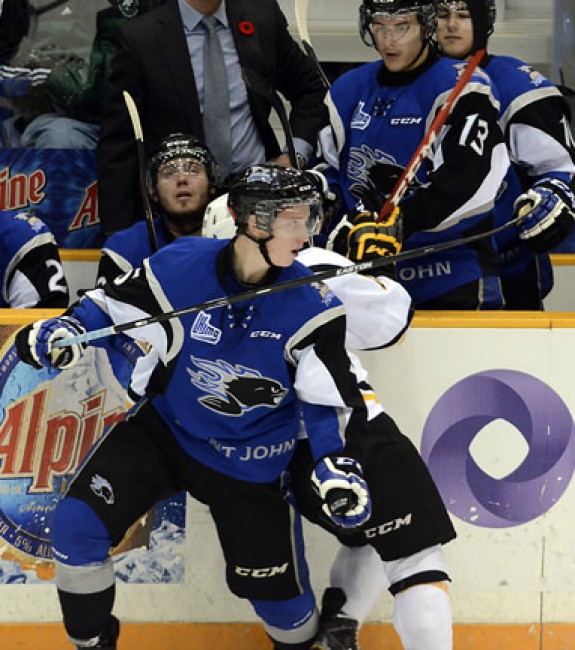 Already Arrived
21 and Under Players as of September 15, 2015 in the NHL
(to give one the big picture of young players in the organization)
Drafted: 2012-15
2014-15 Team: Ottawa, NHL
D, R, 6'3, 209, 81-5-16-21, (-4)
Drafted: 2013-17
2014-15 Team: Ottawa, NHL
C/RW, R, 6'0, 196, 67-6-9-15 (+1)
Editor's Note: The Sens prospect pool may very well be underrated in our rankings. E-Mac had them ranked 12th, while I had them 15th. Interesting the remaining three colleagues ranking the teams all had them in the bottom five. (Link to rankings of all teams)
Ottawa Senators Next Ones: Top 10 Prospects Summer of 2015
The Next Ones Summer Prospect List includes the top 10 prospects along with 5 honorable mentions and any other 2015 draft choices not previously listed.
Team work, building our chemistry #HungryDogs @SJSeaDogs @paulb_a pic.twitter.com/zRKHtufAWi

— Thomas Chabot (@ThomasChabot1) August 29, 2015
Drafted: 2015-18
2014-15 Team: Saint John, QMJHL
D, L, 6'2, 181, 66-12-29-41 (+6)
Thomas Chabot is this year's Travis Sanheim. He is a player I didn't much like at the beginning of the year as he lacked strength and was prone to giveaways. However, in Travis Sanheim fashion from the 2013-14 campaign, Thomas just kept getting better and better as the year wore on and by the end of the year I had him ranked 20th. In the end, the elite skating, passing, hockey sense plus the ability to just take charge of a game won me over. Thomas is still a project and will need to increase his strength to make it in the NHL, but there is not much doubt that this a prospect with a bright future in the NHL.
Drafted: 2015-20
2014-15 Team: USA U18 NTDP, USHL
C, R, 6'0 183, 53-23-31-54
Colin White is one of my favourite players from the 2015 draft. This is what I wrote about earlier this year when I did a draft profile on him here at THW, "Every year there seems to be a high-end prospect underappreciated in the media and the rankings. These prospects seem to share the same characteristics – average size, exude quiet leadership and confidence, play a 200 foot game, show high-end athleticism, show a high level of compete, do all the little things that make a Coach's face light up and produce the big game results when required. The prospect matching that description this year is Colin White." Although it appears he will go to Boston College this year, I think he is close to NHL ready and is likely to have a breakout year in the NCAA like Dylan Larkin did last year. Last year he was slowed by mono and injuries – this year we hopefully will see the real Colin White. Senators fans, I think you will love this player.
https://twitter.com/Sens_Army_/status/615182686781468673
Drafted: 2013-101
2014-15 Team: North Bay, OHL
C, L, 6'3, 198, 58-37-29-66 (+25)
Nick Paul will make the NHL whether it is this season or next. He has the size, he can play physical, he can give you that big-man speed, and he can play defense the way a defensive coach like Stan Butler (his coach last year in North Bay) wants him to play. Nick is not a top offensive talent but someone who could bring a lot to your bottom six like he did for Team Canada when they won gold at last year's IIHF U20 Tournament. Senators General Manager, Bryan Murray, thinks he could make the team some time this season as he told NHL.com, "(Paul) might be ready to play – and I shouldn't say this – within the first couple of months of the year. He looks like the kind of player you send him to the minors and let him play some pro games down there and by the second half you're saying why isn't he on our team? There's a few guys like that I see over there (at the Senators' development camp)."
Drafted: 2011-24
2014-15 Team: Binghamton, AHL
LW, L, 6'0, 196, 51-12-20-32 (-13)
Hard not to love goal scorers and Matt Puempel is just that. He has a great shot and soft hands. He still needs to improve his strength and defensive play. His career has been dotted with injuries. I am hoping that Matt can have an injury free season and get a chance to make the Senator line-up. The Senators could use a goal scorer other than Mark Stone.
Is Puempel poised for a breakout next year? He shows up at no. 9 on our Top 25 Under 25 series http://t.co/X4IVS9beRW by @CallumFraser18

— Silver Seven (@silversevensens) August 24, 2015
Drafted: 2015-36
2014-15 Team: Victoriaville, QMJHL
RW, R, 6'5, 187, 67-34-25-59 (+2)
Gabriel Gagne is a guy with huge potential. First of all, he is huge at 6'5. He also has an elite finish to go with soft hands. He still needs to improve his acceleration and strength. Last year, you could see that the coaches were trying to make him play more physical. You could see him run up and cross-check a player by putting his stick against his opponent's back. You would swear that he was whispering in the player's ear, "Désolé, l'entraîneur m'a fait à le faire (Sorry, the coach made me do it.)." With a little more strength, I think the désolés could be a thing of the past and you can start to see a little more of the physicality associated with the big boys such as Canadiens' prospect Micheal McCarron and Flames' prospect Hunter Smith. Gabriel Gagne has the power forward potential; he just has to put in the work to realize it. He has a higher end offensive upside than either McCarron or Smith.
Undrafted – First year of draft eligibility – 2010
2014-15 Team: Boston University, Hockey East
G, L, 6'5, 186, 35-2.18-.927
Yes, he let in one bad goal and yes it probably cost the Boston University Terriers and Jack Eichel the NCAA championship. However, any goalie will tell you one bad goal does not make a game let alone a career. Matt O'Connor is a high-end goalie prospect; one that could break into the NHL in the not too distant future. As with all goalies, there is no sure thing but this is a prospect that I think Senators fans will embrace.
Couple of insane saves by @MatttOConnor !!!! / Plusieurs arrêts spectaculaires de Matt O'Connor !!! #Sens prospect https://t.co/JTNzCPDF2m

— Sylvie Marsolais (@Sylabrush) August 6, 2015
Drafted: 2012-196
2014-15 Team: Frölunda, SWE 1 (SHL)
D, L, 6'2, 196, 46-5-15-20 (+3)
Mikeal Wikstrand is a 7th round pick from 2012 who has been playing for Frölunda in the SHL, the top Swedish professional league, and doing admirably. He just finished an excellent rookie camp with the Senators. Randy Lee, the General Manager of the Binghamton Senators, was very pleased with his performance. While it remains to be seen what happens for sure, there is a good chance that we will see Mikael in a Binghamton uniform this fall according to this article from SilverSevenSens.com. If he does, Binghamton fans should see an NHL size defenseman with slick skating and offensive skills together with solid defense who has a chance to make it, despite being a late round pick.
Drafted: 2012-61
2014-15 Team: Binghamton, AHL
LW, L, 5'10, 190, 72-27-38-65 (+7)
Shane's coach in the AHL, Luke Richardson, described him to NHL.com like this, "Everyone wants to score goals, but he's really driven by scoring goals. He's a real competitor, and that's a good thing. You can coach systems, and positions, and even a little technique, but you can't coach emotion. He's got it." After three seasons in the AHL, Shane is likely to get some looks this year even if he doesn't make the team out of camp. Although he is a smaller player at 5'10, he had a very good year last year at Binghamton (65 points in 72 games) and has been working on refining the things that have probably kept him out of the NHL until now – defense and strength. At 190 lb., he has a Max Domi size – Max Domi is going to make it; Shane Prince has a very good chance to make it as well.
Drafted: 2014-40
2014-15 Team: Djurgården, SWE 1 (SHL)
D, L, 6'3, 198, 49-2-3-5 (-13)
This is what I wrote about Andreas Englund when I did his draft year profile here at THW, "Who is Andreas England? Well, take a Hal (Harold) Gill; sprinkle him with the ability to skate and make a very nice first pass; then add a little bit of Douglas Murray lack of tenderness and you pretty much got it – a solid NHL size stay at home defenseman with some bite – no dangles, very little puck rushing even though he is a powerful skater, just the D." He has another year left on his contract with Djurgårdens of the SHL, the top Swedish professional league. I would expect him to come over to North America for the 2016-17 season.
Drafted: 2015-51
2014-15 Team: Charlottetown, QMJHL
C, L, 6'1, 196, 65-33-42-75 (-16)
OK, I am not going to lie to you – I have never been a big Filip Chlapik fan and I have seen a lot of him – maybe it is the skating; maybe it is a lack of dynamic offense. Others, however, like this player a lot. Let's hope the others got it right.
Editor's Note (Chris): Although just a brief glimpse, I actually really liked his two-way steady play in Hockey Canada's Summer Showcase when Czech Republic played Team Canada. Chlapik was a player that stood out in that game, hard on the puck and difficult to play against.
https://twitter.com/SullivanLarson_/status/628995412116963329
Five Honorable Mentions
Just outside the top 10, you will find in alphabetical order:
HM – Claesson, Fredrik – (2011-126) – 14-15 – Binghamton, AHL, D, L, 6'0, 198, 76-4-15-19 (-6)
HM – Harpur, Ben – (2013-108) – 14-15 – Barrie, OHL, D, L, 6'6, 212 , 57-5-21-26 (+10)
HM – Lindberg, Tobias – (2013-201) – 14-15 – Oshawa, OHL, LW, L, 6'2, 201, 67-32-46-78 (+33)
HM – Hogberg, Marcus – (2013-78) – 14-15 –  Linköping HC, SWE 1 (SHL), G, L, 6'5, 212, 27-2.30-.917
HM – Schneider, Cole – (2008-Undrafted) – 14-15 – Binghamton, AHL – W, L, 6'2, 185, 69-29-29-58 (+3)
Other 2015 Draft Choices Not Listed Above
The other 2015 draft choices not previously listed above:
2015-107 – Wolanin, Christian – 14-15 Muskegon, USHL – D, L, 6'2, 183, 56-14-27-41 (+14)
2015-109 – Ahl, Filip – 14-15 –  HV71 J20, SWE J20, W, L, 6'4, 212, 34-20-22-42 (+5)
2015-139 –Jaros, Christian – 14-15 – Luleå, SWE 1 (SHL), D, R, 6'3, 201, 25-0-1-1 (-3)
2015-199 – Daccord, Joel – 14-15 – Cushing Academy HS, HS MA, G, L, 6'3, 190, 1.80, .933
Have Your Say
survey software
Dare to Compare
Buffalo Sabres Next Ones: Top 10 Prospects
_________________________________________
Chris is THW's senior draft/prospect analyst and a Managing Editor. Watch for "The Next Ones" Prospect Profile series, exclusive rankings, mock drafts, as well as the annual THW NHL Entry Draft Guide. Follow @ChrisRalphYQ on Twitter as he infiltrates, dissects and analyzes all happenings of hockey prospects and the NHL entry draft. Email: cralph[at]thehockeywriters[dot]com