by Eldon MacDonald (edited by @ChrisRalphTHW)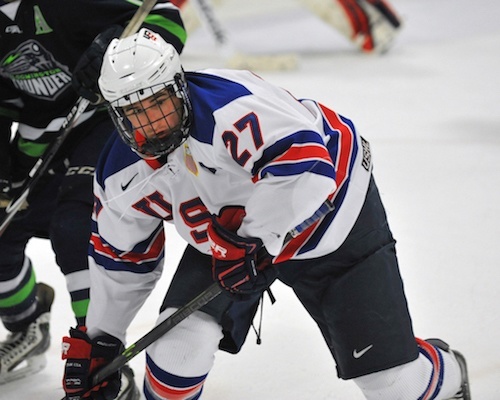 NHL Draft War Room: Colin White
Ranked #15 – War Room Final Rankings
Hashtag: #MrUnderappreciated
Team: #27, Team USA U 18 NDTP (USHL)
Commit: Boston College
Position: Centre/Right Wing
Shoots: Right
Height: 6'0
Weight: 183 lb.
Born: Hanover, MA, 30-Jan-97
Twitter: @colinwhite37
Colin White – 72.3 inches tall, 72.3 wingspan, 177.35 lbs, & 9.3 % fat #NHLDraft

— HockeyProspect.com (@ScoutingService) June 13, 2015
Stats
Other Rankings
THW's Draft War Room:
Colin White – "Mr. Underappreciated"
Eldon MacDonald, THW:  A few words on Colin White:
Mr. Underappreciated: Every year there seems to be a high-end prospect underappreciated in the media and the rankings. These prospects seem to share the same characteristics – average size, exude quiet leadership and confidence, play a 200 foot game, show high-end athleticism, show a high level of compete, do all the little things that make a Coach's face light up and produce the big game results when required. The prospect matching that description this year is Colin White. Colin had a difficult year with mono and multiple injuries so his stat line was correspondingly modest with 54 points and 54 games. However, just as the season was about to end, he shook off the mono and the injuries and led Team USA to a Gold Medal at the 2015 U18s – dominating the final two games when it counted the most and finally scoring the tournament winning goal in overtime.
In case you are wondering how some of the underappreciated prospects in prior years have turned out, here is a small sample:
2014: Dylan Larkin (15th to Detroit) – Recently named Hockey's Future 2015 Prospect of the Year.
2013: Curtis Lazar (17th to Ottawa) – Assistant Captain of Memorial Cup Winner (Edmonton Oil Kings), Captain of U20 Gold Medal Winner (Team Canada) and a current member of the Ottawa Senators.
Colin White is a prospect who I believe will achieve a level of success comparable to some of the under-appreciated prospects from recent drafts like Larkin and Lazar. In short, Colin White is a winner and the team that drafts him will be very happy.
Five Reasons Why Colin White Should Be Selected in the Top 15
Character and Leadership: Assistant Captain of the USA U18 NDTP team. Plays with a compete level and confidence that other players feed off.
High-end Athleticism: Four top 10 results at the 2015 NHL Combine – long jump, vertical jump, agility right and agility left. I am not sure if there ever was a player who led in agility from both sides before this year's Combine.
Versatility: Can play center or wing, shutdown or last minute get a goal, penalty kill or power play; can produce the same high-end energy and compete to all areas of the ice in all situations.
Big Game Results: Results count, Colin White has them – Gold medal and tournament scoring champion with Team USA at the 2014 U17 World Hockey Challenge and a gold medal and tournament winning goal in overtime with Team USA at the 2015 U18 World Junior Championship.
Coach's Dream: Throw him in any situation, ask him do any task and he will do it and do it right. In fact, you don't have to ask – Colin has a professional way of doing the little things that will help ensure his success in the pros.
Colin White (@USANTDP): "I want to put up more than a point per game at Boston College." #NHLDraft @USHL http://t.co/8j2mql4mey

— USA Junior Hockey Magazine (@usajuniorhockey) June 14, 2015
Offense
Skating – Dynamic, good acceleration, excellent agility, separation speed.
Shooting – Quick release, excellent accuracy, very nice one-timer, knows where to go to make good things happen.
Passing – Not a classic high-end passer but one who is very effective off the rush or on a turnover.
Puck possession – Strong on the face-off, on the cycle, on the wall, on his skates with strong lower-body strength.
Hockey sense – Weighs the options, knows when to dish and when to shoot. A definite strength.
Defense
Back-checking, fore-checking – Relentless.
Hounding the puck carrier – Still relentless.
Quick stick – The master of the turnover.
Good at the face-off circle – Check.
Supports his defense – Check.
Kills penalties – Check.
Reads the plays on defense – Check.
Awards and Achievements
2013-14: Team USA – Gold Medal – 2014 U17 World Hockey Challenge
2013-14: Team USA – Tournament All-Star – 2014 U17 World Hockey Challenge
2013-14: Team USA – Tournament leader in goals, assists and points – 2014 U17 World Hockey Challenge
2014-15: Team USA – Gold Medal – 2015 U18 World Championship
Improvements to Make: Colin White is a complete player now. He does not have any major weaknesses. His game, like with most prospects at this age, could still improve and I believe the two things that could help the most to bring his game to another level are:
Strength – A guy whose game is predicated on puck possession, winning board battles, winning scrimmages and cycling needs to be as strong as he can be to win all those battles. A little more upper-body strength would go a long way to help achieve these wins.
Offensive consistency: Colin needs to bring the same level of determination and consistency to his offensive game as he brings to his defensive game now. Colin has still untapped offensive upside that can be unleashed if he upgrades his focus on offense to the same level as his defense.
NHL Projection: The defense is already there (with a little added strength) for an NHL Coach to tap Colin White on the shoulder in the not too distant future and say, "go out there and be my shutdown centre". The level of offense this year was somewhat hidden by injuries and mono but I believe Colin will breakout next year and show the offense needed to be a top six player in the NHL on a winning team.
2015 NHL Draft Profile: Colin White has all the skills necessary to make it to the NHL http://t.co/Mpp5lqJ5e2 pic.twitter.com/DxtjSNc3yQ

— Marc Dumont (@MarcPDumont) May 27, 2015
Draft Placement: The rankings above are mainly concentrated in the 14-23 range. However, a savvy GM will hone in on Colin's big game results and this year's rise to prominence of Dylan Larkin, and take him in the high-end of that range – second line shutdown centre on a winner – sounds like good value to me.
Quotable
The Draft Analyst | Draft Profile: Colin White, USNTDP. http://t.co/spTa5PE4NU Ranked 29th by NHL's CSB pic.twitter.com/wAJdo7O89n

— The Draft Analyst (@TheDraftAnalyst) May 29, 2015
Interview
Profiles
Videos
Chris is THW's senior draft/prospect analyst and a Managing Editor. Watch for "The Next Ones" Prospect Profile series, exclusive rankings, mock drafts, as well as the annual THW NHL Entry Draft Guide. Follow @ChrisRalphYQ on Twitter as he infiltrates, dissects and analyzes all happenings of hockey prospects and the NHL entry draft. Email: cralph[at]thehockeywriters[dot]com