Whether to shoot, or make the pass – that is the question. In hockey, sometimes it comes down to one simple, and incredibly complex split-second choice. At 5:15 in the 3rd period during Game 6 of the 2015 Stanley Cup Finals, the answer was easy for Chicago Blackhawks center Brad Richards (#91): make the pass. It was the decision that guaranteed a 2nd Stanley Cup for Brad Richards and the 3rd for the Chicago Blackhawks in six years.
Good Decisions
Making the good decision is something that the 35-year-old Richards has been able to do ever since he was a young player. During Bantam AAA tryouts for the Athol Murray College of Notre Dame, a residential high school that's sometimes described as a "hockey factory" in the tiny village of Wilcox, Saskatchewan, coach Terry O'Malley remembers defending Richards as a team pick. O'Malley, a three-time Canadian ice-hockey Olympian and one-time bronze medal winner and IIHF Hall of Famer, won the argument.
There were other evaluators that didn't think initially that the boy from Murray Harbour, P.E.I., belonged on that top level Notre Dame Hounds' team.
"He was skilled, but he wasn't a great skater, and he wasn't quite big enough, compared to some of the other players trying out," O'Malley tells me, on the phone from his home in Regina, Saskatchewan. What O'Malley did see, was that intangible something extra the son of lobster fishing parents had, even as a 14-year-old: the ability to see the game unfold – a vision of the play.
"I told them, 'Every time he gets the puck, good chances were happening,'" O'Malley explains. "And he's done that all through his hockey career, and it still happens out there today in the NHL."
Richards was put on the top level Bantam team. Johnny and Roseline Weisshaar, the team's manager and his wife, were often the hosts to Richards' parents when they made the 2,500 mile journey from Murray Harbour to Saskatchewan to watch their only boy play during the three years he played hockey at the college. Now living in Bridgenorth, Ontario, Weisshaar remembers his development.
"The more he played, the better he got," Weisshaar tells me. "You could see the boy had potential." Richards played two years of Bantam hockey and one year of Junior A hockey while going to school at Notre Dame. "We really liked the kid," Weisshaar added.
The Little Engine That Could
"The Junior coach was skeptical Richards could play Junior because of his size," O'Malley says. "I said, 'Don't worry about that. He's 'The Little Engine That Could' – he'll quarterback your powerplay (which he did), he's a great competitor who sees the ice very well and has an unbelievable ability to perform, to raise his game."
Richards roomed with another future NHL player, Vincent Lecavalier, who went to play in his home province of Quebec for the Rimouski Oceanic in Grade 11. O'Malley tells me Lecavalier convinced the Oceanic owners and scouts to make the trip out west and go to a game at Notre Dame College to watch Richards play for the Hounds' Junior A team.
"Out in Wilcox, our coaches were in their jeans, jackets and ball caps," O'Malley, now 74, recalls. "These guys from Rimouski were dressed in fancy clothes – everyone knew they were there, owners and scouts. Richards really put on a show for them – he ended up getting 3 or 4 points that night. They couldn't turn him down."
"When he's had to turn it on, he turns it on," O'Malley says. "He can see the puck so well. He has an uncanny ice sense. That's what makes him so great."
Two Goals and Two Points for Richards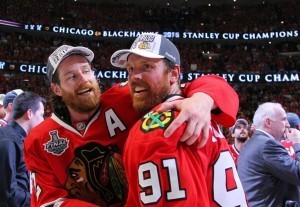 Chicago scored two goals in Game 6, a game that gave them the Stanley Cup, and Richards had his hands in both of them. The first, by eventual 2015 Conn Smythe Trophy winner, 31-year old defenseman and alternate captain Duncan Keith (#2), was a rebound goal on Lightning goalie, Ben Bishop (#30). It was a play initially set up by Richards to 26-year-old right winger, Patrick Kane (#88) to Keith who shot on goal and picked up the loose rebound when Bishop stopped but wasn't able to freeze the puck.
When the Lightning came out of the dressing room in the third period, their team on fire, relentlessly trying to get shots on Chicago's goalie, 30-year-old Corey Crawford (#50). But a broken stick for Lightning's defenseman, 30-year-old Braydon Coburn (#55), gave the puck back to Blackhawks, becoming a three-on-two opportunity.
Twenty-two-year old Brandon Saad (#20) approached the offensive zone on the wing, with Kane over on the right, and Richards coming down the middle. Bishop, the Bolts' goalie, was hugging the right side of his net with Saad's approach, and as Saad made the pass to Richards, Bishop moved – perhaps giving Richards a peek of the net.
But Richards knew that Kane was on the right side and would have an easy shot. Instead of shooting on Bishop, the expected play, he faked the shot, freezing the goalie, and made a no-look pass to Kane, who put the puck in for the momentum-killing second goal.
"It was the same thing when he played at the College," O'Malley tells me. "We'd look at the game sheet after the game and Richards' name would be on the sheet two or three times! The same thing happened last night."
Richards picked up an assist on each of Chicago's goals.
Second Stanley Cup
This is Richards' second Stanley Cup. His first came in 2004 as a member of the Tampa Bay Lightning – the team that drafted him 64th overall. As a Lightning Stanley Cup winner, Richards received both the Lady Byng Memorial Trophy for sportsmanship and the Conn Smythe Trophy for being his team's MVP.  In 2008, Richards was traded to the Dallas Stars and, when he became an unrestricted free agent in 2011, he signed a 9-year contract with the New York Rangers. The Rangers bought out the rest of Richards' contract last summer and he subsequently signed a one-year contract with the Blackhawks for the 2014-15 season a week later. On signing with the Hawks, Richards was quoted as saying:
"I knew I could go there and try to help this team win again. It's an amazing opportunity for me."
---
Richards was one of four Hounds in the 2015 Stanley Cup finals who went to Notre Dame College and played hockey while going to high school there. The three others are the Chicago Blackhawks backup goalie, Scott Darling, Lightning coach Jon Cooper, and the broken-stick owner of that second, momentum-killing goal, Braydon Coburn. As for Richards, his 15th NHL season may have netted him a mere 34 points – his second worst professional record, but his playoff record of 14 points ranked him 6th on his team, with a plus/minus of 4.
Strategist, writer and hockey mom. Notre Dame Hound. Luctor et emergo.