by Eldon MacDonald (edited by Chris Ralph)
Sabres NHL Prospect Pool Power Ranking: 5th
Offseason Optimization
The amassing of talent has hit critical mass for the Buffalo Sabres and fans are exhilarated, anticipating what's to come. The three biggest transactions this summer furthering this metamorphosis were:
The Jack Eichel Draft: The most important figure associated with Jack Eichel is not whether he was selected number one or my two in the draft. It is 17,115 – the number of fans who attended a rookie camp scrimmage in mid-July ostensibly to see Jack Eichel. Yes, the excitement is back in Sabre hockey, the franchise is now on the way to winning again even if it is does not come as quickly or produce as many wins as Sabre fans would like initially. Jack Eichel is a franchise player. Edmonton Oilers may have won the lottery but the Buffalo Sabres grabbed hockey's ultimate consolation prize in Jack Eichel.
17,115 in the house tonight. Buffalo, you're ridiculous.

— Kris Baker (@SabresProspects) July 11, 2015
The Ryan O'Reilly Trade: I like this trade. It means that Jack Eichel can be an understudy while still playing in the top six. Ryan O'Reilly is a very good player in his own right. Contract difficulties in Colorado led to his inevitable trade. With his big new contract (7 years and $52.5 million), those difficulties are a thing of the past. He's an on ice warrior and will only help all the young Sabre forwards.
The Robin Lehner Trade: It got kind of comical last year in Buffalo last year on the goalie front. It seemed like every time a goalie made a good save, he got traded. Remember Michal Neuvirth? Recall Jonas Enroth? Anders Lindback? Matt Hackett? You get the picture. Tim Murray was serious about the rebuild. He was going to do anything within his power to let every team to get ahead of him last year. This year is a different story. Tim Murray went out and got one of the best young goalies available in Robin Lehner. He was available because the Ottawa Senarors had a glut of top-notch goalies and prospects (Craig Anderson, Andrew Hammond and Matt O'Connor). With goaltenders, there are no guarantees but I approve of this trade.
And let's not forget February 12, 2015 – yes, Evander Kane will finally don the blue and gold next season.
E-Mac's Impact Prospects
The top five players on the Sabres Prospect List have a strong chance of making the NHL and having a positive impact on the team when they do. In addition, there will likely some of the others who make the NHL. However, they are either less likely to have an impact or less likely to make the NHL or both. Five impact prospects is roughly the average across NHL teams, but not too many teams have two elite prospects like Jack Eichel and Sam Reinhart. Thus, I would rate Buffalo as a team towards the high-end of the prospect rankings.
In comparison to the rest of the league, the team with the most impact prospects is Winnipeg with 9, followed by Arizona and Detroit with 8 apiece. Los Angeles is in the cellar with just 1.
Already Arrived
21 and Under Players as of September 15, 2015 in the NHL
(to give one the big picture of young players in the organization)
Drafted: 2013-8th
2014-15 Team:  Buffalo, NHL
D, R, 6'4, 219, 78-8-12-20 (-32)
Drafted: 2012-14th
2014-15 Team: Buffalo, NHL
C, L, 6'1, 190, 61-15-15-30 (-16)
Buffalo Sabres Top 10 Prospects: Summer of 2015
The Sabres Next Ones Summer Prospect List includes the top 10 prospects along with 5 honorable mentions and any other 2015 draft choices not previously listed.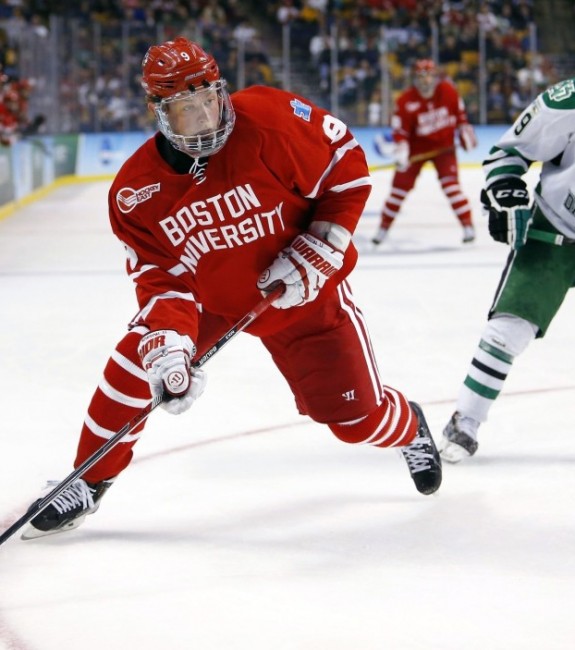 Drafted: 2015-2nd
2014-15 Team: Boston University, Hockey East
C, R, 6'2, 185, 40-26-45-71 (+51)
I am not going to write much more about Jack Eichel other than to say; Jack Eichel is a franchise player that you build a team around and Jack Eichel is a winner. Let the winning and the building of a championship team commence.
https://twitter.com/martin_bielicki/status/620258243135295488
Drafted: 2014-2nd
2014-15 Team: Kootenay, WHL
C, R, 6'1' 190, 47-19-46-65 (+6)
The only controversy for me in the Ryan O'Reilly trade was, "What does this mean for Sam Reinhart, a player who will eventually be a top six player? Where will he play, center or right wing?" While it probably doesn't mean anything for the next two to three years, it looks like it could cause at least some controversy down the road. For now, everything is good. As Sam, himself, told NHL.com, "I'd be open to anything. I've played everywhere, including defense, in my career, so I'm comfortable at any position. I'm not saying that's going to happen. I've played wing a lot. … It's not a strange thing for a young guy to come into the League and have to play wing. I'm prepared for whatever's thrown at me, and I'm excited for the challenge."
Drafted: 2013-118th
2014-15 Team: Univ. of Minnesota, Big Ten
RW, R, 6'2, 207, 34-12-14-26 (+18)
Hudson Fasching is a guy that I had in the first round until near the end of his draft year. However, a lack of drive and consistency forced me to move him back towards the end of the second round. He ended up going to LA at the end of the 4th round. So I expected that was the last I would ever hear about Hudson Fasching. Hudson Fasching showed up in his post draft year with those drive and consistency issues as a distant memory. He was a physical force, a power forward who looked very good for Team USA in the U20's and the University of Minnesota in the Frozen Four Tournament. Unfortunately, last year was not so kind to Hudson Fasching. Yes, he was still good (for both Team USA and the University of Minnesota) but he didn't seem to be able to elevate his game from the previous year. This year, he appears to be returning to the University of Minnesota. He will need to continue to improve his game but if he does I expect that you will like what you see when he eventually dons a Buffalo Sabre uniform for good.
Drafted: 2012-44th
2014-15 Team: Rochester, AHL
D, L, 6'0, 195, 57-5-24-29 (-3)
Jake is known as a solid puck moving defenseman. Solid going forward because of his high end passes, his excellent first pass and the high-end skating to move it out himself. Solid on the backend because of his strong positional play, high end IQ and the skating ability necessary to not get beaten of the rush. He is not a big hitter but plays physically enough to get the job done. He is a player who would be effective on the PK or on a second unit power play in the NHL. If all goes well, he could be a second pairing defenseman in the NHL.
Drafted: 2010-23rd
2014-15 Team: Rochester, AHL
D, R, 6'1, 192, 64-3-14-17 (-2)
Mark Pysyk is a guy you can play in any situation. He is not going to wow you but he is likely to get the job done. He possesses the skills, physical and mental, to be successful at the NHL. His biggest asset is his skating ability. His weak spots are his strength and physicality. Mark had some illness issues last year which limited his time at the end of the season. Hopefully, he will start the season at full health so he can compete for a roster spot.
Drafted: 2013-69th
2014-15 Team Erie, OHL
RW, R, 6'0, 196, 53-32-32-64 (+9)
Name the only guy in hockey who has been the wing man for the top three picks in the 2015 NHL Draft – Connor McDavid, Jack Eichel and Dylan Strome. If you said Nick Baptiste, give yourself a pat on the back. Nick is not the biggest guy out there but he plays like he is. He has the shot, the speed, the work ethic, the physicality, ability to excel on the power play or the penalty kill, and the ability to play with some of the best players. He will likely start the season in Rochester but could get some looks later in the year. He is a prospect who has the right physical and mental tools to make it.
.@NickBaptiste talks about his #SabresDevCamp, time with @ErieOtters & his goals going forward: http://t.co/fDguJhCfEt

— Buffalo Sabres (@BuffaloSabres) July 9, 2015
Drafted: 2013-52nd
2014-15 Team: Sault Ste. Marie, OHL
RW, R, 6'3, 190, 57-34-35-69 (+6)
Justin Bailey has been one of my favourite prospects for quite some time. He has the size, he has the hands, he has the shot, he has the skating and he just has an elegance about him. Unfortunately, his game has stagnated despite his physical assets. He still possesses promise, but he will need to show a lot more of it next year to continue moving upward in the organization.
Drafted: 2013-147th
2014-15 Team Providence, Hockey East
D, R, 6'2, 209, 40-3-11-14 (+15)
Anthony Who? Anthony the blueliner who helped the Providence Friars to their first ever NCAA Championship by beating Jack Eichel's Boston University Terriers. Anthony was also on the Tournament all-star team. Anthony provides leadership, physicality and a solid defense from the back-end. Although he is not noted for his offensive prowess, he has a solid shot which was noticeable on the first goal in the NCAA Championship game. He is a guy who definitely made the right choice in going the University route. A couple of more years at Providence and there is a good chance that he could be in the Buffalo lineup soon thereafter.
Drafted: 2015-51st
2014-15 – Prince Albert, WHL, D, L, 6'2, 184, 72-5-27-32 (-6)
Brendan Guhle had two seasons – before the BMO NHL/CHL Top Prospects Game and after it. Before the Top Prospects Game, Brendan's game just wasn't really there. However, a Top Prospects Game (as well as the Skills Competition before the game) where he wowed the scouts with his skating seemingly changed everything. Although still a very raw prospect, Brendan was much better the rest of the season. Where he goes from here is very much dependent upon him progressing like he did at the end of the season. The size and the skating are there; the game still needs refinement but it is going in the right direction. He is a prospect with significant potential but a long ways to go to reach that potential.
https://twitter.com/MarkStaudz/status/626024294577868800
Drafted: 2012-163rd
2014-15 Team: MODO, SWE 1 (SHL)
G, L, 6'3, 198, 35GP – 3.12 GAA – .905 SV%
Now you have it – 2013-14 SHL Goalie of the Year and Best Save % (.931); now you don't – 2014-15 .905 save percentage on a bad team. Who is the real Linus Ullmark? Perhaps we will see close-up this year if he makes the Rochester Americans, the Sabres AHL club.
Five Honorable Mentions
Just outside the top 10, you will find, in alphabetical order:
HM – Akeson, Jason – (2008-Undrafted) – 14-15 – Rochester, AHL – RW, R, 5'10, 190, 57-23-30-53 (-11)
HM – Borgen, William – (2015-92nd) – 14-15 – Moorhead HS, HS MN, D, R, 6'2, 190, 24-3-16-19 (-1)
HM – Carrier, William – (2013-57th) -14-15 – Rochester, AHL, LW, L, 6'2, 196, 63-7-14-21 (+1)
HM – Rodrigues, Evan – (2011-Undrafted) – 14-15 – Boston University, Hockey East – RW, R, 5'11, 179, 41-21-40-61 (+30)
HM – Ruhwedel, Chad – (2008-Undrafted) – 14-15 – Rochester, AHL – 5'11, 181, D, R, 72-10-26-36 (-6)
Other 2015 Draft Choices Not Listed Above
The other 2015 draft choices not previously listed above:
2015-122nd – Stephens, Devante – 14-15 – Kelowna, WHL, D, L, 6'1, 174, 64-4-7-11 (+17)
2015-152nd – Estephan, Giorgio – 14-15 – Lethbridge, WHL, C, R, 6'0, 163, 64-23-28-51 (-1)
Giorgio Estephan is your poster child for second half riser a la Baptiste. He had 19 of 23 goals in the 34 games played after 1/1.

— Kris Baker (@SabresProspects) June 27, 2015
2015-182nd – Chukarov, Ivan – 14-15 – Minnesota, NAHL, F, L, 6'2, 198, 55-12-41-53 (+38)
survey services
_________________________________________
Chris is THW's senior draft/prospect analyst and a Managing Editor. Watch for "The Next Ones" Prospect Profile series, exclusive rankings, mock drafts, as well as the annual THW NHL Entry Draft Guide. Follow @ChrisRalphYQ on Twitter as he infiltrates, dissects and analyzes all happenings of hockey prospects and the NHL entry draft. Email: cralph[at]thehockeywriters[dot]com