When you're an older prospect within an organization, you're often viewed on as the "veteran" amongst a group of players looking to find their place as a potential NHL player. For defenseman Anthony Florentino, that's exactly what he has become.
It's a role he's become quite accepting of, both at Buffalo Sabres development camp as well as at Providence College.
"It's my third camp," the 20-year old Boston native said. "I want to be as good of a leader as possible for the younger guys and the free agents that have been to other camps, but not this one. I just want to work on being a leader, especially with a title to defend next season. It's going to be tough, we just lost our captain."
Florentino was a fifth-round pick by the Sabres (143rd overall) in the 2013 NHL Draft, and has a seemingly open opportunity to prove himself to management as spots on the blue line become open. Despite that, as well as his college career starting the back end, he says he's not looking too far ahead.
"I take it day-by-day," he said. "It's been a long journey, but I'm not looking too far ahead. Right now, I'm going back to school and just focusing on the Providence season."
When it comes to his growth as a player over the years since he was drafted, Florentino says his physical condition tops the list as far as improvements go.
"Physically, I've come a long way," he said. "I was a lot heavier my first year. My confidence has gotten a lot higher, too."
He added: "I was 28 pounds heavier. I feel a lot lighter on my feet. Laterally, it's easier to me; I feel faster than I was."
It's unlikely that Florentino has any real shot of making the roster come training camp in September, but there is no denying that he is blossoming into a very solid player of the future for the Sabres.
To be prepared for the inevitable opportunity to make the Sabres, Florentino knows he has some work to do in terms of his on-ice play. That's what the development camp is for.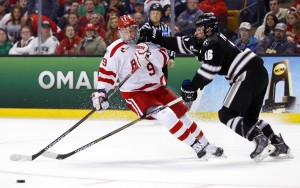 "I want to learn what I have to do to get better; what my weaknesses are that I don't see as a player," he said. "I know I need to get faster and stronger, but, with the coaches, they obviously know more. Little details in the game, they'll tell me and I'll need to work on [them]."
Florentino enters his junior season at Providence college this fall, and will be looked at to be one of the key members of a team looking to repeat as national champions.