by Eldon MacDonald (edited by @ChrisRalphTHW)
NHL Draft War Room: Jack Eichel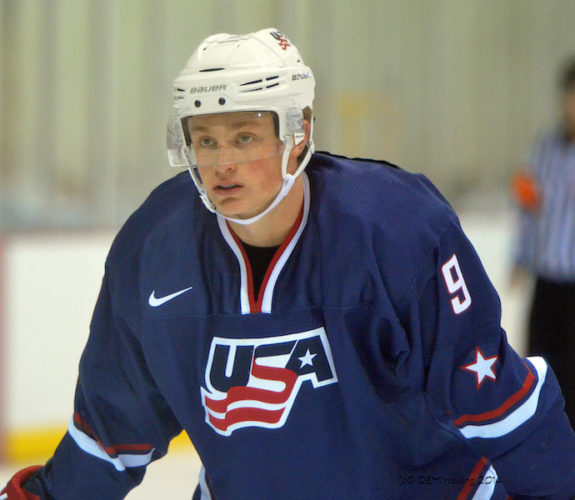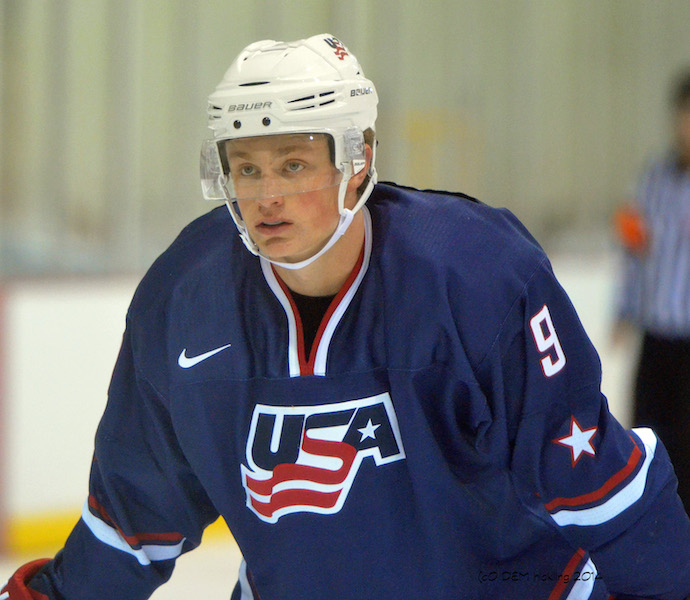 THW's NHL Draft War Room Rankings – Jan-14: #2
Hashtag: #TheNextGreatAmericanHockeyPlayer
Team: #9, Boston University, Hockey East
Position: Centre
Shoots: Right
Height: 6'2
Weight: 194 lb.
Born: Chelmsford, MA, 28-Oct-96
Twitter: @Jack_Eichel11
Stats
 Other Rankings
From the War Room
Eldon MacDonald, THW:  A few words on Jack Eichel:
The Next Great American Hockey Player: The big story so far for the 2015 NHL draft, the one that dominates the draft columns, is the competition between Jack Eichel and Connor McDavid for the number one overall pick. TSN even has a Mac or Jack column that gives you game-by-game updates. However, as important and as fun as the Mac or Jack saga is, I think the real big story, the story that is missing from the draft page, is the effect that Jack Eichel along with his compatriot, 6'2", 194 lb. Auston Matthews (a pre-draft favourite to be in the hunt for number one pick in 2016) will have on USA-Canada rivalries in the future. Until now, USA generally has been the weaker sister in this rivalry. Yes, the U.S. generally has had better goaltending. Yes, the U.S. defense has been very good – one that is likely to even get better as Jacob Trouba and Seth Jones mature. Yes, the U.S. were okay on the winger side of things too. However, at centre, the U.S. was no match for Canada. The US centres have been very good (Backes, Kesler, Stastny, Stepan) but the Canadian centres (Crosby, Getzclaf, Tavares, Toews) are superstars. However, that Canadian dominance at centre is likely to end three or four years down the road when Jack Eichel and Auston Matthews emerge as big 6'2-6'3, 205-215 lb. centres with NHL star qualities and abilities.
Editor's Note: While north of the border rival Connor McDavid is worthy of The Next One moniker, Jack Eichel is the complete package with ridiculous upside and it's only a matter of time when he will be in contention for hockey's top American player.
https://twitter.com/EDeLucaPhotos/status/550409292965085184
Five Reasons Jack Eichel May Go Number One
Big man game: Size, explosive first step, acceleration, top speed, team first, big man mentality, strong on the puck and relentless in its pursuit – what you are looking for in a big man top franchise centre.
Difference maker: Jack is a leader with a team first mentality that his teammates draw energy off of. Jack is aware of this and tries to set the example and be the difference maker for his team. He is at his very best when the game is on the line. One trait that Jack Eichel has which is shared by his rival Connor McDavid, is that he appears to be able to retain that normal guy persona, the persona of a guy who could be your next door neighbour's son.
Zen: Has a zen-like low panic threshold that allows him to hold onto the puck in the face of an opposition defender only to dish it off at the last second before being hit. He seems to use an x-ray vision to see opposition formations from behind the net before exploding out into the scoring areas to exploit their weaknesses.
Vision: Sees the game in slow-mo; plays the game in fast-mo.
Athleticism: Jack is almost always the best athlete on the ice; he can do almost anything.
He did it again!
For the third time this year @Terrierhockey Jack Eichel scored an OT game-winner. Beat UVM, 2-1. pic.twitter.com/ZxRm9qFOpo

— NCAA Ice Hockey (@NCAAIceHockey) January 25, 2015
Offense:
Skating: Elite first step, first-class acceleration and top speed, very good balance. Excellent agility, known for his tight turns in confined spaces. His feet are always on the move, which makes it very difficult for the opposition to tie him down or hem him in.
Shooting: Elite release on his wrister, heavy shot that is almost always on target. NHL level backhand. And most important of all, Jack can finish too.
Passing: Adept at the soft or crisp pass. Tends to be pass first but can really shoot as well.
Stickhandling: Big man, phone booth stickhandling ability, protects the puck very well.
Vision: Plays like the famous Wayne Gretzky quote, "A good hockey player plays where the puck is. A great hockey player plays where the puck is going to be." Jack has the vision and hockey sense to be a great hockey player.
Jack Eichel has the most primary assists in the nation (24). Next best 17. He has more primary A than all but 13 players have total assists.

— Mike McMahon (@MikeMcMahonCHN) February 21, 2015
Defense: Jack's defensive game still could some improvement. However, it is not so much a matter of physical skills as it is of having the mindset to be the difference maker on defense that he is on offense; this will come with maturity.
Awards and Achievements:
2013 – World U17 Hockey Challenge – Bronze Medal with Team USA
2013 – U18 Worlds – Silver Medal with Team USA
2014 – U18 Worlds – Gold Medal with Team USA
2015 – U20 Worlds – Captain for Team USA13-14 – USHL – Second team all-star
Improvements to make: In addition to the mindset improvements referred to above on defense, Jack has to use his teammates more in certain big game situations where he tries to carry the whole team on his back to be the difference maker. Again, this will likely sort itself out as Jack and his game matures.
NHL Projection: The big man, number one, franchise centre that most NHL teams sought out for probably twenty years.
Draft placement: It is going to be number one or two for Jack Eichel. Most lists including mine have Jack at number two currently but there is still a lot of hockey to be played. Also, let's not discount the big man centre syndrome. Most teams want that big man franchise centre. Jack Eichel is the epitome of just that. If he does go number two, he is indeed hockey's ultimate consolation prize.
Quotable
Video
Interviews
Profiles
Chris is THW's senior draft/prospect analyst and a Managing Editor. Watch for "The Next Ones" Prospect Profile series, exclusive rankings, mock drafts, as well as the annual THW NHL Entry Draft Guide. Follow @ChrisRalphYQ on Twitter as he infiltrates, dissects and analyzes all happenings of hockey prospects and the NHL entry draft. Email: cralph[at]thehockeywriters[dot]com