by Eldon MacDonald (edited by @ChrisRalphTHW)
NHL Draft War Room: Connor McDavid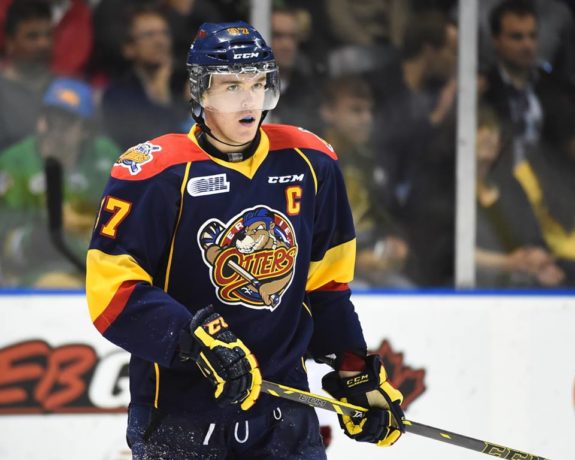 THW's NHL Draft War Room Rankings – Jan-14: #1
Hashtag: #TheNextOne
Team: #97, Erie, OHL
Position: Centre
Shoots: Left
Height: 6'1
Weight: 187 lb.
Born: Newmarket, ON, 13-Jan-97
Twitter: @cmcdavid97
Stats
Other Rankings
Worth Retweeting
Crosby vs McDavid pic.twitter.com/F3Fn0wMqJ6

— Goalie Ways (@GoalieWays) November 6, 2014
Small glimpse into the life of @cmcdavid97. Shout out to Ryan Wang and @JimCarrey! https://t.co/ChbvcdAOgq #cabbiepresents

— Cabbie Richards (@Cabbie) December 19, 2014
Honoured to receive a signed jersey from @cmcdavid97 who got a little help from his coach, the legendary Bobby Orr. pic.twitter.com/ZoGZERMJJB

— Stephen Harper (@stephenharper) January 23, 2015
Interviews
Interview 1: Sportsnet – Kristina Rutherford (26-Dec-14)
Interview 2: TSN Tube – Bob McKenzie (30-Sep-14)
Profiles
Profile 1: com – Mike G. Morreale (21-Jan-15)
Profile 2: The Globe and Mail – Cathal Kelly (25-Dec-14)
Profile 3: SBNation – Sam Riches (19-Nov-14)
Quotable
Quote 1: NHL.com – Dan Marr, Director of NHL Central Scouting: "McDavid possesses a natural quickness, an ultra-quickness if you will, in all areas of his game that sets him apart from the pack. Whether it's skating quickness, speed and agility or his hands, passing and shooting, or his anticipation, awareness and reaction time; all these components of his game are performed with a quickness that at times is truly amazing, and that ability places him in the company of [Wayne] Gretzky and [Sidney] Crosby."
Quote 2: National Post – Craig Button, TSN Director of Scouting and former NHL GM, on Connor McDavid's play at the WJC Tournament: "He was the best player in the tournament. He was dominant."
Quote 3: CBC Sports – Bobby Orr, Connor McDavid's agent and NHL legendary superstar: "What Connor's gone through the last few years, it really is incredible how stable he has stayed. A lot of that has to do with his family, too. That's the thing: Some kids get the kind of pressure put on them, they just lose that love and passion for the game."
From the War Room
Eldon MacDonald, THW:  A few words on Connor McDavid:
[tweetthis]The Next One – 3 reasons why Connor McDavid will undoubtedly become the #NHL's next generational superstar #THW[/tweetthis]
(not to be confused with the last true Next One, Sidney Crosby)
Difference maker – His ability and desire to make a difference every minute he's on the ice. No place was this more apparent than in the BMO NHL/CHL Top Prospects Game where his dominant first shift left Team Cherry in tatters that they never recovered from.
Physical skills – His speed, agility, ability to change speeds and direction plus a low centre of gravity allow him to perform feats and make plays that most others can only dream about except for, maybe, Sidney Crosby.
Mental skills – His mental ability to process the game at super high speeds and the vision to use that information to make game changing moves that leaves defenses in awe.
In addition, there are three key things about Connor McDavid, the person, that make you think that any bumps on the road to superstardom will be surmounted.
Normalness – Even with the incredible hype that has pursued Connor McDavid since he was awarded exceptional status to play in the OHL at 15, Connor still comes across as a normal yet mature kid, the kind of kid who could live next door you wouldn't even mind if your daughter dated.
Leadership – Connor is captain of the Erie Otters. He is a natural leader who leads by example and by showing a caring, nurturing mature attitude to his fellow players on and off the ice. He is a player others want to be around and to follow.
Intelligence – One thing that most people gloss over about Connor McDavid is that he is incredibly intelligent – you don't get to be CHL Scholastic Player of the Year at 16 if you are not.
Offense – One word, elite. Add up the elites and the resultant is a dominant game.
Skating – Acceleration, top speed, change in speeds, agility, edges, balance, low centre of gravity
Passing – Crisp, on the tape, cerebral
Stickhandling – All the dangles, all at top speed or at a change of pace, in tight, puck protection
Vision – Just sees those soft spots in the defense and has the hockey IQ and physical skills to exploit them
Connor is currently more a pass first centre but is working hard to make his shot a bigger part of his repertoire. Sound familiar?
Defense – His best defense is that his line has the puck all the time. In addition, Connor gives you the 200 foot effort and shows the intensity and determination no matter where the puck is.
Awards and Achievements:
OHL 2012 – Awarded exceptional player status to play in the OHL at 15
OHL 2012 – Jack Ferguson Award (First Player Selected in OHL Priority Selection Draft)
OHL 2012-13 – Emms Family Award (Top Rookie)
2013 U18 World's – Gold Medal with Team Canada – Led tournament in goals and points
CHL 2013-14 – CHL Scholastic Player of the Year
OHL 2013-14 – Bobby Smith Trophy (Top Scholastic Player)
OHL 2013-14 – William Hanley Trophy (Most Sportsman Like Player)
OHL 2013-14 – Second team all-star
Erie 2014-15 – Named team captain at 17.
2015 WJC – Gold Medal with Team Canada – Tied for tournament lead in points
Improvements to make: If you ask Connor McDavid what he most needs to improve upon, he will usually say his "shot". When you consider that he had a shot in practice this year that was hard enough to break a puck you think "not much of problem", especially since it was only his wrister.
NHL Projection: Generational franchise centre like Sidney Crosby. Many refer to Connor as The Next One just like his childhood idol, Sidney Crosby, was anointed before him. Sidney wears #87 after his birth year, Connor wears #97 after his birth year. Who will have a better career – Sidney or Connor? Let's reflect back in 20 or 25 years.
Draft placement: Connor McDavid pulled ahead of his biggest competitor for number one in the 2015 NHL Draft, Jack Eichel, with his dominant performance at the 2015 WJC. While the gap is still not huge, it is big enough that it would be an absolute shocker if Connor's name was not called first come June in Sunrise, Florida.
Video
Editor's Notebook
Not much left to say that hasn't already been said. I always enjoy cross-sport player comparisons – USA Today's Johnny Saraceno called Connor the "Lebron James of hockey", comparing McDavid to one of the NBA's most complete superstars of all time. Whether he's destined to centre Evander Kane in Buffalo, Taylor Hall in Edmonton, revitalize the Canes or become the centre of the centre of the hockey universe (highly debated) in Toronto, NHL fans are the winners when this phenom breezes into the big league.