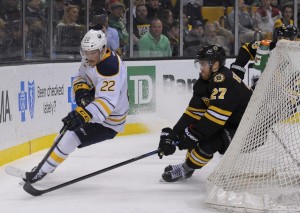 Drafted ninth overall by Boston in the 2011 NHL Entry Draft, Dougie Hamilton had a bright future ahead of himself with the Bruins. Expected to supplant an aging Zdeno Chara, Hamilton was pegged as a future top-pairing, number one defenseman, and a young player around which a winning franchise could be built and sustained.
Standing an immense 6 feet 6 inches and weighing in at 210 pounds, Hamilton emerged from the Ontario Hockey League as not only an elite and rare right-shot defender but one who could also dominate the game on both sides of the puck. Offensively, Hamilton could blast the puck into the net with his booming shot, or pass the puck and set up an open teammate. Defensively, and more importantly, Hamilton had long been a towering, shut-down style of player who limited offensive chances with ease.
So, Hamilton's NHL projection was entirely warranted, and so too were his sky-high expectations.
However, following the completion of his entry-level contract, Hamilton, and the Bruins found themselves on different pages in terms of a contract extension. Although Boston extended Hamilton a significant offer, the young blueliner, who was just 22-years-old at the time, refused the deal.
Don Sweeney: "We extended what we considered a significant offer to Dougie and that sort of changed things when it wasn't accepted"

— Joe Haggerty (@HackswithHaggs) June 26, 2015
As such, rather than allowing Hamilton to become a restricted free agent and face the risk of an offer sheet, the Bruins dealt the Toronto, Ontario, native to the Western Conference.
Fueling the Fire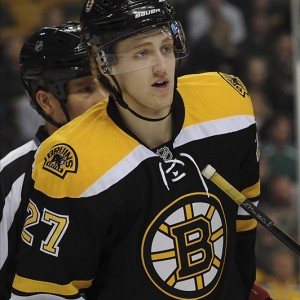 The cost to acquire Hamilton did not come cheap for the Calgary Flames.
In all, Calgary sent a first round choice, as well as two second round picks in the 2015 NHL Entry Draft to the Bruins, who then selected Zachary Senyshyn, Jakob Forsbacka-Karlsson, and Jeremy Lauzon. Although none of which have yet to play an NHL game, all three players remain quality prospects within Boston's organization.
However, the price paid by the Flames, despite its significance, immediately proved worthwhile in Hamilton's first year in Calgary. Over the 2015-16 campaign, Hamilton appeared in all 82 games for the Flames, where he set a new career high in points with 43. His 12 goals, also a new career high, ranked second best among all Flames defenders, while his 31 assists were good for fifth best on the team.
Yet, Hamilton was more than just a force offensively. Defensively, Hamilton played a strong game alongside a number of equally skilled defensive partners. His Corsi For %, a measure of shots attempts for versus against while on the ice, came in at a solid 54%, 7.6% higher than his Flames teammates while he was not on the ice. Further, he averaged 19:46 of ice time per game, indicating his overall importance to the Flames' defensive game.
So, with all of this being said, why in the world would Calgary want to trade a 23-year-old defender who, having already enjoyed many tremendously successful campaigns to date, has yet to reach the height of his potential?
Shutting Down the Rumor Mill
The simple answer to this question is that, quite abruptly, they wouldn't.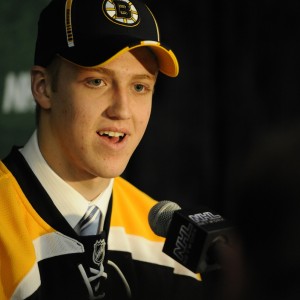 A year removed from a career-best season in which he finished 22nd overall in the NHL in defensive scoring, Hamilton has concluded only one year of his six-year deal he signed with the Flames, which will pay him $34.5 million through the 2020-21 season. In the modern day NHL, a team does not simply trade for, and then sign a player to such a massive contract with the intention of trading him a mere season later.
Yet, it has been made abundantly clear that Hamilton did not enjoy a stellar start to his 2016-17 season, particularly so when focusing on his offensive totals. However, it is important to remember that Hamilton is still, in fact, a relatively young player in the NHL. Of course, he does have roughly four seasons of league experience under his belt, but Hamilton is a player who, like most his age, is still developing not only his identity but also consistency as an NHL player.
So, it should have come as no surprise to see Brian Burke, Calgary's president of hockey operations, released a resounding and definitive statement regarding the persistent rumors surrounding his young defender.
More from #Flames President Brian Burke on @LeafsLunch1050 re: Hamilton. Full interview here https://t.co/oBEu4vYnzk pic.twitter.com/P2jRJpcwD1

— Leafs Lunch (@LeafsLunch1050) November 30, 2016
A Truly Outrageous Thought
Captured perfectly by Burke's words, there is simply little to no chance the Flames will trade Hamilton, either now or in the future. As a right-shot defender with size, his skill set is just too difficult to come by, let alone retain at the NHL level.
As a result, Hamilton remains an extremely valuable player, and one who would not only be hard to trade for but even more difficult for the Flames to replace. A key piece in Calgary's blue line, Hamilton is viewed as a major building block moving forward, and one essential to the Flames' future success as a franchise.
So, is Hamilton available, and are the Flames seeking calls from other organizations?
McKenzie: "They are listening when teams call on Dougie Hamilton. I don't know that they're eager to (trade him)." #Flames

— Chris Nichols (@NicholsOnHockey) November 29, 2016
Of course, as Burke mentioned, Calgary has to analyze any potential offer sent their way, despite its immense value or lack thereof. However, taking calls and attempting to trade a player are two completely different actions, and this is where the hockey world as a whole, and the media in particular, have wandered into an apparent grey area.
Yes, the Toronto Maple Leafs are looking for a top-pairing defender who matches Hamilton's skill-set, but so too are a number of NHL teams. Heck, the Edmonton Oilers have been looking for one for almost a decade now.
So, it's time to calm the unfounded rumours and potential trade scenarios. Hamilton signed in Calgary for six years with the intention of playing out his contract in whole. Perhaps we should revisit this conversation say, five years from now, when Hamilton is a pending unrestricted free agent. Yes, any player can be traded, however, given his contract, immense value, and Calgary's direction as a franchise, such a deal would make virtually zero sense.