Mark Jankowski, the dark-horse first round pick from 2012, travelled more than 7,000 miles over six days last week to play just ten minutes of NHL hockey. His debut came at the Barclays Center in Brooklyn on Monday night after what can only be described as a colorful and slow-paced journey to the NHL for such a highly ranked prospect.
After all, when Jankowski was drafted, NHL general managers couldn't really be sure what they were getting with such a raw talent who was almost ineligible for the draft itself because of his early birth date which fell two days before the 2012 deadline. The only certainty was that this was a very young, skilled and unusual prospect at 17 who hailed from Stanstead College in Quebec, which competes in the Midwest Prep and Canadian High School hockey leagues.
A Long-Term Project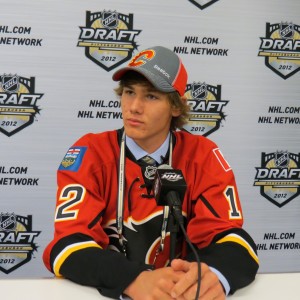 Still, NHL scouts were drooling a bit when during his draft year he notched 53 goals and 40 assists and was a plus-51 in just 57 games. But, this was a Canadian High School hockey league and all the scouts knew that any team who picked Jankowski was selecting a player who wouldn't be stepping into an NHL lineup soon. Flames ex-general manager Jay Feaster was prepared to take that risk and the controversial pick was made.
Since being drafted, the evolution of Mark Jankowski has continued. He played four seasons of college hockey in Providence where he grew two more inches and put on about 50 pounds. More importantly, his play on the ice matured where he still demonstrated strong offensive ability but also improved significantly away from the puck into a stronger two-way center with incredible reach and size.
For many Flames fans, waiting on Mark Jankowski has been a slow process with a few plot twists that have led some to question whether he would become a legendary Flames draft flop. At times in past seasons that may have been a solid prediction, but this year at training camp, Jankowski finally turned pro and began to look like someone who could compete at a higher level.
A Prospect Turns Pro
Soon afterward, excitement grew over the 22-year-old two-way centreman and his strong play with the Stockton Heat in the AHL. In fact, just before his call-up, he was the team co-leader in points with 12 (three goals, nine assists) in just 13 games.
"Obviously, I've dreamt of this ever since I can remember … playing in the NHL. It was really cool to be out there," Jankowski said of his NHL debut to CalgaryFlames.com after the game versus the Islanders "There were definitely a little bit of nerves at the start of the game but I felt as the game went on I got a little more comfortable and confident out there."
As much as Flames fans would've loved it, Jankowski didn't have an Auston Matthews-type debut against the Islanders. However, he didn't look out-of-place either after throwing a hit and battling to position his big body in front of the net on numerous occasions. He also racked up an impressive 63% faceoff win percentage against a crew of tough centers on the Islanders that includes star forward John Tavares.
"I thought he looked a little nervous at first and then he settled in and there were a couple real nice subtle plays that he made … pucks coming off the wall and winning a big draw against John Tavares there at the end when they threw out the hounds after the icing," Flames coach Glen Gulutzan said to CalgaryFlames.com. "I thought he did a good job."
The Evolution Continues
However, pretty good wasn't quite enough as Jankowski was demoted back to the Stockton Heat on Thursday thanks to the expected return of Lance Bouma to the Flames lineup on Friday versus Minnesota.
Despite the unwelcome news, Jankowski will no doubt be hungry to return to the NHL a lot sooner than it took him to get there in the first place. Refreshingly, his attitude about the demotion reflects a man who really has come of age.
"I just have to be a good pro," said Jankowski to the Calgary Sun. "I just want to focus on playing my game and taking care of my body on and off the ice and be ready to go when my name is called."
So when will Flames fans see Jankowski again? I think a lot of that depends on how the season unfolds. If Chad Johnson continues to help steal victories for the club to keep them in playoff contention and if Johnny Gaudreau returns early from injury, then Jankowski may continue to improve and produce at the AHL level.
But, if the Flames fall on harder times and take a step backward from their impressive play of late, then he might just find himself taking another plane ride to the Canadian prairies in 2017.