Growing up so far away may take some by surprise judging by how similar Scott Kosmachuk and JC Lipon are. Kosmachuk's hometown of Richmond Hill, Ontario is a shade over 2700 kilometres from Lipon's home in Regina, Saskatchewan. Their junior clubs brought them even further apart as Kosmachuk's Guelph Storm played 3979 kilometres from Lipon's Kamloops Blazers.
Their sizes are duplicates of each other clocking in at approximately 6′ and 190 lbs. The undersized duo also shares the same position on the right wing with an appropriate right handedness. Though Lipon is over six months older than Kosmachuk, Kosmachuk was drafted in 2012 and Lipon in 2013, both as third-round picks.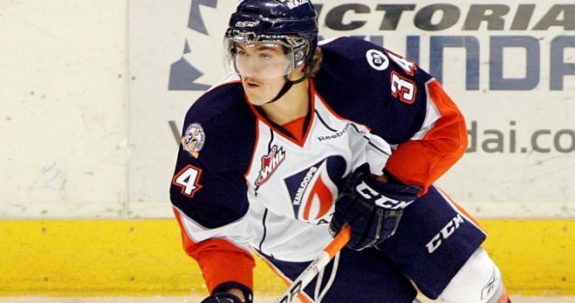 Lipon was twice passed over in the draft before his breakout season in Kamloops which led to the Jets spending their 91st overall selection on the scrappy forward. The 2013 draft proved to be one worth taking a chance on the soon-to-be 20-year-old for the Jets as they also selected Josh Morrissey, Eric Comrie, Nic Petan and Tucker Poolman in that draft.
In 2012, Kosmachuk was not considered a gamble with the 70th overall. The 24-year-old now faces unrestricted free agency for the first time in his career after he was not qualified as a member of the Jets. Fellow 2012 selections Jacob Trouba, Connor Hellebuyck and Jamie Phillips make it an easier pill to swallow.
By the Numbers
Kosmachuk participated in the National Men's Under-18 tournament dressing for Canada in 2011-12. Lipon stole a spot on Canada's 2013 World Junior Championships roster which included a plethora of big names due to the lockout shortened season.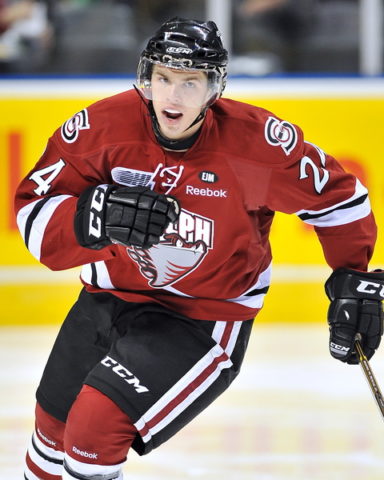 In 271 OHL games with the Storm, Kosmachuk notched 120 goals and 246 points. He ranks third all-time in games played and goals as well as ninth in points for the Guelph organization, not to mention his 35 points in 37 playoff games.
In 248 WHL games with the Blazers, Lipon, a playmaker, only notched 61 goals but squeezed in 127 assists for 188 points. He also managed 32 points in 28 playoff appearances. Lipon is not in the Kamloops record books due to the surplus of talented skaters in team history.
In the Top 50 WHL Players of All-Time, there are six former Blazers including Scott Niedermayer and Jarome Iginla in the top ten.
Lipon Is a Better Pro
By a slight edge, Kosmachuk outproduced Lipon in their junior careers. However, it was their transition to the pro-level that ultimately secured Lipon as the best option moving forward. The Jets did not qualify Kosmachuk but Lipon just inked his fresh one-year, two-way contract worth an average annual hit of $650,000.
Their numbers with the Manitoba Moose are again a mirror image of one another as Lipon barely averages a point more than Kosmachuk in a full 76 game AHL season. Nevertheless, Lipon's game is viewed as better suited for the professional level than Kosmachuk. Why?
Lipon's physicality is a big component. In his AHL career, Lipon has registered over 500 penalty minutes and was involved in seven scraps this season. Despite his smaller frame, he distributes his weight properly on checks and can stay on his feet in battles. Lipon's tenacious leadership is what prompted coaches to name him an alternate captain last season.
Kosmachuk is hoping to land a professional tryout in September as he looks to fill a void on an AHL team, while the goal for Lipon now is to make the Jets out of training camp. He must prove he is capable of filling the position of an agitating forechecker, a role that appears he will battle Brendan Lemieux in camp for.