Wait, did it really happen?
Buffalo Sabres fans are still pinching themselves. They've rubbed their eyes and double-checked or even triple-checked their sources. They've even watched the replay on Youtube multiple times, prepared for some sort of coach's challenge or Bettman interference that might extend their misery.
Yes, it actually happened. The Sabres won the lottery and now own the first overall draft pick in the 2018 NHL Entry Draft in Dallas come late June.
Awakening a Franchise
Saturday night, when Bill Daly, the NHL's Deputy Commissioner and Chief Legal Officer flipped that card, the world changed for Sabres fans. Hope entered their veins once again. Possibilities filled their imaginations. Happiness overcame their hearts.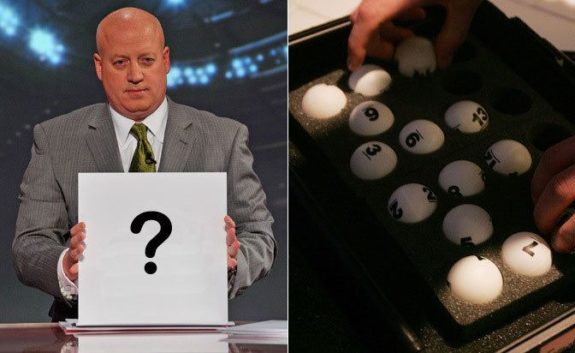 The fist-pumping euphoria and celebratory screams at televisions spread like wildfire. Sabres fans were whooping it up like they were back in the 2006-07 deep playoff run. It was impossible not to feel alive again.
The bloodied, disappointed souls of Sabres fans that have taken a beating over the past seven years were quickly injected with a shot of adrenaline.
Numb fans who had been suffering and have had their hockey psyches dormant for months, if not years, suddenly jumped awake like a resuscitated corpse. All the cumulative damage from failed front office moves and underachieving players that had detached fans from their beloved team was immediately–if not temporarily–wiped away by a series of ping pong balls with the numbers 1, 4, 6, 14.
Sabres fans know to expect the worst. The lottery show, which dragged out for more than two hours, was akin to a couple prepping for a gut-wrenching divorce then abruptly reconciling and renewing their vows. Holy mood manipulator, Batman! Or, rather Bettman! The Sabres and their fans are once again feeling the love.
Deflated season ticket holders needed this. Western New York needed this. All of Sabres Nation needed this. It's exactly what the doctor ordered to excite this beaten down fan base. Psychological victories are victories, too.
Drafting No. 1 Overall
Drafting first overall in the NHL Entry Draft often leads to a franchise-changing result. The prize is Rasmus Dahlin, the highest-rated defenseman coming out of the draft since Dennis Potvin in 1973.
Dahlin is the Connor McDavid of the blue line. He's a big deal; a prototype defenseman who's been compared to Tampa Bay Lightning Victor Hedman and Ottawa Senators Erik Karlsson. If Dahlin was Canadian, the hype surrounding him would likely be similar to McDavid-levels when he was selected first overall in 2015 by the Edmonton Oilers.
Adding Dahlin to the Sabres blue line, even if he plays on the second pairing while transitioning to the NHL, immediately transforms the team. The Swedish defenseman will be the franchise's best blue line prospect in decades. He has the speed, vision, and offensive and defensive prowess that every team in the NHL covets. The only question is, who will be his partner?
The Dahlin Hype Machine
Since the inception of the Amateur Draft, the only Swedish player to be picked first overall has been Mats Sundin (1989). Dahlin is an undeniably great prospect with a tremendous future ahead of him. The videos of him substantiate it. And sources like Elite Prospects, Sportsnet, and TSN's Craig Button consistently rate him off the charts.
The hype rocket for Dahlin has already been launched into the stratosphere. Expectations for Dahlin to be the savior for the Sabres is being talked about on social media and water coolers everywhere.
Former Sabres goaltender and fellow Swede Jhonas Enroth knows firsthand what Dahlin brings. "You guys are in for a treat! I played with him at the last Olympics and I've never seen a smoother player. Unbelievable skater and elite skill set," said Enroth. "I really think he's going to be a great offensive defenseman pretty quick in NHL. I'm happy Buffalo got the No. 1 pick."
Dahlin, while a franchise-changing player, likely won't vault this team to the Stanley Cup Final next year. The Sabres may not even make the playoffs next year. It takes more than one player to take a team from worst in the league to the postseason. Plus, he'll need some time to adjust to the big stage of the NHL.
The 18-year-old from Sweden will strengthen the team's glaring Achilles heel: its defense. If Casey Mittelstadt flourishes, Brendan Guhle settles in, general manager Jason Botterill adds a few forwards and manages to solidify the crease, there are reasons the Sabres could follow the precedent set by the Colorado Avalanche and New Jersey Devils. Both teams went from playoff outsiders to postseason squads in successive years.
Buffalo Sabres and Buffalo Bills
Overall, it's been a really good week for Western New York sports fans. The Bills scored their franchise quarterback Josh Allen. And a few days later, the Sabres scored the right to pick Dahlin, a generational 'quarterback' on defense. Giant steps in the right direction for both teams. These are huge victories that deserve celebrating.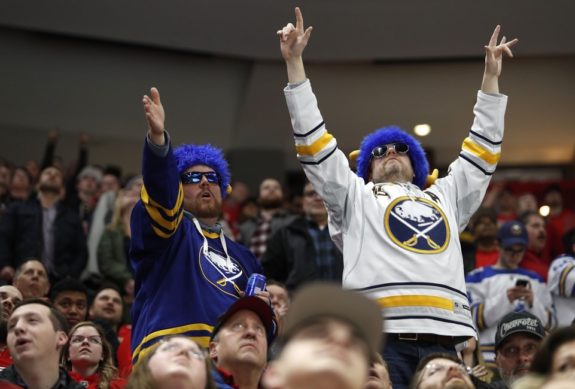 Botterill and Buffalo Bills general manager Brandon Beane both know they have a lot of work to do to become true contenders. Now that they've landed their key players, the real work begins; building around them with supplemental talent and veteran leadership.
"We have to improve in all areas, we need to be faster up front, stronger in the D-zone, have to have better goaltending," said Botterill.
The core of the Sabres youngsters includes All-Star potential: Jack Eichel, Mittelstadt, and soon, Dahlin. The ceiling for this young, up-and-coming team is now much higher.
Everyone in Buffalo Has Reason to Celebrate
For now, fans should live in the moment–catch their collective breath, smile and walk around with a little bounce in their step. It's all-too unfamiliar territory for Buffalo sports fans to have a cloud of gloom engross them. Losing out on the No. 1 slot would've been par for the course.
This time was different. Saturday was a franchise-changing night; one that was desperately needed. Buckle up – it's going to be a fun ride. Rookie camp can't come soon enough.
"Winning press conferences and drafts isn't the final solution. It's winning games. We're excited, but there is still work to be done," said Sabres owner Terry Pegula.
"We're all very excited for the fans in Western New York, and we're really excited to bring a great player to Buffalo," said Botterill.
No more pinching. Yes, it really happened.
Jeff has been covering the NHL for over a decade for various sites. He's been with The Hockey Writers as a lead Sabres writer three years, while also writing a satire column called "Off the Crossbar."