The Buffalo Sabres lost 57 games this season. They lost 25 games at home. But when it mattered most — at the 2018 NHL Draft Lottery — the Sabres finally won.
With the dubious distinction of finishing last in the standings, the third time in five years, the Sabres entered the night with an 18.5 percent chance at winning the first overall pick. The ping pong balls finally landed in their favor Saturday night.
Trust the Draft Lottery Process
Buffalo Bills fans know about 'the process' and trusting it. Well it was time for Sabres fans to trust it Saturday night.
The @BuffaloSabres get the number one overall pick. pic.twitter.com/kLxwCLlqnz

— NHL GIFs (@NHLGIFs) April 29, 2018
It was originally thought that Chris Bandura, Sabres Media Relations VP, was part of the group sequestered in the room where the lottery took place. However, Bandura told Sabres General Manager Jason Botterill as they were walking in that he was not going into the room where the numbers were drawn. He told Botterill "Let's change our luck" and Jason agreed.
The lottery was different this year — in an attempt at adding drama, the NHL debuted a new process of unveiling the draft order. Rather than revealing the entire order of the first 15 selections, as they've done in the past, they announced selections 15 through 4 before the start of the Vegas Golden Knights and San Jose Sharks game. Hockey fans and teams had to wait until the game's second intermission to find out the remaining three selections.
It was two hours of analyzing stats and probabilities. Two hours of dreaming and wondering 'what if?' And, two hours of ulcer-inducing drama for Blue and Gold faithful fans. When NHL deputy commissioner Bill Daly flipped the card and called their name, you could almost hear a cheer throughout Western New York.
Selecting First Overall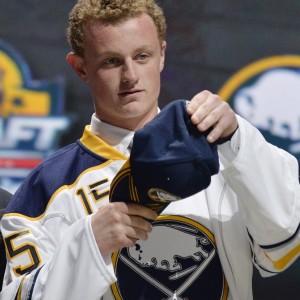 For only the third time in franchise history, the Sabres will have the No. 1 overall pick in the NHL Draft. The club selected first overall in 1970, choosing Gilbert Perreault at the Amateur Draft. In 1987, they selected Pierre Turgeon at the Entry Draft. Both forwards went on to play more than 1,000 career games in the league and score more than 1,300 points.
In 2014 and 2015, the Sabres drafted second overall despite having the best odds at securing the top pick in the draft. They selected Sam Reinhart and then Jack Eichel.
All in for Dahlin
The Sabres will have the pick of the litter at the Draft. All signs point to landing Rasmus Dahlin, a much-needed franchise-altering blueliner.
The eighteen-year-old defenseman of the Swedish Elite League's Frolunda is the consensus top selection. The Swede is a generational talent on the blue line and a two-way threat. He's 6-foot-2, 181-pounds and can skate like the wind.
Dahlin was interviewed during the Draft lottery show on NBCSN. "I'm trying to be a two-way player with a more offensive game. I like to make good passes, and I skate well, I think. I'm trying to improve very much my shot, my strength and my weight."
According to TSN, Dahlin is "a franchise defining blueliner who very well may be the best defenceman entering the draft since Denis Potvin in 1973."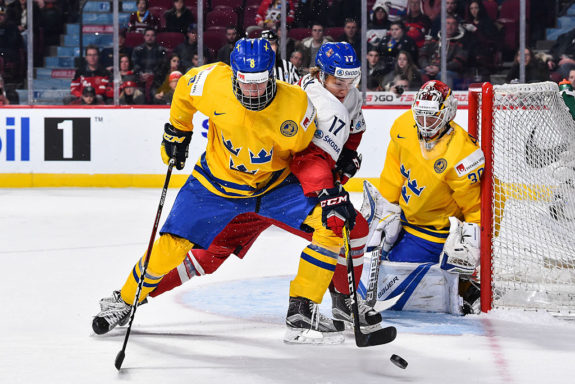 Dahlin also became the youngest player to compete at the Winter Olympics in Pyeongchang since 1984 — he was seven years younger than anyone else on Sweden's team. He was also a member of the silver medal-winning Swedish team at this year's World Junior Hockey Championship in Buffalo. He helped Sweden win a silver medal with six assists, 25 shots and plus-seven rating in seven games at the World Juniors, being named Best Defenseman.
"Dahlin is an exceptionally talented prospect who will be able to contribute, influence and impact a team'a fortunes much in the way that defensemen Erik Karlsson (Ottawa Senators) and Victor Hedman (Tampa Bay Lightning) have in the NHL," said Dan Marr, director of NHL Central Scouting earlier this month. "If you wanted to pick one player from the 2018 draft who could potentially be viewed as a generational talent, Rasmus would be the only candidate. There is that much respect for him and his abilities."
Addressing the Sabres Needs
The Sabres have a need to upgrade every part of their roster. They scored the least number of goals in the NHL last year. Their defense is slow and lacks depth. And their goaltending situation is anything but stable.
Getting Dahlin plugs a gaping hole on defense. He will make everyone around him better. Outlet passes, power play time, and relief for over-used defenseman Rasmus Ristolainen.
Dahlin will be part of a Swedish invasion in Buffalo. There's a good chance the Sabres lineup next season could include Dahlin, forwards Victor Olofsson and Rasmus Asplund, and goalie Linus Ullmark.
Excitement in Buffalo
After a horrendous year, Sabres executives, coaches and fans finally have something to be excited about.
"We're absolutely ecstatic. I'm very happy for our fans in Western New York. We're really looking forward to adding a great player to our group here," said Sabres GM Botterill. "[Dahlin] is the type of defenseman that pretty much 31 teams in the National Hockey League want these days."
That lottery-winning feeling. 🙌 pic.twitter.com/YER5lSCf1X

— Buffalo Sabres (@BuffaloSabres) April 29, 2018
Botterilll told NBCSN that he opted to wear a red tie with his suit rather than blue and gold out of respect for his old Pittsburgh Penguins boss Ray Shero. Last June, Shero selected Nico Hischier first overall as the New Jersey Devils general manager.
Head coach Phil Housley tweeted his excitement as well. Dahlin's speed and ability to join the offense is tailor-made for what Housley is trying to bring to the Sabres.
Getting Dahlin doesn't mean the Stanley Cup is coming to Buffalo next year. However, it should be a giant step in the right direction. And put them in a place where the team isn't drafting in the lottery.
---
You can get all of your 2018 NHL Entry Draft information, including prospect profiles, prospect rankings and mock drafts from the THW 2018 NHL Draft Guide. New profiles and content is being added daily. Bookmark it now.