Playoff hockey is the best time of year. For Florida Panther fans, though, watching the Vegas Golden Knights dominate the NHL has to be difficult. It is no secret the Panthers may have botched the expansion draft, but leaving former head coach Gerard Gallant on the side of the road following a loss in 2016 may have been their biggest mistake yet. What's done is done and no one can change the past, but as we watch Gallant's Golden Knights continue to crucify teams, one can't help but wonder what could have been.
Gallant, a "Players Coach"
Gallant, a finalist for this year's Jack Adams Award as the NHL's best coach, has been nothing short of a revelation for the Golden Knights, and frankly, the NHL. There is no way of knowing whether the Knights would have had the same success without Gallant, but known as a "players coach," his style vaulted Vegas to the top of the Western Conference. It's a standing the team is now proving was no fluke as they tear through the playoffs (5-0 in five games with three shutouts).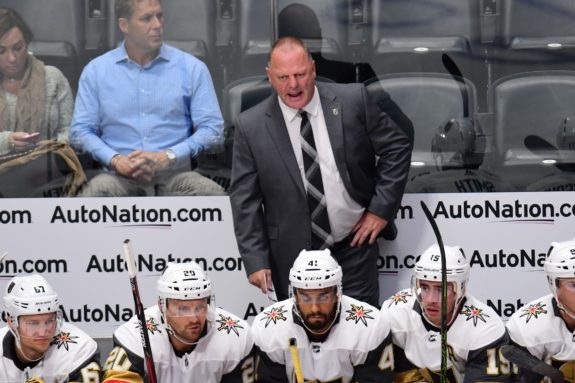 Of course, Gallant only deserves a fraction of the credit as he can't score goals or win games himself. However, a team that responds to coaching has the best chance of success and Gallant's impact on his players is top notch. No matter who the coach is or what the systems are, no coach can find success without the respect of his players. Everyone wants to win. The difference is coaches who are loved and valued by their players have the easiest time getting the best out of them.
Jury Still Out on Boughner
Any team that goes 31-10-1 over the second half the season clearly has good coaching. Regardless though, they still missed the playoffs. When it's all said and done, professional sports is about success. Sure, part of this season's failures can be attributed to Roberto Luongo's injury, but this is the NHL and expectations don't decrease because of injury.
Patrice Bergeron and Charlie McAvoy of the Boston Bruins both missed a month, the Bruins didn't flounder. Evgeni Malkin has missed the last two playoff games for the Pittsburgh Penguins, they are 2-0 without him. Injuries are part of the game, so to say the Panthers' failure to make the postseason is due to injuries would be invalid. No matter what, great teams get the job done. That being said, the second half the season showed the tremendous upside of Florida's club. Their success following the all-star break leads one to believe maybe Boughner is the guy who gets them over the hump.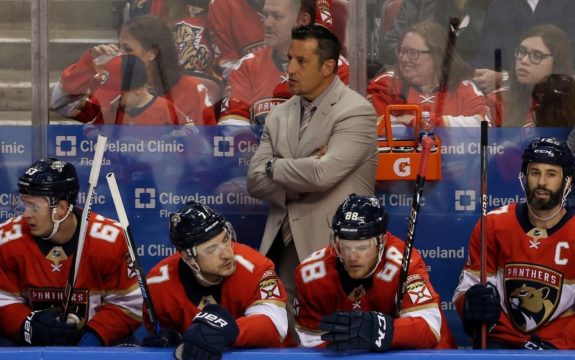 Pondering what the state of the team would be if the Panthers had kept Gallant does not mean Boughner was a bad hire. Not yet, at least. Instead, it's wondering what the team's style of play and team chemistry would be. Considering the two coaching styles, the Panthers' roster would likely be different because, for many players, coaching has an enormous impact on the team they play for. Free agents not only choose teammates and cities, but they are picking their coach as well.
Gallant's Appeal Greater than Boughner's?
Entering perhaps their biggest offseason, the Panthers have everything to offer free agents. They have tons of cap space, have a need for a top-six forward and reside in a beautiful area in a state without an income tax. Frankly, it's amazing to me the Panthers are not a constant threat to sign big name free agents each and every summer. Their lackluster history is more than likely the hindrance, but maybe this is the summer they make a huge splash.
Since the team possesses the tools needed to make a big move, it's impossible not to wonder whether players would have been more attracted to Gallant. There is no doubt Florida showed promise to pending free agents, but Gallant's season may have made Vegas one of the front-runners for several of this offseason's biggest targets.
I don't expect Florida to be in the running for game-changing players such as John Tavares or John Carlson, but there are several attractive names in the free agency pool. Currently, Boughner is more of an unknown. Whether Gallant would have given Florida the best chance at their top targets, whomever they may be, is an idea hard to ignore.
Will Boughner Prove His Worth?
The talk about the former Panthers success in Vegas is unlikely to fade unless Florida's roster takes off next year. A large part of the chatter has to do with Vegas' success, but as Gallant's team continues to impress, the majority of Panther supporters can't help but watch in agony. It's impossible to know if Gallant would have made them a playoff team, but considering his success this year along with his past success in Florida, he may have made the difference.
The good news for the Panthers is Boughner's team excelled in the second half of the regular season. They should arrive to training camp next year full of confidence and ready to be a contender. General manager Dale Tallon should be a presence in free agency, they have prospects ready to make an impact at the next level and their best four forwards, Aleksander Barkov, Jonathan Huberdeau, Vincent Trocheck and Evgenii Dadonov are all coming off career years.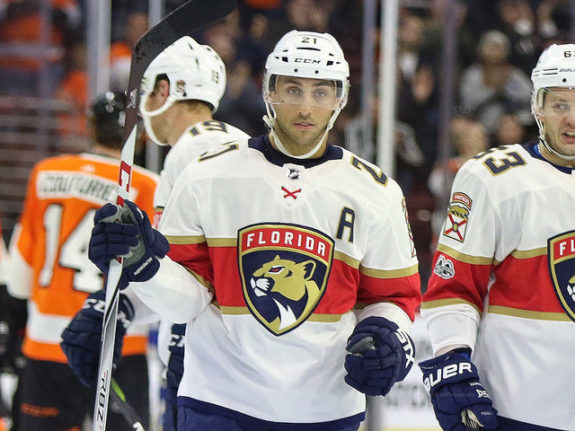 Next season, Boughner will have his chance to put all of this to bed, show fans to forget about the past, and solidify himself as "the guy" in Florida. Can he do it? A year from now, will Gallant's reign in Florida be nothing but a distant memory as we watch the Panthers compete for a Stanley Cup? Currently, it's 50/50, but his time is coming and so is Florida's.