Now only two points behind the Columbus Blue Jackets for the final playoff spot, the Florida Panthers are getting hot at the right time. The Panthers have a legitimate chance at the postseason and general manager Dale Tallon proved his confidence in the team when he kept his roster intact at the trade deadline. Confidence means everything in hockey and by keeping the team together, Tallon sparked the Panthers players.
For a while, it seemed that Florida would be sellers but as the deadline approached, they were caught in the middle. They opted to give up a third-round pick to bring in Frank Vatrano from the Boston Bruins, but overall this year's lineup stayed the same. Even if they come up short, Tallon is leading an organization that is built for long-term success and one that will likely be very active during the offseason.
Who Might the Panthers Lose?
What is most appealing about Florida's potential is that not only do they have cap room for offseason moves but they also have only six contracts that expire at the end of this season: Jared McCann, Frank Vatrano, Radim Vrbata, Alex Petrovic, Connor Brickley and MacKenzie Weegar. Of that group, Vatrano will likely be signed considering they just traded for him and Vrbata will move on. Brickley, McCann and Weegar are hard to predict, but even if they were to re-sign, the price will probably not be steep.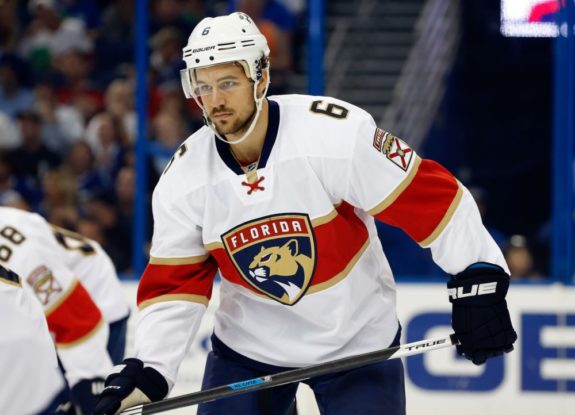 Petrovic signed a one-year contract after last season for $1.8 million and is a solid stay-at-home defenseman, who plays physical and gives the Panthers a solid contributor from the blue line for a somewhat reasonable price. If management can figure out a deal that makes sense for both sides, then the Panthers should keep their top six defensemen intact and pursue depth at the forward position, which should be the first priority.
A Plethora of Free Agents
There should be plenty of big names available on July 1 when the free agent market opens. At the moment, the biggest name is by far John Tavares. Tavares, however, has said that he would like to stay with the New York Islanders which is expected. Outside of the Islanders' star forward, some names for the Panthers to pursue are Rick Nash, Evander Kane, James Van Riemsdyk, James Neal, and John Carlson, although it would be a surprise if the standout defenseman did not re-sign with the Washington Capitals.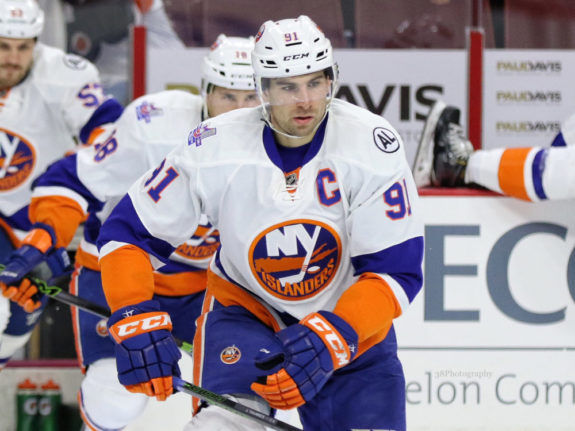 The Panthers could use any of these players listed to bolster their roster and even players like Patric Hornqvist, Patrick Maroon or Tyler Bozak, who may lack the offensive upside of the more prolific names, could be difference-makers in Florida next season. Depth is the biggest hole Tallon needs to fill this summer and there will be plenty of it available on July 1.
Kane's Ferocity Perfect Fit for Cats
He's fast, he's tenacious and he plays on the edge. He is exactly what the Panthers need. If the San Jose Sharks do not sign Kane, then he should be Tallon's top target. Other than Vincent Trocheck, the Panthers lack an offensive talent with grit. Aleksander Barkov, Jonathan Huberdeau and Evgenii Dadonov are all legitimate top-six forwards but none is a physical presence.
Paired with Barkov, a top-six forward with an edgy playing style could be the piece to put the Panthers on top. The "goon" or "enforcer" role may be on its way out of the game but every team needs a player who has legitimate skill while also backing up star players with physicality. Despite rumors of off-ice issues, Kane epitomizes that role and could be a perfect complement to their star players.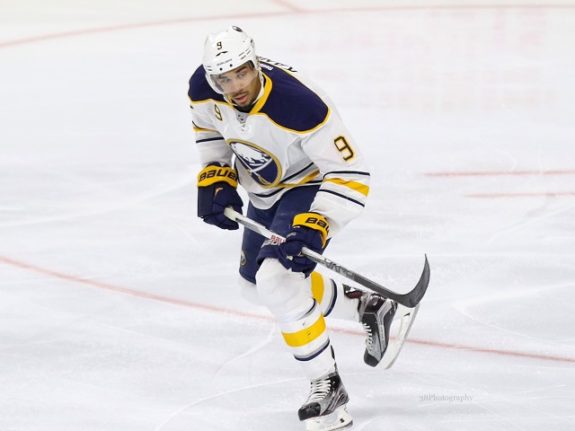 Since being drafted fourth overall in 2009 by the Atlanta Thrashers, it has been said that Kane has an attitude problem and is cancerous in the locker room. He recently addressed these rumors, saying he has grown up and is ready to focus on his career. Whether or not this is true remains to be seen but if the Panthers can sign Kane and harness his emotions to benefit the team, it could be the difference between another average season and finally becoming the powerhouse hockey fans know they are capable of being. Luckily for Tallon, if it isn't Kane, there are several other players that can fit into a similar role.
Tyler Bozak a Panther?
If Kane is unavailable, another solid option would be Toronto Maple Leafs center, Tyler Bozak. Bozak, the longest-tenured Maple Leaf at the moment, is a prime example of the type of player the Panthers need. He may not score 40 goals but he does the little things well and adds the depth that can make a difference. As his five-year, $21 million dollar contract comes to an end, it's fair to wonder what his value will be.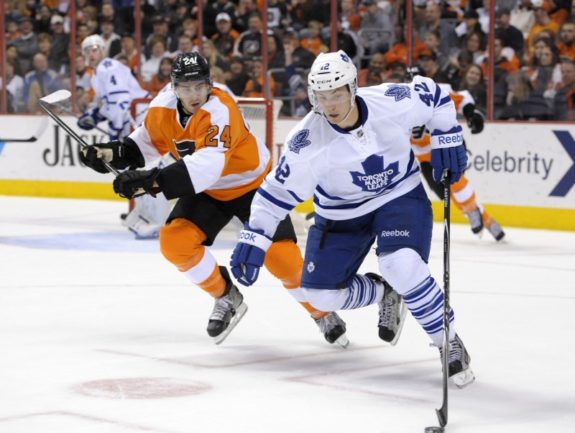 A comparable player would be the Nashville Predator's Nick Bonino, who inked a four-year, $16.4 million dollar contract with Nashville following his successful stint with the Pittsburgh Penguins. When Nashville signed him, he was fresh off a 37-point season, a number Bozak will likely surpass by season's end (he has 33). Looking at both his statistics and market value, Bozak's asking price should be in the neighborhood of $5 million per year, a number that teams with little cap room, such as Toronto, may be hesitant to pay.
Winning Now is Key to Attracting Top Players
The Panthers are expected to have nearly $7 million in cap space this offseason, meaning Bozak and Kane are two candidates whose price they may be willing to pay. If not, there remain several other options that would make sense to pursue but the competition for impact players will be stiff with 30 other teams looking to fill their own needs.
With an extremely talented group of young players, the Panthers should be front-runners for this year's top free agents. However, at the end of the day, players want to win the Stanley Cup, meaning this year's run at the playoffs may be the key to not only this season but the next several. Either way, look for Florida to make a statement on July 1.