The 2018 National Hockey League Trade Deadline has come and gone, and, it has to be said, it was much more exciting than usual.
Yes, many of the deals featured a player you've never heard of traded for a guy you forgot existed. And yes, names perennially popular at deadline time once again found their way into a transaction (see: Vanek, Thomas).
But Evander Kane? Ryan McDonagh? Rick Nash? These are bona fide stars! The second-tier of players moved was pretty impressive, too, with the likes of Derick Brassard, Tomas Plekanec and Paul Stastny all changing locales.
Though the Florida Panthers were rumoured to be in the thick of the action with the likes of McDonagh and, though he ended up staying put, Max Pacioretty, they stayed all but silent.
Heading into the deadline on a 9-3 run, holding off must have been exceedingly difficult for general manager Dale Tallon. Ultimately though, despite not maximising the use of Florida's non-player assets, Tallon made the right decision.
Panthers Right to Stand Pat?
Yes, the Panthers entered the trade deadline piping hot. But let's not forget the eerily similar situation they found themselves in last year.
In 2016-17, the Panthers went into the deadline having won nine of 13 – reaching eight games above .500 (28-20-10) during that stretch, bringing back memories of their miraculous run to the Atlantic Division title the year before. However, the Panthers stayed relatively quiet, adding the aforementioned Vanek in exchange for borderline NHL defenseman Dylan McIlrath and a conditional third-round pick in 2017, along with making a couple of minor-league moves.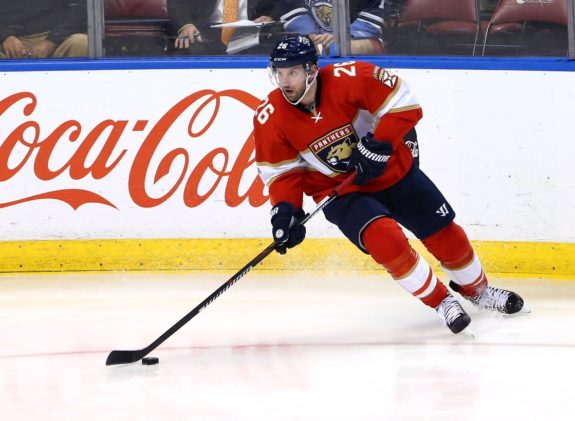 The deal did not pan out, with Florida proceeding to go 6-13-1 down the stretch and Vanek scoring a grand total of two goals and 10 points in 20 games. Nevertheless, the risk was low and the potential rewards were high. I think it was a reasonable move for Tallon (assuming he was indeed at the helm), all things considered.
New Season, Same Strategy for Panthers
The same can be said for his work at this trade deadline.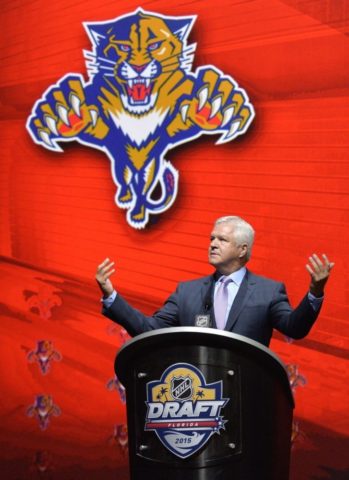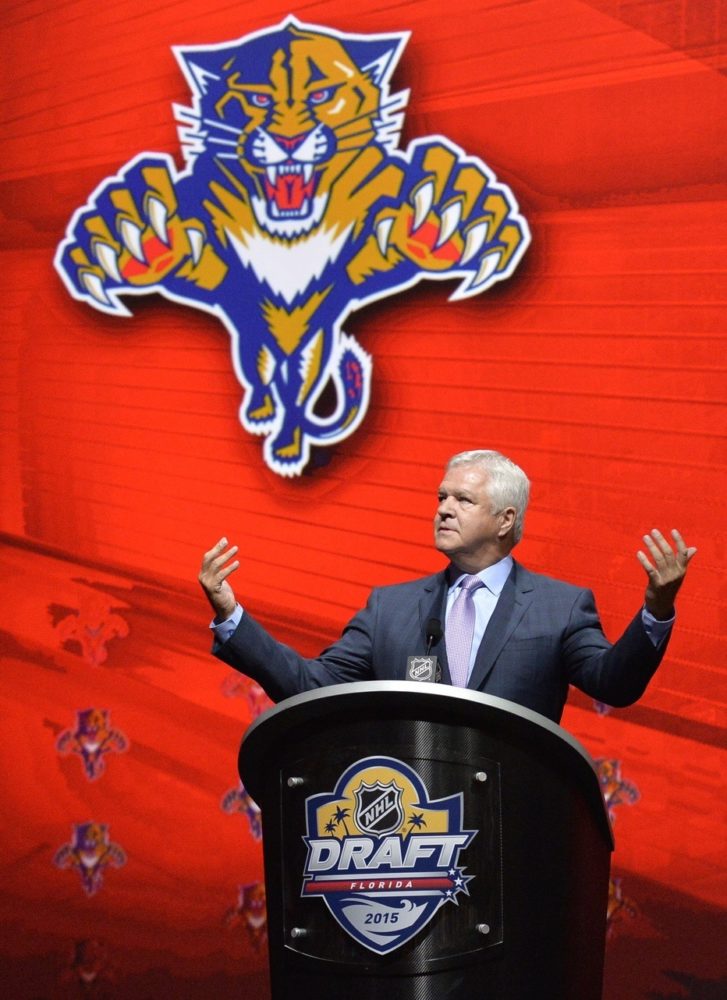 With help on the way next season from the likes of Henrik Borgstrom and Owen Tippett, it certainly didn't make sense to add a whole lot up front (without an agreement to sign a contract extension, at least), even if that whole lot is Pacioretty. On defense, a player like McDonagh (or even Erik Karlsson) would certainly have helped but, again, without assurance of an extension, the Cats were wise to hang onto their assets.
If the Panthers were to have made a move and then ended up missing the playoffs, that would have been an unmitigated disaster. Even if they did make the postseason with their new acquisition, the Panthers, barring some cataclysmic event affecting the rest of the league, would have had zero shot at winning it all. Then, they'd be out a huge chunk of their future, and have just one year to sell a pending big-ticket free agent on their plan and convince him to re-sign. That would have been an enormous risk to take for a team that's not yet a contender.
Having not gone all-in, the Panthers might still make the playoffs. Which is a good thing; they won't win, but it'll energise the fan base and be a nice, warm, fuzzy story after all the turmoil in South Florida in recent years.
Realistically though, they probably won't reach the postseason. Which is also a good thing; they'll have a shot at winning the draft lottery.
I can't support many of the decisions Dale Tallon's made, but I've got his back here. I just can't see a downside.
Panthers Missed out on Payroll Profit
However, in order to truly win the day, Tallon should have used the Cats' cap situation to his advantage.
Florida missed a glorious opportunity to glean assets from other teams. The Panthers are projected to finish 2017-18 with nearly $7 million in cap space. They also sit eight contracts short of the NHL's 50-contract limit. Surely, the Cats could have milked a team or two for assets by agreeing to take on some bad contracts.
Panthers' Players Stayed Put
While we're on the topic of bad contracts, there had to have been some team out there who'd love a shot at making Nick Bjugstad work. As mentioned in my trade deadline primer, everyone dreams of the "My Fair Lady" scenario; polishing raw, unrefined talent into scintillating stardom, thereby succeeding where others have failed.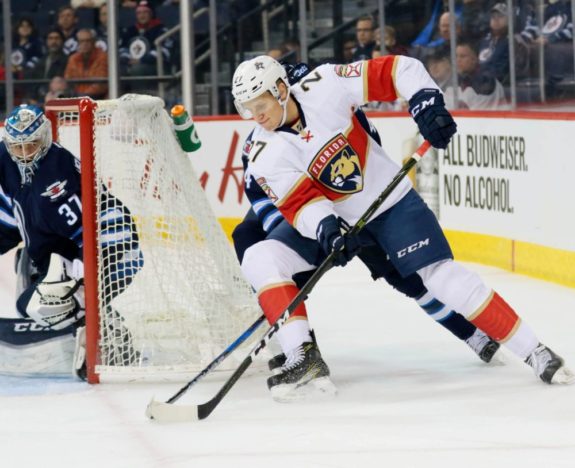 And was there really no market for Jamie McGinn and or Radim Vrbata?
I mean, in Vrbata's case in particular, wasn't trading him for assets at the deadline the whole reason you signed him last summer?
As for McGinn, he's the supposed to be the tough, grinding forward nearly every GM thinks their team needs heading into the playoffs. Are NHL front offices finally figuring it out? That's no fun.
The Cats had the chance to get some bad contracts off the books. Even if the deals offered weren't entirely market value, they should have jumped at the chance to rid themselves of overpaid players who can be already replaced from within, with more cavalry coming next season.
A bit disappointing, that.
Don't Forget About Frank Vatrano
The Panthers' lone move heading up to the trade deadline was acquiring forward Frank Vatrano from the Boston Bruins in exchange for a 2018 third-round pick.
In the American Hockey League, Vatrano has shown remarkable productivity, recording an astounding 39 goals in just 43 games. It's extremely difficult for even the most talented of players to score at a point-per-game pace in the AHL, let alone a goal-per-game. The guy's got talent, there's no question about that.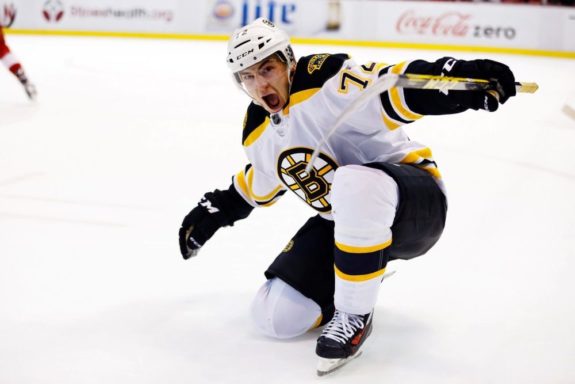 However, buried on a deep Bruins team, Vatrano struggled to produce, tallying only 20 goals and 31 points in 108 total games with the franchise. That said, he also averaged under 12 minutes per game during his time in Boston and, when he was playing, Vatrano had very nice advanced numbers, including a 54 percent Corsi For and a 52% Expected Goals For.
His PDO (shooting percentage plus save percentage) with the Bruins was just 96 (a player with average luck should be at 100), suggesting at least part of his struggles in Beantown can be attributed to bad luck. However, 108 games – which included a good deal of time on the power play – is a pretty big sample size, so it's entirely possible Vatrano's game simply hasn't translated very well to the NHL.
Drafts Dodgy for Finding Everyday NHLers
Regardless of what you think of the Vatrano, drafting is always a risky proposition, but the risks increase exponentially after the first few picks of the first round. Certainly, some teams draft better than others, but the Panthers generally aren't one of them. They've nailed a lot of their early-round selections but, of all Florida's third-round – or later – draft picks since Dale Tallon took over ahead of the 2010 draft, only three players have turned out to be everyday (or nearly everyday) NHLers for the Cats.
Denis Malgin (fourth round, 2015) and MacKenzie Weegar (seventh round, 2013) look to be sticking around, while Vincent Trocheck (third round) is a tremendous hockey player and would probably be the steal of the 2011 draft, were it not for the Calgary Flames getting Johnny Gaudreau 104th overall.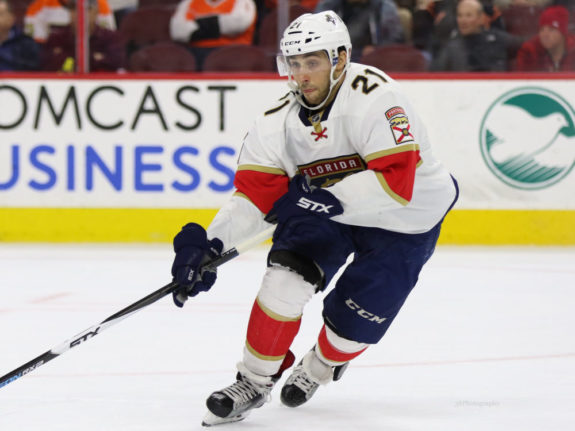 Joonas Donskoi (fourth round, 2010) and Zach Hyman (fifth round, 2010) are also useful players, but both were let go by the Panthers before they played a game in the league.
What I'm getting at is that Vatrano is a known quantity with NHL experience and a little bit of room to grow (he'll be 24 next month), while the third-round pick would, playing the percentages, likely amount to nothing.
Not a bad move, all things considered.
Tallon's Tepid Triumph at Trade Deadline
Dale Tallon took the safe path at the trade deadline, electing to stay the course and let the current iteration of the Panthers do what it will down the stretch.
And kudos to him for doing so. He had a hot team and the support of ownership, and yet calmly let the craziness pass him by. Kind of refreshing for Florida, to be honest. Boring, but refreshing.
Despite not making good use of their payroll flexibility, Florida kept intact their stable of young, talented forwards that most of the NHL would kill for. If the Panthers can go out in the summer and find one or two quality defensemen, the Cats should be a force to be reckoned with next season. Dale Tallon, in holding on to their assets this trade deadline, has set them up nicely for the future, as well.
(All advanced stats are thanks to Corsica. All metrics are adjusted and at five-on-five, unless otherwise specified.)