As the 2017-18 National Hockey League season chugs along, it is readily apparent the Florida Panthers will not be making the playoffs.
Even with four games in hand on the Pittsburgh Penguins, occupants of the second and final wild-card spot, the Panthers still sit 11 points back with only 36 games to go. That's a tall order, especially when you consider there are five other teams the Cats would have to overtake to have a shot at said berth.
Thus, with the trade deadline only a month away (Monday Feb. 26 at 3 p.m. Yes, a Monday. Why on Earth wouldn't they do it on a weekend? Or in prime time, at the very least?), Florida has to be thinking about what they can offer teams – and what they can reasonably expect in return.
Unfortunately for them, the answer to both questions is…not much.
Why Would the Panthers Sell off Assets?
Why would the Cats be selling off assets in the first place? After all, they aren't that bad. They're competitive most nights, and probably a tweak or two away from making the playoffs.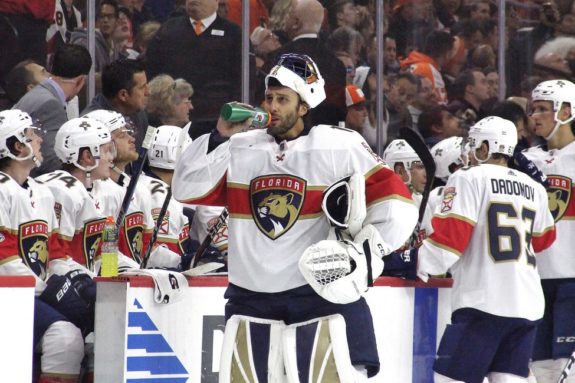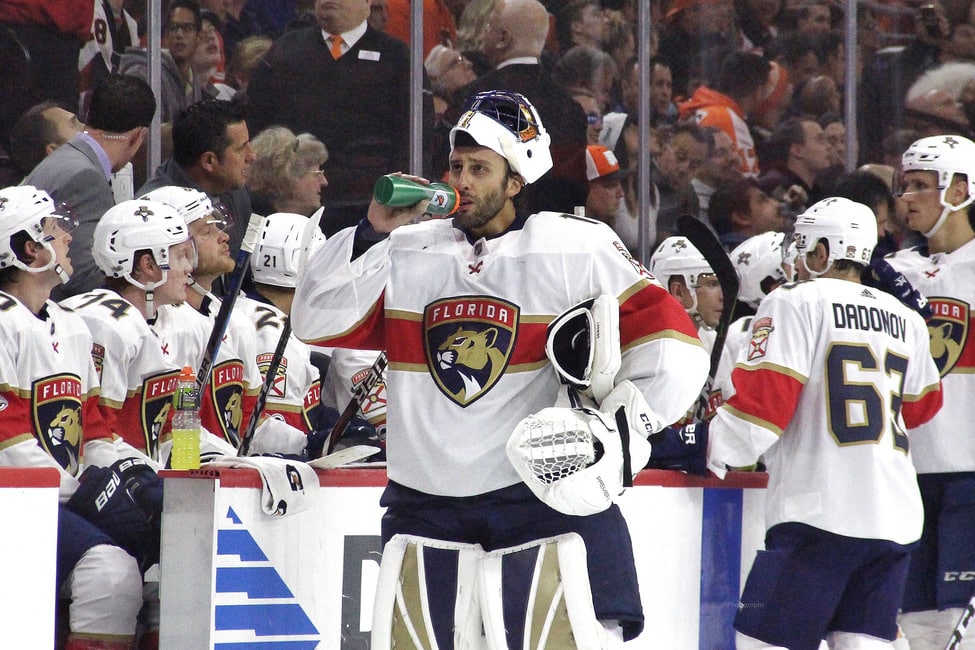 The thing is, in today's era of parity, nearly every non-playoff team is a tweak or two away from making it, and a tweak or two more away from contending for the Stanley Cup.
The hard part is figuring out what tweaks to make and then properly executing them, the latter often requiring another team who is likely trying to do exactly the same thing. If you get it wrong – and most teams do, you'll be stuck in perpetual mediocrity. See also: most of the Panthers' history.
The best course of action, therefore, is to build a team that is consistently competitive, and a farm system that can sustain that competitiveness as long as possible. This theory usually entails selling off assets that aren't part of a team's long-term plans, along with any bit pieces that are easily replaceable from within or on the open market.
Returns can vary, from draft picks to prospects, and even roster players, depending on the needs and goals of the teams involved.
What Do the Panthers Want in Return?
For the Panthers, they have a short window in which their young talent is still young, under the team's control and signed to manageable contracts. After this season, they'll have three to four years to make their move with their current build. It's also worth noting they have at least one pick in all seven rounds of each of the next three drafts.
Thus, assuming they draft well, they're not desperately in need of draft picks to sustain their competitiveness going forward. Plus, given their aforementioned window to win, it wouldn't be prudent to stockpile draft picks alone.
I would therefore suggest that prospects or NHL-ready talent would be more to the Panthers' liking.
Secondary Scoring
First and foremost, I would imagine Florida would be looking for one or more forwards that can provide depth scoring, and that are very close to making the NHL, if not already in it.
Top-end scoring has not been an issue for the Cats; Aleksander Barkov, Evgenii Dadonov, Jonathan Huberdeau and Vincent Trocheck have all put in yeoman's work carrying nearly the entire offensive load in South Florida.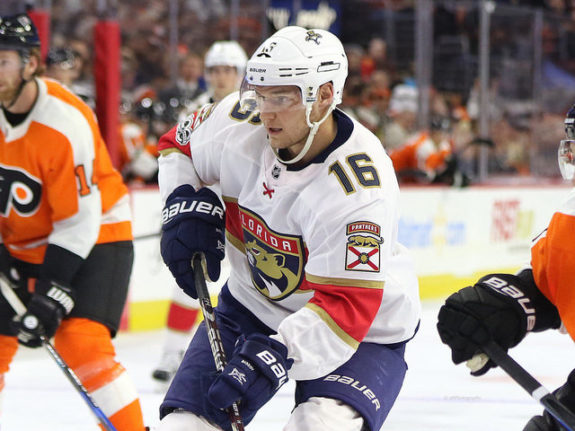 It's the depth that's been an issue; one simply cannot expect one's top players to overcome the opposition every single night. Some injury insurance is as good a reason as any, too.
Defensive Depth
If one thing's been clear this year, it's that the Cats need a steady, calming presence on the back end. Whether that's a nearly-ready prospect or a blue-liner with some experience who can't get in the lineup (or makes too much money) somewhere else, I don't imagine Florida would be too picky, 'cause what they're icing now clearly isn't working.
Goaltending Gains
Both James Reimer and Roberto Luongo have performed well, but both have extensive injury histories that have reared their ugly heads. The Panthers would do well to kick the tires on a 'tender or two, perhaps one that's stuck on a depth chart behind a guy who'll be said team's starter for the next 10 years.
What Do the Panthers Have to Sell?
Assuming Barkov, Dadonov, Huberdeau, Trocheck and Aaron Ekblad are all safe, and that no one wants to take on the salary and term of Keith Yandle (who would also have to waive his no-move clause) and Mike Matheson, just who of value do the Panthers have to offer?
Alex Petrovic
After a rough start to the season, Petrovic has found his game of late and is likely the Panthers' best trade piece heading into the deadline.
As a right-hand shooting defenseman who (when he's at his best) plays a simple game with a physical edge, Petrovic, who has worked hard to smooth out his play, should be a coveted depth option.
He's also on an expiring contract that only pays him $1.85 million (pro-rated, it will be much less), and he's still a restricted free agent come the summer. Petrovic is the Panthers' best bet, by far.
Colton Sceviour
Sceviour has, for my money, been the Panthers' most consistently impressive forward in 2017-18.
Yes, he doesn't provide a lot of offense (six goals and 12 points in 40 games), but he's not expected to. What he is expected to do – kill penalties and break even at five-on-five, he does very well.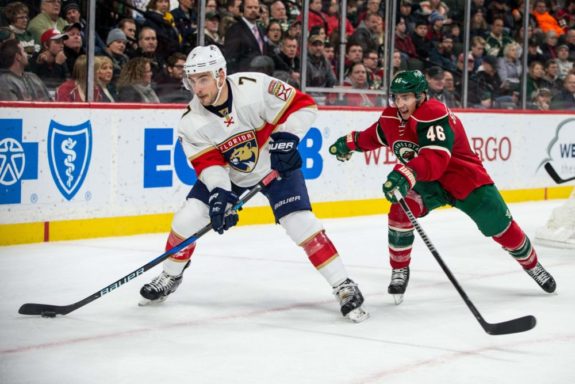 The speedy Sceviour normally plays the wing, but it's not unusual to see him at centre (where he wins 55.8 percent of his faceoffs). Along with his versatility, Sceviour can be a real nuisance, frustrating opposition lines by hemming them in their own zone.
Nothing fancy here; just the ideal player for a fourth (or even a third) line in the modern NHL.
Jamie McGinn
The home run of the trade deadline for the Panthers would be getting someone to take McGinn's contract (one year left at $3.33 million) off their books.
Though he hasn't been able to recapture his 19-goal form from his Colorado Avalanche days, McGinn would be a decent depth option up front on a lot of teams. He can even be used on the power play, if a net-front presence is needed.
The Cats might have to retain salary on this one though, especially considering the contract still has a year left on it. What they get in return needs to be worth it.
Micheal Haley
Why is an enforcer on this list, you ask? Well, because this is the NHL and everyone knows you need grit and sandpaper and punchiness to win. Just ask the Penguins; they've literally never won a thing, so they went out and paid a prospect and a first-round pick for Ryan Reaves. Now they're doing great!
Seriously though, the compact ball of fury and fisticuffs that is Haley plays about as effective a game as one could ever hope for from a player with his skillset. He's surprisingly quick, never shy to lay the body, and generally knows how to get himself in the right positions in both the offensive and defensive zones.
He doesn't have the talent to finish very often, but the thinking is definitely there; he's a bona fide NHL player and can be useful if deployed in the right role.
For example, maybe a team is dreading going up against the Anaheim Ducks, Los Angeles Kings or another similarly heavy team that ices players with creative interpretations of the rulebook. Haley would look mighty good as a physical depth option to combat some of that nastiness.
Radim Vrbata
The signing of Vrbata was expected to give Florida some reliable scoring off the wing from a reliable veteran presence.
That, uh, hasn't happened.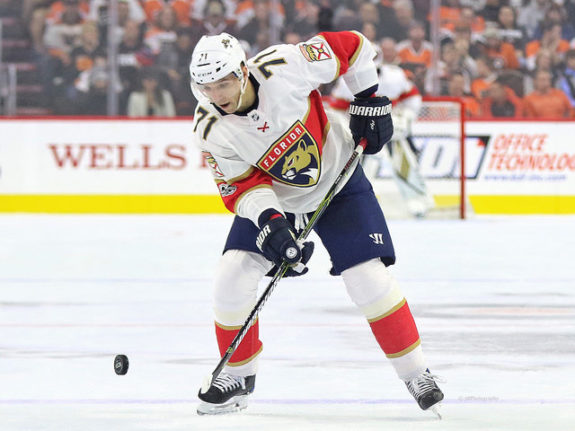 It seemed like a win-win; if the Panthers were in the playoff hunt, he'd be a valuable member of the team. If not, they could simply ship him off at the deadline for a handsome return.
In reality, Vrbata sits at five goals (three of which came in one game) and 13 points in 34 games (he's missed several due to injury), and has looked generally awful. Although I'm sure teams will still be interested, the price they'd be willing to pay can't be very high.
That said, Vrbata's been pretty up-front in suggesting this season might be his last, so he should be hungry for a shot at the Cup.
Salary Cap Space
An often-underutilised resource, cap space is in abundance in South Florida (the Panthers are projected to finish the season with nearly $7 million of head room).
Assuming the owners give him the green light to spend, general manager Dale Tallon might be able to squeeze some prime assets out of teams if he agrees to take on a bad contract or two in return.
Who Should the Panthers Keep at All Costs
Now, it's not as though the above players are the only ones that might be of interest. That said, I would argue that the following two be totally off-limits (barring an offer Florida simply cannot refuse).
Jared McCann
Acquired in a one-sided deal with the Vancouver Canucks, McCann has looked very good this season, despite injury, sparing use and mediocre linemates.
McCann is a gifted offensive forward with tremendous speed and the ability to play in all situations. His poor faceoff percentage (he currently sits at 39.4 percent) notwithstanding, McCann would make a fine addition to the secondary scoring of a playoff-bound team.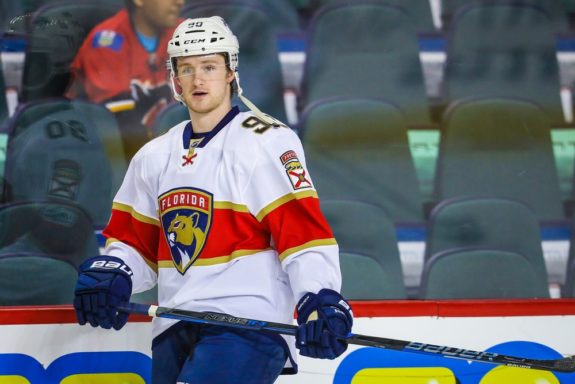 And that's exactly why the Panthers should keep him. At only 21 years of age, he still has room to grow. Plus, he's a restricted free agent at the end of the year, meaning the Cats still have some leverage when it comes to contract negotiations.
Good, young, cheap, versatile forwards are hard to come by, as are trade wins. Best to hold 'em if you got 'em.
Mark Pysyk
Pysyk is a reasonable defenseman making reasonable money ($2.73 million) on a reasonable term (two more years after this one). He'd be attractive to nearly every team hoping to contend in the near future, doubly so on account of the fact he shoots right.
However, Pysyk is also a good fit in Florida; that's why they re-signed him last summer. Probably the Cats' quietest defenseman, Pysyk simply shows up to work and does his job well – and often someone else's, too.
Ship him out and the defense will be even less-organised and less-structured than what is perhaps the least-organised and least-structured defense in the NHL.
What Exactly Is Dale Tallon's Plan for the Panthers?
So, the Panthers can't exactly expect a haul, that much is clear.
Of course, all this speculation is tempered by the fact no one knows what exactly Dale Tallon's plan is.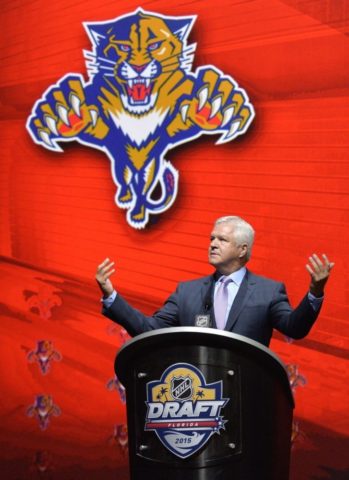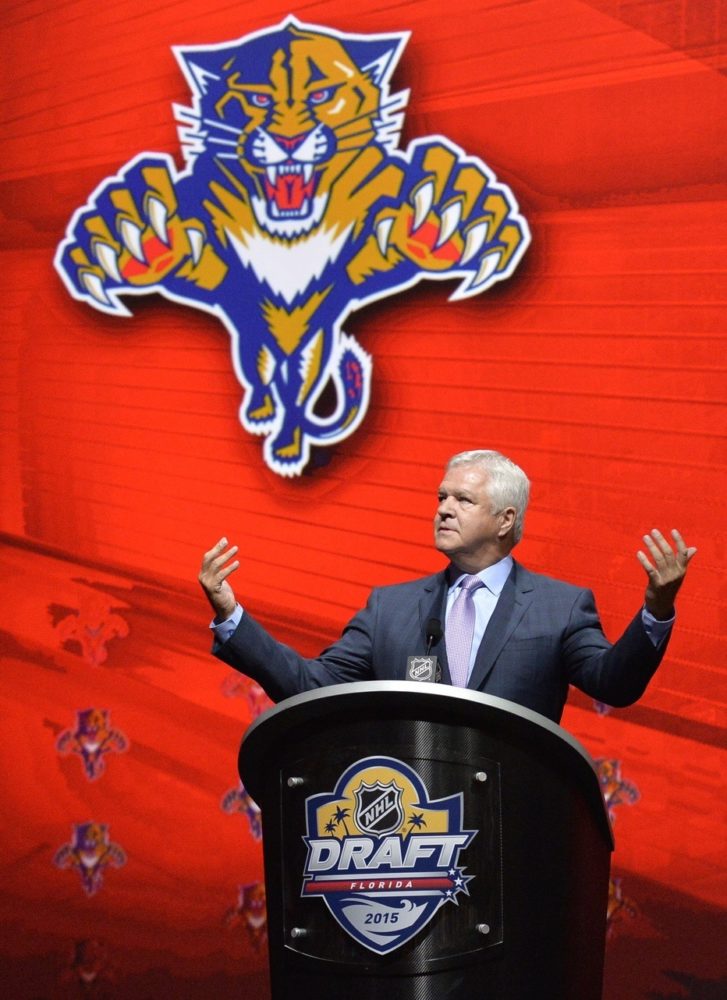 Maybe he has rose-coloured glasses (or the threat of a rose-coloured slip) and will buy at the deadline in an attempt to squeak into the postseason.
Maybe he'll continue the scorched-earth policy of jettisoning any and all players approved of by the short-lived analytics-focussed regime.
Or maybe he'll stay the course and keep the team largely intact, banking on more time with Bob Boughner behind the bench and some very nice-looking prospects (Henrik Borgstrom and Owen Tippett come immediately to mind) salvaging the fortunes of a consistently lacklustre franchise.
Whatever the case, there's never a dull moment in Sunrise, and I'm sure this year's trade deadline will be no different. I can't wait.
Peter Ferrell covers the Florida Panthers and Toronto Maple Leafs, with a side of jersey and logo (over)analysis, for The Hockey Writers.