Carolina Hurricanes' goaltender Scott Darling needs a reset. More than a mulligan or a do-over, Darling needs a complete reset of his opportunity to be the starting goalie in the NHL. Like a golfer with the "yips," Darling has lost the fundamentals. He's needs a chance to get them back.
Darling has not played well this season. Correction: He has played horribly this season. What is wrong and how or even if it can be fixed are questions that are looming large over Darling and his career. One thing is certain – he's got to figure it out. Maybe that can only happen with a change of scenery.
Is it time for the organization to throw in the towel and put Darling on waivers? If he gets claimed then he becomes another team's problem and the 'Canes can promote a player from their AHL affiliate Charlotte Checkers, who likely would do no worse. If he does not get claimed, then the team can send him to Charlotte in the hopes of a reset happening. Maybe Darling would find his game again and resume his role on the Hurricanes.
Darling Looked Good
Ask anyone associated with the Hurricanes from this past offseason and they will tell you that Darling looked good when he was a backup with the Chicago Blackhawks. He served as a respite for starting Blackhawks' goalie Corey Crawford and did so admirably. During his time in Chicago, he was part of a team that hoisted the Stanley Cup. That doesn't happen for a team whose backup netminder is awful.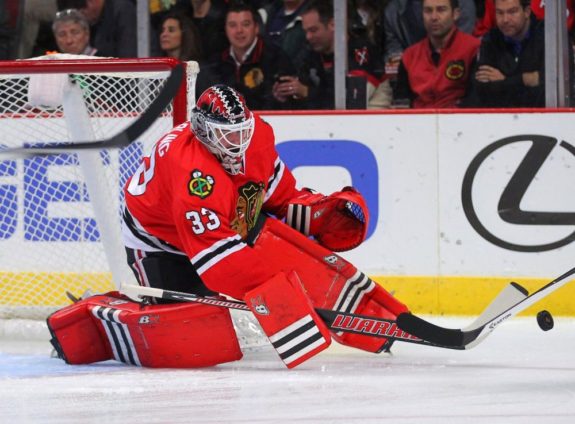 Darling was called upon by the 'Hawks and he responded well. In April 2017, Chris Hine wrote at the ChicagoTribune.com that Blackhawks' general manager, Stan Bowman had kind words for Darling in a statement issued when he was traded to the Hurricanes for a third-round draft pick:
We could count on Scott in any situation as he was always reliable, we appreciate his contributions to the Blackhawks organization — including a (Stanley) Cup Championship team — and we wish him well as he continues his career in Carolina.
Darling looked good and ready to pivot from backup to starter. There was no reason to think that, outside of the occasional growing pain, Darling would not be up to the task of becoming the starting goalie for the Hurricanes.
Ron Francis is 0-2:
First Eddie Lack
Hurricanes general manager Ron Francis is 0-for-2 in acquiring goaltenders for the team. In 2015, Francis brought in Eddie Lack from the Vancouver Canucks. It was a disaster. In early October, Lack received a contract extension to the tune of two years and $5.5 million. At that time, Francis was confident he had made a good play for his team. TSN reported that Francis said in a statement, "Eddie has been a great addition to our locker room. We feel that we have a very solid tandem in net for this season and are excited that Eddie will remain a part of that picture beyond this year."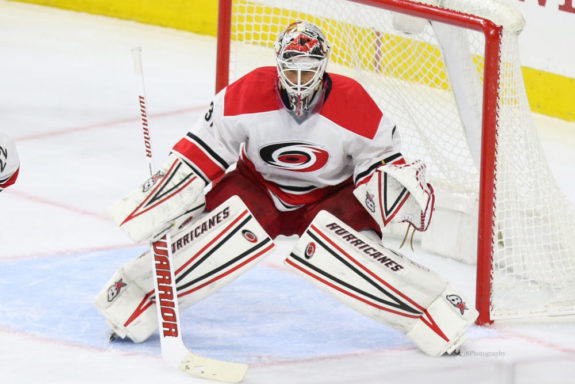 The Hurricanes were set with Cam Ward to start and Lack to back him up. All was good and hopes were high at the start of the 2015-16 season. The plan fell apart, and it was clear that Lack was not going to be able to be a solution to the problem the Hurricanes had created for themselves by getting rid of Anton Khudobin.
At times, Lack looked good and hope arose. But, it was quickly deflated, and, by March 2017, Hurricanes head coach Bill Peters was publicly calling Lack out, saying it would be nice if he could make a save. Lack told me that it was hard to get into a rhythm playing every so often as a backup, and frankly, that can be a legitimate concern.
But, in 2015-16, Lack appeared in 34 games, 31 of which were starts – that's a lot of games as a backup. His record was 12-14-6, with a goals against average of 2.81 and a save percentage of .901. In 20 games during the 2016-17 season, 18 of which were starts, Lack posted a record of 8-7-3. His GAA was 2.64 and his save percentage was .902. It was clear by season's end that Lack would not be back.
Francis shipped Lack and Ryan Murphy off to the Calgary Flames and then brought in Darling. Lack flamed out in Calgary, and, after only four games and two starts, the Flames placed him on waivers. His stats were abysmal at 1-2-0 with a GAA of 5.29 and a save percentage of .813 in those four games. He cleared waivers and has been playing in the AHL since that time.
The Flames traded Lack to the New Jersey Devils where he recently posted a 32-save effort for their AHL affiliate in Binghamton. Things may eventually turn around for Lack, and he can find what his game has been lacking to get him back to the NHL.
Now Darling
At last season's final press conference, Francis made it clear that getting the team's goalie situation resolved was a high priority, and he wasted no time in doing just that. As the 2017-18 season approached, Darling was now the man in Raleigh, and Ward was going to be the backup for the first time in his storied NHL career. Francis, apparently undaunted by the failed Lack experiment, doubled down on Darling and signed him to four years and $16.6 million.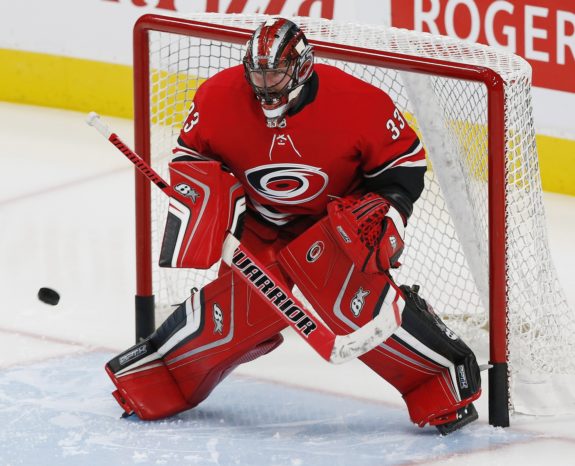 It has been a disastrous season for Darling. To be honest, I like him, and I have hesitated to write an article wherein I blast him and criticize his play. The truth is that he has given all of us who cover the Hurricanes plenty of fodder for such a composition. But, he is really a nice guy and I genuinely feel bad for him. It took Peters two years of Lack's frustrating play before he boiled over, so I figure Darling just may need some time.
Luke DeCock of the Raleigh News & Observer wrote recently that the time for the Darling experiment is up:
The way the team seems to play worse in front of Darling than Ward is a symptom of the larger problem, not the problem itself. Yes, Ward moves the puck better, which helps, but the Hurricanes clearly don't trust Darling, and to be fair to them, he's done little to earn their trust.
For good measure, he also added, "He isn't even Eddie Lack." Ouch. I guess if you're going to blast a guy when he is down it may as well be a whole-hearted effort. I'm there mentally, trust me. I get nervous every time the opposing team crosses into the Hurricanes' zone if Darling is in-goal. This was the beginning of Darling's undoing as the starter for the Hurricanes:
Mika scored from where!! This #NYR 🚨 is a MUST 👀

Stay tuned on @msgnetworks or https://t.co/TMLf6zaGIh for more Rangers game action. pic.twitter.com/INc3p66i1s

— New York Rangers (@NYRangers) November 23, 2017
Darling Needs Reset
In his best interest, perhaps he needs that change of scenery. He needs a chance to push the reset button. If his contract allows for him to be put on waivers, then perhaps that is the best course of action. Like I said, I feel bad for Darling. I like him. He's always polite and responsive when I talk to him in the locker room.
But, it's killing the team and his future for him to repeatedly look as if he has lost his reflexes, cannot see the puck and flops around aimlessly. For the sake of the team, and for the sake of Darling's future in the NHL, something needs to be done, and done soon.
Mark lives in the Raleigh, NC area and covers the Carolina Hurricanes.