When the New Jersey Devils signed Ben Lovejoy in the summer of 2016, he had big shoes to fill. The team had just traded Adam Larsson for Taylor Hall, leaving a void on their blue line. Lovejoy was expected to eat some of the minutes they lost in Larsson. Needless to say, he had a tough time producing in his first season and found himself logging heavy minutes out of his comfort zone. Now, a year later, you could say things have changed a bit.
Lovejoy's Prominent Turnaround
Evaluating a player such as Lovejoy can, at times, be difficult. He's not an offensive threat, so relying on your eyes, as well as a deep look at his numbers, is crucial. In order to give of us an idea of his play, I made a table listing some five-on-five advanced stats that highlight Lovejoy's one-eighty.
| | | |
| --- | --- | --- |
| Stat | 2016-17 | 2017-18 |
| Games Played  | 82 | 26 |
| Corsi For (CF%) | 44.1% | 52.9% |
| Relative Corsi For (Rel CF%) | -5.7% | 5.4% |
| Expected Goals For (xGF%) | 44.8% | 55.4% |
| Relative xGF (rel xGF%) | -4.5% | 5.7% |
| Scoring Chances For (SCF%) | 45.2% | 53.4% |
| High Danger Chances For (HDCF%) | 48.5% | 56.9% |
Despite the fact it's been in a much smaller sample size, there's a stark contrast between the two seasons. For example, his CF% has improved by almost nine percent. His xGF% has increased by almost 11% and is the best mark of any player on the team (min. 20 games played). He's also been the team's top shot suppressor, averaging 51.7 shot attempts against per 60 minutes.
The Devils' numbers are also noticeably better when Lovejoy has been out on the ice. His relative CF% of 5.4% is second best on the team, which is only behind fellow defense partner Will Butcher. Compared to last season's minus-5.7% rating, that's a sizable improvement. He has also done a good job of limiting scoring and high danger chances against. His SCF% and HDCF% rank second and fourth best on the team (min. 20 games played), respectively. The result is the team having a relative xGF 5.7% higher.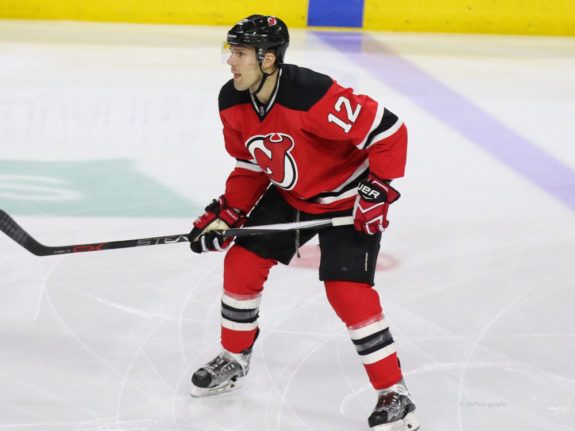 Lovejoy has played a part in helping the Devils tally more wins due to their improved defense. While some may argue that he's been receiving sheltered minutes, that isn't necessarily the case. His zone start rate in the offensive zone ranks in the bottom five of the team. He's been able to handle his defensive assignments and John Hynes hasn't had an issue giving him those minutes.
Related: Devils Need a Better Zajac
Lovejoy, Butcher and a Formidable Third Pair
As of late, the Devils have found themselves a formidable third pairing in Will Butcher and Ben Lovejoy. In 26 games together, they have a CF% of 57.9%, which is one of the best among any Devils defense pairings. They've also averaged 64.1 shot attempts per 60 minutes, as opposed 46.5 shot attempts against per 60 minutes.
In addition to out-shooting their opponents significantly, Lovejoy and Butcher have done a great job generating and preventing scoring chances. New Jersey has out-chanced their opponents 99-62, including 38-23 in high danger chances. Although they may be the team's third defensive pair, the numbers speak for themselves.
Part of the duo's success together comes from Butcher's offensive prowess balanced with Lovejoy's stay-at-home style, something the Devils have been seeking for a while. For the time being, they've found that with these two as they look to play an important role in the final 36 games of the season.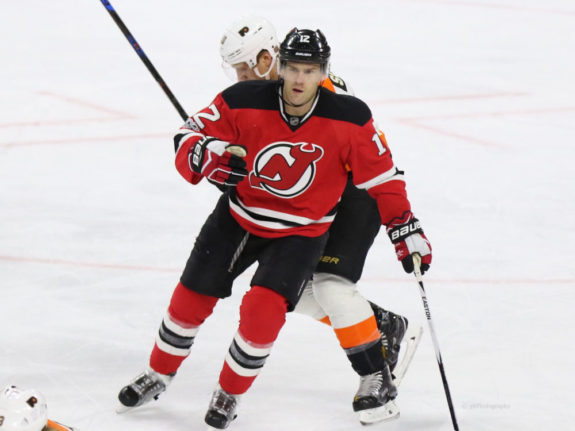 It's All About Defensive Depth
Despite their recent woes, the Devils have still managed to collect points in 32 of their 46 games. This is thanks in large part to improved defensive depth. In many cases last season, John Hynes used Lovejoy alongside Andy Greene, with minimal results. The organization won the sweepstakes for prized college UFA, Will Butcher and traded for Sami Vatanen in a midseason acquisition.
With Mirco Mueller set to return from injury in the coming days, the Devils will only add to their blueline depth. Hynes will have some tough lineup decisions to make in the near future. While he's played quite well, Lovejoy will still have to earn a regular spot in the lineup. If he continues posting the underlying numbers he is, it should be no issue. However, any slip-ups and he could be a healthy scratch once again, which he's been on many occasions this season.
With potentially eight defensemen on the roster the rest of the way, the Devils are looking for someone to step up and seize an important role. Since returning to the lineup at the beginning of January, Lovejoy has been able to do just that. If he can continue contributing in the role he's been given, it can only benefit the Devils' bid for a playoff berth. That's not something we could've said this time a year ago.
      *       *      *
Advanced stats from Corsica and Natural Stat Trick