The Florida Panthers begin their 24th National Hockey League season in less than two weeks, and the team's prognosis has never been murkier. Will their new additions up front be able to offset the production discarded this summer? Who will step up on defense to replace the deposed Jason Demers? How will Bob Boughner fare in his first NHL head coaching job?
But perhaps most importantly, given the criticality of the position, how will the Panthers' goaltending hold up? More specifically, can they make the playoffs without a designated starter?
Luongo and Reimer a Precarious Pair
Roberto Luongo and James Reimer split netminding duties in 2016-17, and are poised to do so again this season. However, the litany of health issues the pair have been through leaves even the hardiest of Florida fans just a little bit clenched.
Posting a respectable .915 save percentage last year behind a disorganised and downright snakebitten team, Luongo – who, inexplicably, seems poised to finish his career without a Vezina Trophy – can clearly still perform at an elite level. However, the veteran standout, the definition of durability throughout much of his career, has begun to experience chronic hip problems. Though manageable, the issues, which are not uncommon amongst his butterfly brethren, will no doubt necessitate the Panthers limiting his playing time.
As for Reimer, he played in a career-high 42 games in 2016-17, finishing, despite a slow start, with a very good .920 save percentage. As fans of the Toronto Maple Leafs can attest, the affable Manitoban is a steady, reliable goaltender who performs best when given a steady, reliable workload. However, this diet of vulcanised rubber must be carefully managed, lest the fragility of his own lower body rear its ugly head. And then, of course, there is his history of concussions, much of which has been shockingly mismanaged.
Splitting Games Not Necessarily Solution for Panthers
So why not just let Reimer and Luongo split the games?
Well, excluding the generationally talented Pittsburgh Penguins, when was the last time you saw a team have real success with a two-goalie system? After all, splitting goaltending duties is usually a sign no netminder has taken the reins and adequately distinguished themselves.
In fact, in the past eight NHL seasons, 63 of 128 playoff teams – 49 percent – had a goaltender who started 60 games or more (35 or more in lockout-shortened 2012-13). While this may not seem a particularly impressive figure, consider that, of all the non-playoff teams from the same time period, only 31 of 112 – 28 percent, had such a goaltender. That's a massive difference.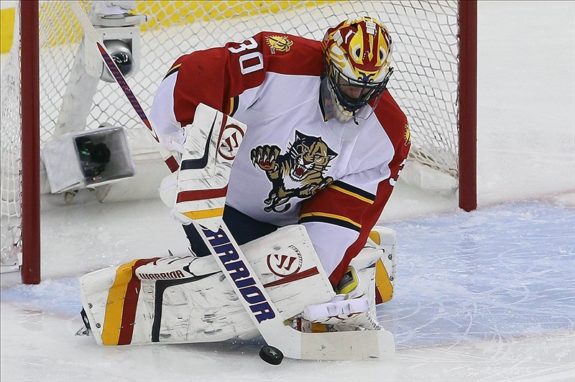 Yes, 60 starts is an arbitrary statistic and does not a number-one goaltender make. And yes, there are injuries, transactions and many other variables that can affect goaltender deployment one way or the other. But the general pattern is clear: teams with a defined starting goaltender tend to make the playoffs more often that teams without.
Naming a Starter a Panthers Priority?
Most coaches generally favour having a starting goalie, someone steady and reliable they can build their game plans around. For his part, new bench boss Boughner, during his eight seasons coaching the Ontario Hockey League's Windsor Spitfires (winning back-to-back OHL and Memorial Cup championships in 2009 and 2010), had a goalie play 40 or more games (in 68-game seasons) in six of those years. Impressive, especially considering the OHL is a developmental league.
It must be easier for a team's players, too, to have a designated starting goalie. It's not necessarily a confidence thing – as mentioned, both Panthers goaltenders consistently perform well, but more a comfort thing. For example, defensive puck retrievals must be easier when one knows what one's goalie it going to do with it. Likewise, rebound control and direction should also be more predictable. Hockey is a game of inches, and the small advantages to having a designated starter can add up during the lengthy NHL season.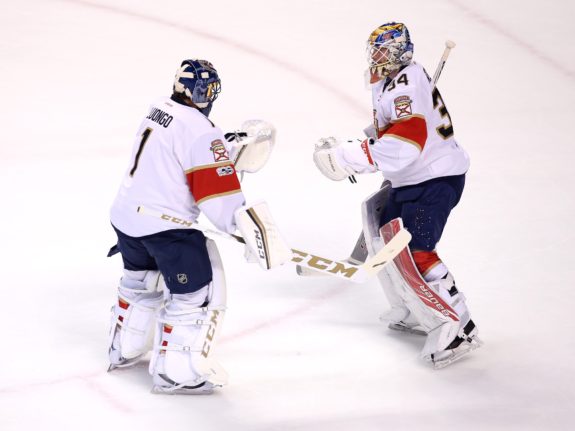 Furthermore, what if Luongo or Reimer goes down to injury? Can the other, given their respective injury histories, reasonably be expected to play every game of his batterymate's absence?
Panthers Goaltending Ultimately Uncertain
Simply put, successful teams generally have a designated, go-to goaltender. But the Florida Panthers just cannot risk leaning too heavily on either of Roberto Luongo or James Reimer, even if one of them gets hurt.
But let's look on the bright side: maybe both goaltenders will have full, healthy seasons of quality puckstopping, propelling the Panthers into playoff contention.
Even if they don't stay out of the injury bay completely, perhaps help is at hand with the signing of Kontinental Hockey League standout Harri Sateri this past offseason. The 27-year-old Finn posted an excellent .923 save percentage – including back-to-back seasons of .929 – over three years for an otherwise mediocre Vityaz team.
Add to the insurance Sateri provides the fact the Panthers, as a team, probably won't be as unlucky as they were last year, and maybe the future is a little more secure than at first glance it appears.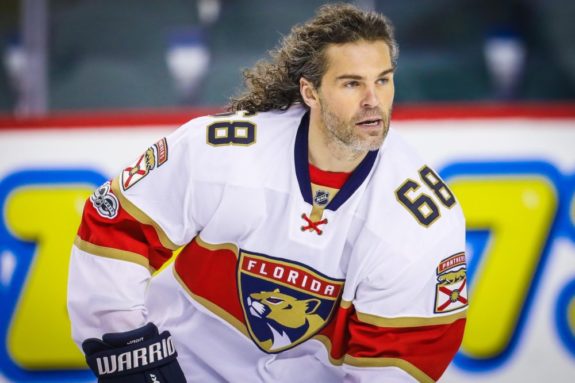 But until the Panthers have demonstrated proof of concept for a permanent solution in net, be that the Reimer-Luongo combination or another setup altogether, the uncertainty over their ability to succeed without a clear-cut number one will persist.
Peter Ferrell covers the Florida Panthers and Toronto Maple Leafs, with a side of jersey and logo (over)analysis, for The Hockey Writers.