After a shambolic 2016-17 season, the Florida Panthers have hit the reset button. They've stabilised their management, brought in a new coach, and committed to a youthful lineup focussed on speed and puck movement.
But will these changes be enough for the Panthers to make the postseason in the ultra-competitive Eastern Conference? After all, one has to expect the powerful Metropolitan Division to provide at least four, but probably five of the East's eight playoff teams, leaving only the three divisional slots in the Atlantic available for the Cats.
The Panthers should be an improved team over last year, but by how much? More importantly, how do they stack up against their Atlantic Division opponents?
Are the Florida Panthers Better Than…
…the Boston Bruins?
Maybe. The Bruins, an older team with a heavy, hard style of play, are trying to change on the fly into a younger, faster, puck-moving squad. They will be walking a very fine line. Get it right, and Boston, with an elite veteran core that's won before, could well be in Cup contention come spring. Get it wrong and the Bruins will be a confused Franken-team in need of a complete overhaul.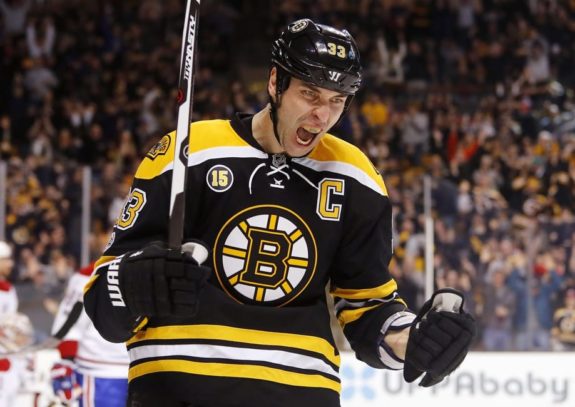 Boston and Florida are in completely different stages of development: the Bruins are trying to retool for another run at a championship while laying the foundation for the future, while the Panthers, ostensibly at least, are still a young team on the rise. However, both teams need to win – and soon. The parallels and contrasts between the two teams should provide some entertaining matchups down the stretch – the Cats and Bruins play each other three times after the trade deadline.
…the Buffalo Sabres?
Yes. Admittedly, Buffalo has made some solid upgrades to their roster (Chad Johnson, Marco Scandella and Nathan Beaulieu come to mind), and have also shaken up their coaching and management. But the Sabres' rebuild is taking so long that it's beginning to seem like it will never come to fruition. The Sabres, like so many teams before them, appear to be suffering from a tragic overestimation of their own players. Then again, superstar Jack Eichel isn't yet signed past this season, so perhaps they're guilty of underestimation, as well.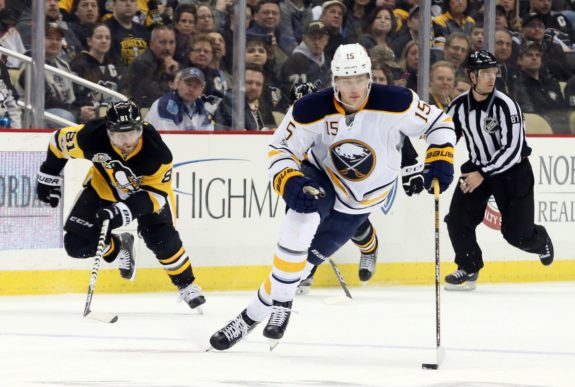 The Sabres are on track to be more competitive than the team that finished in the Atlantic's basement in 2016-17, but I'll put the Panthers' elite young players ahead of a Buffalo core that is merely good.
That said, this team has to break out sometime, don't they?
…the Detroit Red Wings?
Yes. In another case of overestimating one's assets, it appears the draft and development mastery of the Red Wings has finally hit a wall. They've got some serviceable pieces, but no longer any bona fide stars to lead the way. On paper at least, they should have above-average goaltending, but who knows what's going on behind the scenes, as Detroit chose to expose the younger, less-expensive Petr Mrazek in the expansion draft. They are also in salary cap hell, thanks to overly generous contracts given to depth players like Darren Helm and Justin Abdelkader.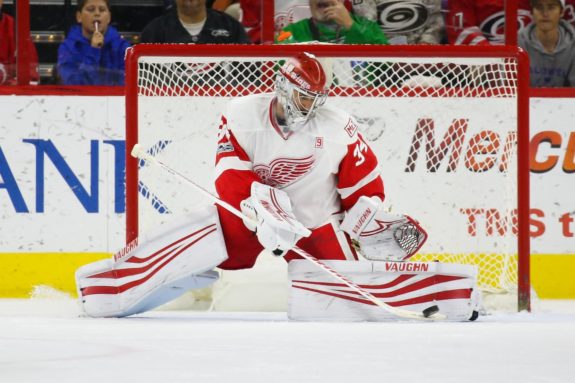 Barring some unexpected signing, trade and or season-long miracle, the Wings should be out of the playoff picture by (American) Thanksgiving.
The Panthers have better high-end players and their depth has been filled out at a reasonable price. Detroit signed a bunch of over-valued players to big-money, long-term deals, and has left themselves no room to manoeuvre. There's no comparison.
…the Montreal Canadiens?
Maybe. Let me preface my explanation by saying that a healthy Carey Price playing at the top of his game makes the Habs a threat to win the Stanley Cup, every single year. And yes, the Canadiens are coming off an Atlantic Division title, something they could well win again if Price stays out of the injury bay. But that's a helluva "if."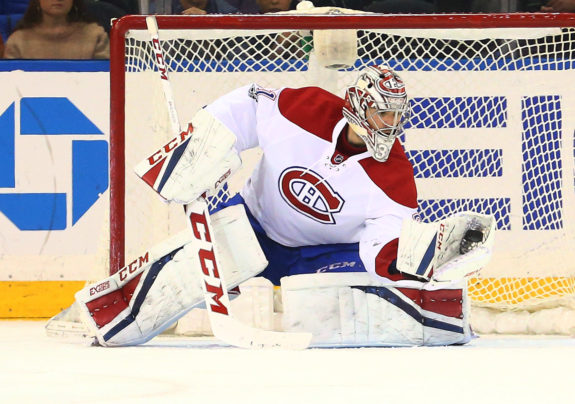 However, are the Tampa Bay Lightning really going to repeat the disaster that was their 2016-17 season? Are the Toronto Maple Leafs really going to be any worse, having only bolstered their young, record-breaking team over the summer? And what about wild cards like Ottawa, who could well finish in the Atlantic basement, but who also came within one win of last year's Stanley Cup Final?
The Habs haven't left themselves much room for error. They've managed to offset the loss of talented winger Alexander Radulov with the acquisition (and subsequent very reasonable signing) of the young, versatile Jonathan Drouin. That said, the price was top-rated defensive prospect Mikhail Sergachev, who was set to anchor the Montreal blue line for the next decade – or more.
So, the Habs treaded water on offense. They might even be better on defense – thanks to serviceable acquisitions David Schlemko, Karl Alzner and Mark Streit, as well as a full season of Claude Julien behind the bench, though defense was never the problem. The Panthers are a better all-around team than the Habs and should reap the dividends of such an advantage, particularly in a league in which speed and skill up front are increasingly valuable.
Of course, Carey Price can nix that advantage, all on his own…
…the Ottawa Senators?
Yes. The Senators, as they do every season, will ice a serviceable, yet budget-conscious team that might juuusst be good enough to squeak into the playoffs and earn miserly, penny-pinching owner Eugene Melnyk at least two games worth of playoff revenue. Some years, they get even luckier, such as last season when they made it to Game 7 of the Eastern Conference Final.
Will they repeat that success in 2017-18? No. To be sure, Erik Karlsson is the best defenseman in the National Hockey League, hands down, and can win games all on his own.
Meanwhile, head coach Guy Boucher employs an supremely boring yet exceedingly effective system, while Craig Anderson will continue to do what Craig Anderson does best, giving Vezina-quality goaltending to teams that, otherwise, have no business being anywhere near the playoffs.
In a way, the Sens are the budget version of the Habs. Great goaltending and a solid defensive structure, but who's going to score? I have to take the balance of the Panthers over the hope-and-pray strategy of the Senators.
…the Tampa Bay Lightning?
No. The Lightning are set in goal, handing highly touted youngster Andrei Vasilevskiy the starting job, and bringing in veteran revenant Peter Budaj – who very nearly dragged the lacklustre Los Angeles Kings to the playoffs last year – to back him up. Their already impressive defense corps is edging towards all-world with the addition of Mikhail Sergachev. And their stars up front are, when healthy, better than the Panthers' offensive offerings.
What truly sets the Lightning apart is that their players are proven. Florida is relying on a combination of veteran grit, unrealized potential and unproven youth to fill out their lineup, while their cross-state rivals know their depth is NHL-ready. Despite being decimated by injuries, the Lightning stayed competitive in 2016-17 – only missing the playoffs by a single point – thanks, in large part, to the strength of their call-ups, many of whom should make the team out of camp this season.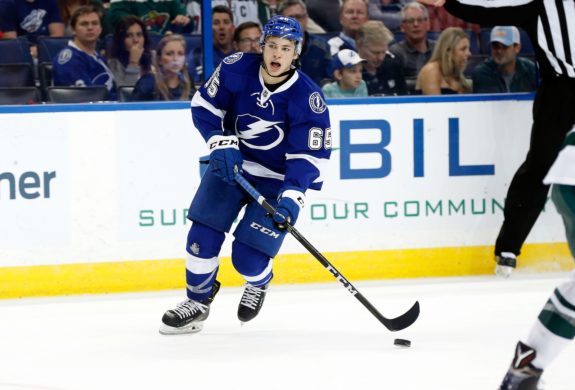 The Lightning are just two years removed from Game 6 of the Stanley Cup Final, and only one year on from reaching Game 7 of the Eastern Conference Final. Even a modicum of health in 2017-18 should result in a return to this level of play. Or, at the very least, an Atlantic Division title. The Lightning are, very clearly, a cut above the Panthers.
…the Toronto Maple Leafs
No. The fifth-highest scoring team of 2016-17 went out and added two-time Olympic gold medallist Patrick Marleau – he of 508 career goals (27 last year), and didn't really lose anyone of note. Combine the addition of Marleau with another year of experience for their young, talented players, and the Leafs have nowhere to go but up.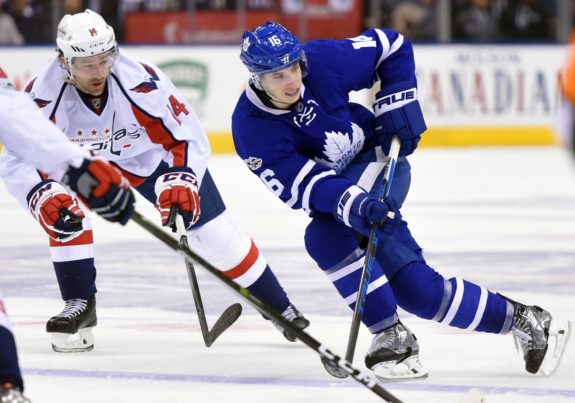 Their defense remains their weakest point, but Stanley Cup champion Ron Hainsey is a nice pickup who showed last season with the injury-ravaged Pittsburgh Penguins that he has the ability to play up the lineup, if need be. Goaltending might be an issue too, depending on how much you trust the tandem of Frederik Andersen and Curtis McElhinney. Still, the team got it done last season, and should improve on their fourth-place finish in the division this time around.
The Panthers are not going to keep up with the Leafs offensively. They might be able to make up some ground on the defensive side of the puck, but Toronto's offense, along with their all-around team speed, pushed the Presidents' Trophy-winning Washington Capitals to a respectable six games – all six of the one-goal variety, five in overtime – in the postseason. The Maple Leafs are just too overpowering up front, and their weaknesses are only going to get better. I would be shocked if the Cats outpace the Buds in 2017-18.
NHL Atlantic Division Standings
So where does this leave the Florida Panthers?
If we assume the Lightning and Maple Leafs will occupy the first and second spots in the Atlantic, that leaves one divisional position – and maybe, maaayybe one wild card slot – open for the taking.
If all goes according to plan for the Panthers, I foresee a fight down to the wire between the Cats, Bruins and Canadiens. The Panthers and Canadiens play each other two times post-trade deadline, while the Panthers and Bruins, as mentioned, face off thrice. Assuming perfect circumstances, I can see the Panthers' balanced lineup finishing ahead of the unstable, inconsistent entries of the Habs and Bruins.
However, things rarely go to plan in a sport played on ice, where genetic freaks crash into each other at full speed and swat around a frozen rubber disc, all while balancing on razorblades.
Of particular concern is Florida's goaltending, with Roberto Luongo dealing with persistent hip problems and James Reimer having a history of extended absences. Both goalies are highly capable of providing above-average service to their team, but whether they will both be healthy for the entire season – or even most of it – is an enormous question mark.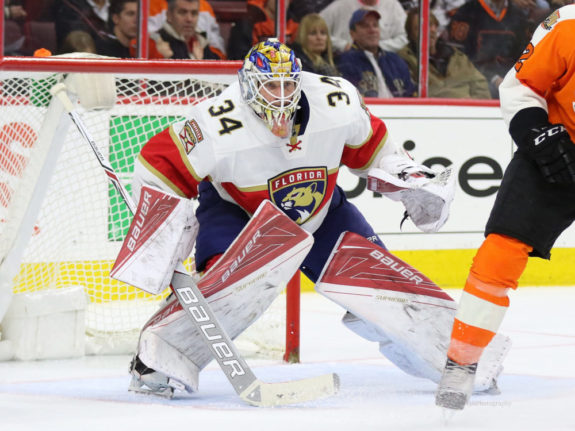 And then there is defensive prodigy Aaron Ekblad, who took a step back in his development in 2016-17. A large part of this is likely a result of the Panthers' obscenely negligent handling of his concussion issues, so let's hope an offseason of rest and recovery results in a return to form for the young stalwart.
Perhaps most crucially, new arrivals Evgeny Dadonov and Radim Vrbata (along with, potentially, 2017 first-rounder Owen Tippett) will be expected to pick up the offensive production left by the departures of Jaromir Jagr, Jonathan Marchessault, Jussi Jokinen and Reilly Smith. Yet another huge "maybe."
That's just too many things that need to go right. My gut feeling is that the Panthers will be on the outside looking in.
Peter Ferrell covers the Florida Panthers and Toronto Maple Leafs, with a side of jersey and logo (over)analysis, for The Hockey Writers.