After missing four games with a concussion and returning this past Tuesday, the Florida Panthers announced before last night's game against the Arizona Coyotes that Aaron Ekblad is, once again, out of the lineup. A "sore neck", they say.
Aaron Ekblad out of #FlaPanthers lineup tonight; woke up with a sore neck, said unrelated to concussion

— George ?Richards (@GeorgeRichards) March 23, 2017
History Unkind
For the uninitiated, Ekblad suffered a concussion Mar. 11 after a suspect hit from Tampa Bay Lightning forward Gabriel Dumont. This marked his third concussion in 14 months, the first coming in January 2016, courtesy Matt Hendricks of the Edmonton Oilers. Finland's Leo Komarov rocked him – cleanly, it appears – during September's World Cup of Hockey (it should be said that the latter ailment was later described as "whiplash". That said, it is not unreasonable to suggest that a jolt strong enough to cause whiplash could also result in a concussion.).
These three incidents are on top of a confirmed concussion suffered playing for Team Canada in an exhibition game ahead of the 2014 World Juniors. So why on Earth did the Panthers not just shut Ekblad down for the season?
Medical Clearance?
Ekblad would not have been allowed back on the ice without the clearance of the Panthers' medical staff, full stop. This article is not, under any circumstances, casting aspersions on the Panthers medical team. However, mistakes in this regard are not unheard of. Talk to James Reimer about the mistreatment of his concussions by the Toronto Maple Leafs. Talk to Sidney Crosby about what happened after his concussion. Heck, Crosby had the freakin' mumps and the Internet diagnosed him before Pittsburgh Penguins team doctors.
Playoff Race?
Going into Tuesday night's game against the Carolina Hurricanes, the Panthers were eight points back of the final wild card spot in the Eastern Conference. Though not an insurmountable hill to climb, with only 11 games remaining and five teams to leapfrog along the way, why the Panthers did not play the (overwhelming) percentages and shut Ekblad down is beyond me.
He Wants to Play?
An athlete will always want to play, regardless of whether doing so is good or bad for their physical and or mental health. In fact, if they don't want to play, they should probably be jettisoned and find a new profession. I am sure Panthers fans want him to play, too; only I am sure they would also like him to play for 15 or 20 more seasons after this one.
Ekblad is only 21 years old and is already near the top of his profession. The Panthers' game is unquestionably worse – both results-wise and to watch – without him in the lineup. Whether he wants to play for himself, for the team and or for the fans, it is Florida's responsibility – along with that of his agent and other handlers – to rein him in and direct that competitive energy towards getting right for next season.
Little Support
The National Hockey League has a long and proud history of not protecting their players, particularly their stars (see: Crosby, Sidney). Gabriel Dumont got nothing for driving Ekblad's head into the glass. Dumont probably shouldn't have even been playing in that game in the first place, given what he did to Steven Kampfer of the New York Rangers a couple nights previous. That said, Hendricks was suspended – three games – for his hit on Ekblad last season.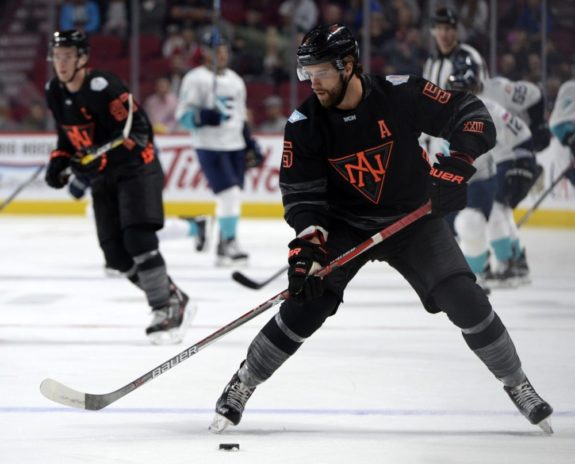 "Whiplash" is far less scary than "concussion", but let's think positively here and say that Ekblad's injury at the World Cup really was limited to whiplash. That's all well and good, but Dumont gave him what was definitely a concussion. After a suspiciously well-prognosticated (isn't concussion recovery time usually described as "indefinite"?) recovery period, Ekblad is out again – after only 18 minutes of play, this time with a "sore neck". For the second time in six months, the young star will be missing time with a neck ailment – one that may or may not be related to his concussion(s).
#FlaPanthers Tom Rowe says Aaron Ekblad and Denis Malgin both out 7-10 days with concussions. Jakub Kindl in Tuesday v Leafs…

— George ?Richards (@GeorgeRichards) March 13, 2017
Prognosis?
So what happened? Was Ekblad not treated properly for one or more of his injuries? Is he somehow especially prone to head and neck trauma? Is this just a series of unfortunate events? The truth may never come out.
Here's what we do know:
Aaron Ekblad is 21 years old and is unquestionably the franchise cornerstone of the Florida Panthers. Right-hand shot defensemen who are skilled both offensively and defensively, who can play both a speed and a physical game, and who can play in all situations, come around once in a generation – if ever – for a hockey team.
Logic dictates the Panthers should protect their asset; the memory of Eric Lindros' career should still be fresh enough to dissuade them from the opposite. Let's hope they get it right this time around.