As the offseason winds down, the Washington Capitals are kicking off the 2017-18 campaign with a completely different-looking roster.
Washington lost a number of key players this offseason; Justin Williams, Kevin Shattenkirk, Karl Alzner and Daniel Winnik opted for free agency, Nate Schmidt was taken by Vegas in the expansion draft and Marcus Johansson was shipped to New Jersey to clear cap space.
Despite losing some pieces, general manager Brian MacLellan chose not to sign free agents to fill the voids on the main roster. Instead, he is relying on the prospects and players already in the system to step up and make the jump to the NHL.
From AHLers to up-and-comers from juniors, the Capitals have a number of players who will be entering training camp with one goal in mind: to crack the opening-night roster. Here are forwards to watch when training camp commences in the coming weeks.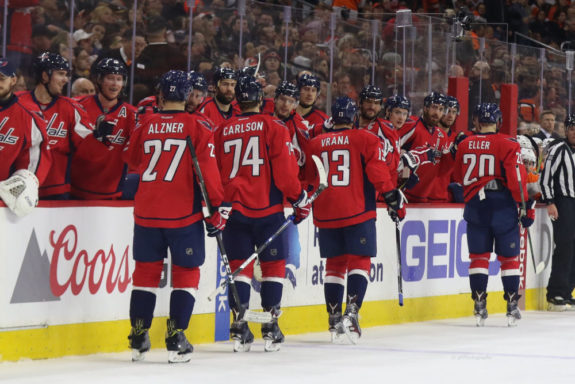 Nathan Walker
Walker is definitely one of the biggest names to watch at training camp this September. The 23-year-old is well on his way to becoming the first Australian to ever play in the National Hockey League, and he has never come as close to his goal as he is this year.
On his long road to professional hockey, he worked his way up the ranks, playing in many different leagues including the Czech League and the USHL. His hard work and high energy on the ice led the Capitals to take him in the third round of the 2014 NHL Entry Draft, and since then, he has spent the last four years adjusting to the North American game playing with the AHL's Hershey Bears.
In 58 games this past season, he had 11 goals and 23 points and was a plus-11. While his totals are not necessarily noteworthy, his effort and his playing style are what set him apart.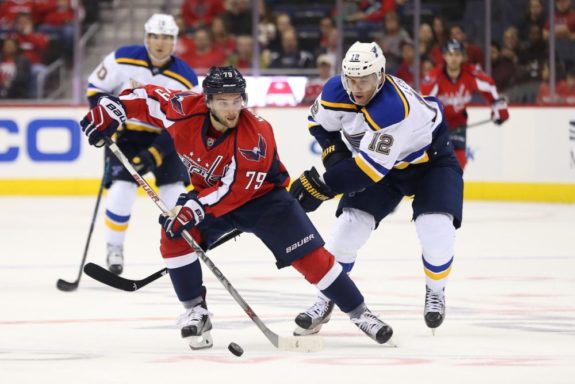 The 5-foot-8, 185-pound winger may be on the smaller side, but he is a hard-hitting forward who never backs away from a challenge, can stack up against any opponent, throw his weight around and finish his checks, all while standing his ground. He dropped the gloves three times with the Bears this past season, and also had a memorable bout with Andrew Shaw last preseason, which just goes to show that he is fearless and willing to stick up for his teammates.
Walker signed a two-year, two-way extension this offseason, and is ready to prove his worth and show what he can do at the NHL level. He is poised to try and replace Daniel Winnik on the fourth line, and will likely play a majority of his time in the bottom six if he does make the main roster this season. Still, he is a gritty forward who is able to put up points and play a solid two-way game. Not only that, he is also a fast, smooth skater and takes good care of the puck, which will carry him a long way.
Devante Smith-Pelly
One of the only free agents that Washington signed this offseason, Smith-Pelly is still young and trying to emerge as a full-time NHLer. Since being taken in the second round of the 2012 NHL Entry Draft, the 25-year-old winger has bounced around the league. He was traded twice; first by Anaheim to Montreal, and then from Montreal to New Jersey. Still, throughout his career, he has shown flashes of ability and is a strong forward to have in the bottom six.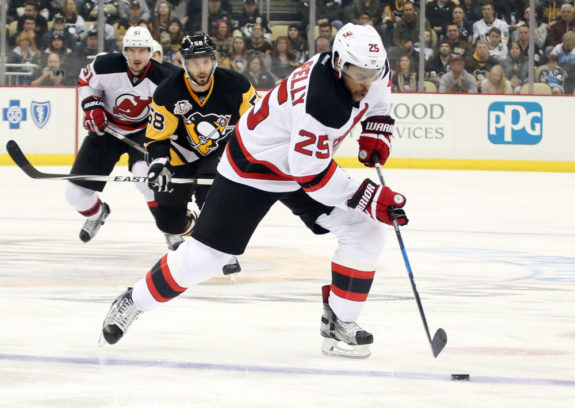 After being traded to the Devils in 2015-16, Smith-Pelly recorded eight goals and 13 points in 18 games and showed upside as a physical forward who can also put up points. However, in this past year with the Devils, he had just four goals and nine points in 53 games, and though he racked up 94 hits and made himself a physical presence, he could barely muster up offense or point totals, which hurt his overall value.
Still, considering his career and reputation, changes in scenery have been beneficial to his performance, which is a good sign. Even if he doesn't put up consistent totals, he is a hard-hitting, aggressive forward who adds grit and physicality to the lineup. Not only that, but the 6-foot, 214-pound winger is a big forward who plays a solid defensive game and can win battles for the puck. So even if he cannot produce much, he is able to win battles for the puck, use his size to his advantage and add a lot to the lineup.
Jakub Vrana
Out of all of the Capitals' prospects, Vrana is perhaps the most likely to make the team this season, and he even has the chance to make the top six. While he did get 21 games at the NHL level last season, he only had three goals and six points and was sent back to Hershey to finish out the year. But this time around, he looks to become a permanent fixture on Washington's roster.
The Czech winger's scoring instincts go unparalleled; not only does he own a quick, sneaky and deadly accurate shot, but he has great vision and offensive awareness. In addition, he has great speed and stickhandling ability and is on track to become a top-six sniper in the NHL.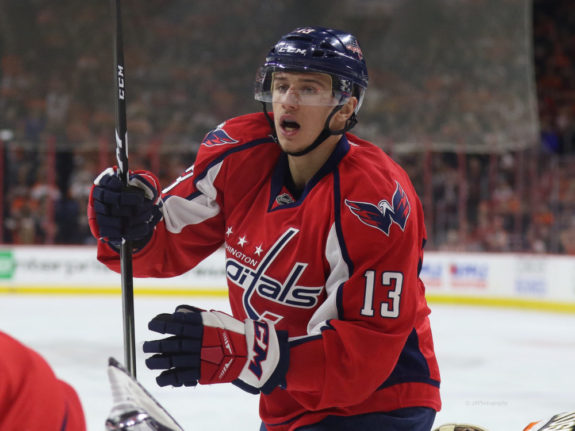 In 49 games with the Hershey Bears last season, Vrana registered 19 goals and 36 points and was a plus-12. He also finished eighth in scoring among all Hershey forwards. Though his scoring couldn't translate to the NHL this past season, he had more time to develop and got more experience, which is sure to help him make an impression this year.
Washington needs a forward to step up and fill the void left by Johansson's departure. The 21-year-old is young and fast and would be an outstanding fit on the second line alongside Evgeny Kuznetsov and Andre Burakovsky. All three of these players think alike and share similar speed and vision, and this will help create chemistry and rhythm on that unit.
Travis Boyd
A dark horse for a roster spot, Boyd is a player who has been in the system since 2011, when he was taken in the sixth round. He played NCAA hockey at the University of Minnesota. After posting an impressive 19 goals and 41 points in 32 games during his senior year, Boyd turned heads and has since become one of the top prospects in the Capitals' organization.
His impact in Hershey so far has been unforgettable, even though he has only been with the team for two years. He has back-to-back 50-plus-point campaigns and has shown no trouble adapting to the AHL. This past season, he led all Bears in scoring with 16 goals and 63 points through 76 games.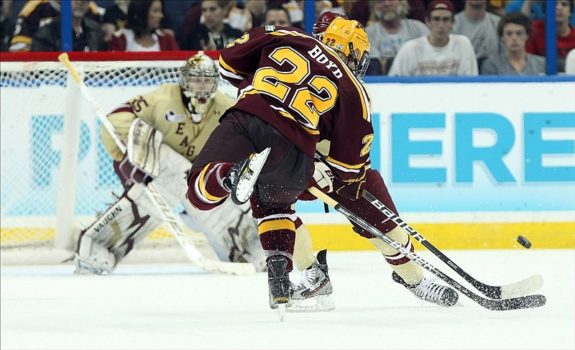 Though he is a center and the Capitals are stacked down the middle, he is a right-handed shot who could possibly adapt to the wing. He is a pure goal-scorer, but also plays an outstanding two-way game and plays well at both ends of the rink. The 5-foot-11, 191-pound forward will have to put on more size and show that he can still have a positive impact at the NHL level, even if there is no need for more centermen.
Boyd signed a one-year, two-way extension early in the offseason, so it is likely that he will get time to prove himself in the NHL, whether it's as a member of the opening-night roster or as a call-up. Still, he could surprise many, and with his high-scoring totals and upside over the years, he is on his way to a solid career.
Sammi Silber covers the Capitals beat for The Hockey Writers and is an NHL contributor with Sporting News. She has also contributed to USA TODAY College, Huffington Post, FanSided and the Nation Network. Silber has written four books and recently worked on graphics for the film, The California Golden Seals Movie.