The Washington Capitals will be relying on their youth to step up and fill the voids on the roster, especially as they try to cope with key departures. Not only did they lose a wealth of defensemen, but the Capitals also lost some of their key wingers. Justin Williams and Daniel Winnik left through free agency, but the biggest loss to the forward lines came when Washington traded Marcus Johansson to New Jersey to free up cap space.
Coming into the 2017-18 season, Washington's four lines are expected to look something like this:
Alex Ovechkin-Nicklas Backstrom-T.J. Oshie
Jakub Vrana-Evgeny Kuznetsov-Andre Burakovsky
Brett Connolly-Lars Eller-Tom Wilson
(Insert prospect)-Jay Beagle-Devante Smith-Pelly (or prospect)
A number of AHL prospects could make the jump to the main roster. While Jakub Vrana will likely take Johansson's spot in the top six, as many as two more AHL forwards could fight for spots on the fourth line. In fact, one of those players could be the first Australian to play in the National Hockey League: Nathan Walker.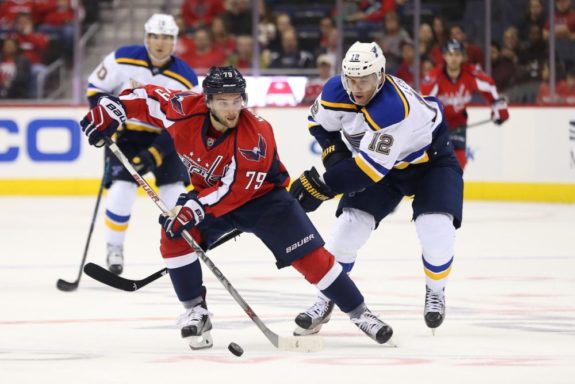 Nathan Walker by the Numbers
Born in England, Walker grew up playing hockey in Austrailia with the Sydney Ice Dogs. To accelerate his career, he traveled to the Czech Republic and impressed in the Czech League where his production averaged over a point per game.
Though he was considered a solid player, he didn't really turn heads until 2012-13 when he put up impressive numbers with the HC Vitkovice U20 of the Czech League, posting 12 goals and 24 points through 13 games. He spent 23 more games moving to the higher levels of the Czech League before moving to North America to play with the USHL's Youngstown Phantoms later in the season. Through 29 USHL games, he registered seven goals and 27 points through 29 games.
Taking note of his scoring ability, offensive acumen and smooth transition to the North American game, the Capitals were eager to get Walker in the organization. They couldn't sign him at the time because he was undrafted and only 19. Because of this, the Hershey Bears signed Walker to an AHL contract in 2013, and after racking up five goals, 11 points and 40 PIM with Washington's AHL affiliate, he was drafted by Washington in the third round of the 2014 NHL Entry Draft at 89th overall.
A few days later, the Capitals inked Walker to an entry-level deal, and he became the first Australian to be taken in the NHL entry draft and to sign an NHL contract. From that point on, the hype started to surround the UK sensation as he set out to make NHL history. Now, he is closer than ever to reaching that goal.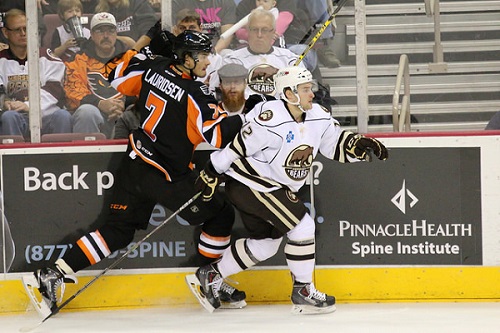 Walker has spent four seasons with the Capitals' AHL affiliate Hershey Bears, recording 34 goals and 79 points through 202 games, as well as 114 PIM and a plus-30 rating. This past season, the 23-year-old was limited to just 58 AHL games due to a broken hand midway through the season, but he still managed to put up 11 goals and 23 points.
Evaluating Walker's NHL Potential
Though his scoring totals took a bit of a dip this past season, Walker was one of the Bears' top forwards and contributed offensively over the course of the year. Not only is he a solid winger who can play well under pressure and help on the forecheck, but he plays a strong two-way game and performs well at both ends of the rink.
Walker is the type of player that is solid on the backcheck and can bail his team out defensively, making him an asset on the penalty kill and on the Capitals' bottom-six. Not only does the 5-foot-9, 200-pound winger play an aggressive, physical game, he isn't afraid to block shots or throw his weight around. In fact, he is very similar to Winnik, whose spot he could end up filling this season.
Overall, at the NHL level, he can be a utility player who knows his role on the ice and can help Washington succeed at both ends of the rink. He is a smart, solid defensive forward who plays a safe game and takes good care of the puck. Not only that, but he handles the puck well and makes smart plays up the ice, and has always shown an energetic, positive attitude that would translate well to the Capitals' locker room.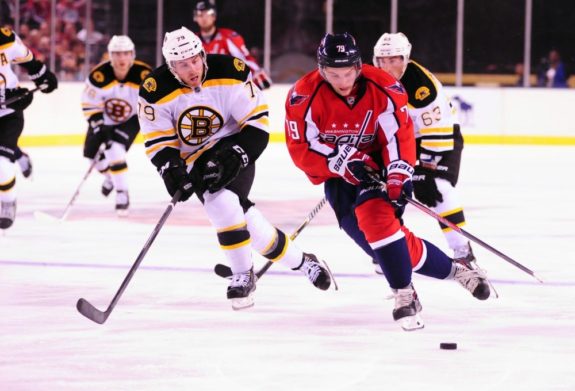 Cracking the NHL Roster
Looking at the Capitals' depth, as well as Walker's growth and determination over the years, his chances of earning a roster spot this season are incredibly high. There is not much competition 0n the fourth line, and in the end, he will have to battle the likes of newly-acquired winger Tyler Graovac, Liam O'Brien and Zach Sill.
However, the spot is Walker's for the taking. He has had four years of development, has been trending upward and has earned his chance. His competitors are players that have already had opportunities to show their NHL worth but have a lot left to prove. Not only that, but he is coming into training camp with testimonials from coaches and front office staff throughout the Capitals organization. Brian MacLellan has spoken highly of Walker's chances, and Hershey Bears head coach Troy Mann has faith in the young winger to make the next step forward.
[miptheme_quote author="Mann to CSN Mid-Atlantic" style="text-center"]"I think when you look at our guys, Walker comes to mind. He plays the game the right way. He's a 200-foot player. He gets in on the forecheck. He has good stick detail… I'd love to see him slide into [Daniel] Winnik's spot, from my standpoint, because he's really grown here the last couple of years.[/miptheme_quote]
Overall, given Walker's tremendous upside and unique path to the NHL, he is ready to win a roster spot and reach the biggest milestone in his life. This season, he has a 99 percent chance of becoming the first Australian NHL player.