The Toronto Maple Leafs knew they would speed up their rebuild by trading for Frederik Andersen last offseason. However, no one was sure how he would handle the heavy workload as this was his first crack as a definite NHL starting goalie, a sure lock to play at least 60 games.
Andersen played for a very good team in Anaheim, but his individual record was incredible. The Danish goaltender had an overall record of 77-25-12 before becoming a Maple Leaf. He tied Bill Durnan's NHL record for fastest goalie to reach 50 wins, in just 73 games.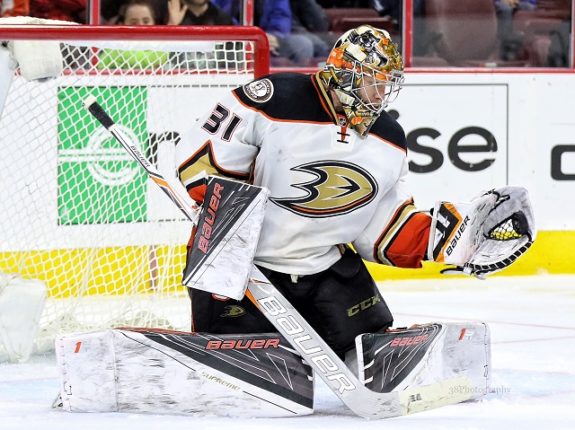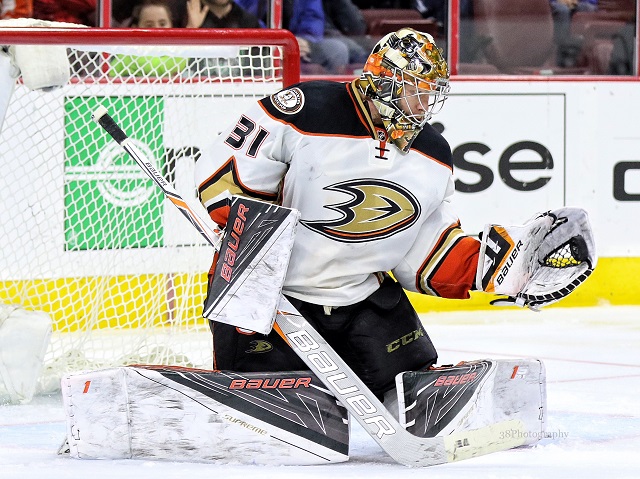 The Leafs were not expected to be a top-tier team this season, even making the playoffs wasn't expected. Their defensive core was prone to making mistakes as they are very young and still learning the NHL game. However, with another year of experience on their resume we can expect fewer mistakes next season, which should have a direct impact on Andersen.
Season Review
Statistically, certain aspects of Andersen's first season as a Leaf were noticeably lower than the rest of his career averages. It's not that he had a bad season, this speaks more to the team in front of him. Last season, Andersen posted a 33-16-14 record with a 2.67 GAA and a 0.918 SV%. His GAA was noticeably higher than his career average, but his SV% was right around what he would stop as a Duck. This means that Andersen was stopping pucks at the same rate, but the team allowed more shots on goal.
The Leafs allowed the third highest shots-per-game at 32.6 last season, which can be directly attributed to his higher GAA, while stopping pucks at the same rate. Therefore, cut down the shots against and you will see a lower GAA.
All statistics aside, Andersen is a large, athletic goaltender who covers the net very well. He has a strong ability to make desperate saves, something that came in handy on several occasions last season.
#GottaSeeIt: The Capitals celebrate a goal that turns out to be a wicked goal line save by Frederik Andersen. #StanleyCup pic.twitter.com/GNe6CPw2ry

— Sportsnet (@Sportsnet) April 22, 2017
Overall, Andersen had a very solid season and proved the Leafs made the right decision sacrificing some of the future for a definite starting goalie. Some even say he was the Leafs MVP, which displays confidence in a Toronto goaltender not seen since the days of Ed Belfour.
Best Leafs Goalie Since Ed Belfour
Ironically, the last time the Leafs made it past the first round of playoffs was in 2004, with Belfour as their starting goalie.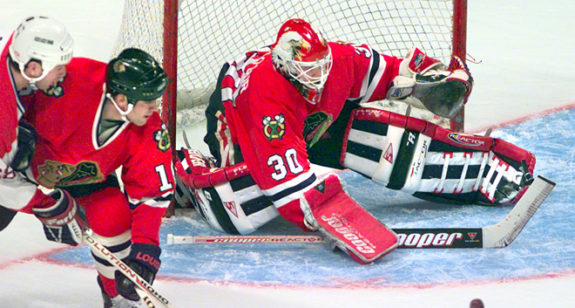 If the Leafs were to win half of those overtime losses suffered last season, then Andersen has his first 40-win season of his career. This would also establish a new current regular season wins record for a Maple Leafs goalie, which was previously held by Belfour and Andrew Raycroft, with 37. One could argue that although Andersen has only been in Toronto for one season, he is their best goalie since Belfour.
Realistic 2017-18 Season Expectations
As the Leafs continue to mature and gain NHL experience, we can expect the younger players to improve their defensive play. With Morgan Rielly entering his fifth NHL season and Nikita Zaitsev ready for his second season in North America, they are in good positions to take steps forward in their development. Jake Gardiner is fresh off of the best season of his career. With these defensemen at or entering their primes, Andersen is in a good position to statistically improve.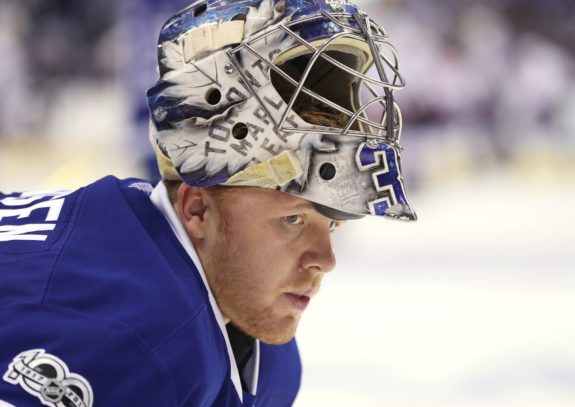 Some may also say the addition of Ron Hainsey should improve defensive play, but I'm not sold on his skill set quite yet, especially in a top-4 role. Andersen is now used to playing in Toronto and knows what to expect of next season, which he should benefit from because he will not have to endure any adjustment periods like last season. We can expect a lower GAA, fewer overtime losses, and consistency from Andersen in his second season as a Leaf.
As the team continues to improve, Andersen may begin to be considered a top-10 NHL goaltender. He plays the proper workload to be considered, however, statistical improvements are needed before this becomes a reality. An improved Leafs squad in front of him should help lower Andersen's GAA, while also helping him chasing that individual regular season wins record held by Belfour and Raycroft. Expect Andersen to begin to enter the conversation next season as an elite NHL goalie, while only improving as his team begins to climb the standings.