The Toronto Maple Leafs have made their first big splash of the off-season. They have traded away the 30th overall pick in the 2016 NHL Draft and their 2017 second-round pick to the Anaheim Ducks in return for goaltender Frederik Andersen. The Leafs then signed Andersen, who was set to become a restricted free agent on July 1, to a five-year contract. The cap hit will be $5 million, according to Sportsnet's Chris Johnston.
Frederik Andersen's contract carries a $5M AAV.

— Chris Johnston (@reporterchris) June 20, 2016
What does this mean for the Leafs future? Well, it gives the Leafs a 26-year old goaltender that has had success in the NHL. In three seasons with the Ducks, he has played 125 games and won 77 of them. In that time, he has a save percentage of .918 and a goals against average of 2.33.  As far as last season goes, he had a record of 22-9-7. He split time with John Gibson, together winning the William M. Jennings Trophy.
Most importantly, they bring in a goalie that has made the playoffs on multiple occasions. Andersen has 28 games of playoff experience over his three seasons. Now two of his three trips resulted in first-round exits, but both of them went to seven games. In the 2014-15 season, he guided the Ducks all the way to Game 7 of the Western Conference Finals, losing to the eventual Stanley Cup Champion Chicago Blackhawks.
It's A Pretty Good Deal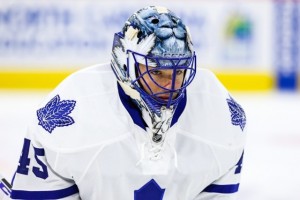 Now let's have a look at the price. In terms of what they sent the Ducks, it's actually not that bad. The Leafs were set to have six picks in the first three rounds in the 2016 Draft. Now they have five. The Leafs could afford to give up that pick. They do have the 31st pick after all.
In terms of the contract, it's not as bad as some have said it is. It's not like they are getting an unproven goalie that's full of potential like they did when they acquired Jonathan Bernier. $5 million isn't all that bad considering what some starting goalies are making. He could struggle in his first season with the Leafs, but that will more than likely be because of the Leafs and their rebuilding nature. That is unless the Leafs drastically improve their defense.
According to Cap Friendly, the Leafs now have a total cap hit of $69,234,166. That leaves just over $2 million in cap space with a $71.4 salary cap. Now, who knows whether the cap will go up as high as $74 million, but the Leafs shouldn't worry about cap space just yet.
Bernier has a cap hit of $4.15 million. The Leafs will do their best to find a trading partner for Bernier because they aren't paying that much for a back-up goalie. Nathan Horton's contract can be used to let the Leafs go over the cap. Joffrey Lupul is a possible buyout candidate and if he doesn't, he might get the Stephane Robidas treatment next season. It's also safe to assume that one of either Brooks Laich ($4.5 million) or Milan Michalek ($4 million) will be moved at some point in the off-season. In terms of defenseman, Robidas will probably once again find himself buried on LTIR as well.
This is just the start of what is sure to be an interesting offseason for the Maple Leafs.