Ice hockey doesn't generally come to mind when one hears the word "Australia." Instead, the word is associated with kangaroos, koala bears, and Outback Steakhouse. However, one Washington Capitals prospect could change that.
In fact, left winger Nathan Walker has been working to change that since he started playing hockey at six-years-old. Walker mentioned that hockey is not too prominent in his home country, and other sports and activities easily overshadow the game of hockey in Australia.
"Soccer wasn't a sport that really fit with me too well," Walker told NHL.com in 2013. "I can kind of kick a ball, but I don't know what direction it's going in. Hockey isn't the most popular thing in Australia; it's certainly not the number one thing to do on a Saturday night."
Wildest Dreams
The 22-year-old dreams of becoming the first Australian-born player to play in the NHL and is getting closer to turning that into a reality.
He already has multiple accomplishments and milestones under his belt; Walker is the first ever Aussie-born player to be drafted after Washington selected him 89th overall in 2014. He was also the first Australian native to score a goal in the AHL and play in the AHL Calder Cup Finals.
In addition to making strides in the game of hockey, Walker defies all Australian generalizations. The Sydney-raised winger does have an accent but  never heard of "shrimp on the barbie" until coming to the United States. He didn't grow up throwing boomerangs and started playing hockey when he was six, despite limited ice rinks in Australia.
He followed in the footsteps of his older brother, Ryan, and tagged along, falling in love with the sport that was focused a couple continents away.
Walker Breaks Away
When Walker was 13, he begged his parents to let him leave Australia to further excel his hockey career. Going overseas was the only way he could play in a league that could give him a shot at a professional career. Eventually, his family allowed him to travel to the Czech Republic to excel his hockey career; a decision that he believes was the best move for his future.
Walker said in an interview with NHL.com:
My time in the Czech Republic was so important; that's when I really developed. I wasn't really going to develop in Australia since I was on the ice once and a week and playing one or two games, so making the transition to the Czech Republic was a huge part of my development. – Nathan Walker
At first, it wasn't that easy of a choice. In fact, there were many issues that surrounded Walker's decision to head to Europe. There was a language barrier and multiple bouts of homesickness. With all of these issues, came tearful phone calls home, but if Walker didn't go through these ranks, he wouldn't be where he is today. He ended up spending six years in the Czech Republic, and eventually, his hard work earned him an invite to Capitals training camp, and later, a selection in the entry draft.
Nathan Walker, the Comeback Kid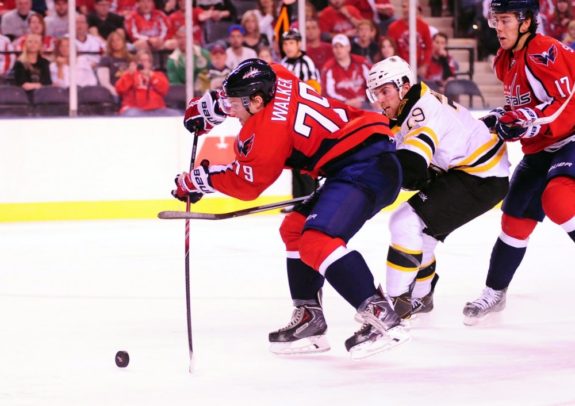 After being drafted, Walker signed a three-year, entry-level contract with Washington. He reported to Hershey, where he had signed and played prior to joining the Capitals organization. In 2014-15, the Bears sent Walker down to the ECHL's South Carolina Stingrays so that he could earn more minutes and continue to properly develop. However, that move would lead to tragedy.
In early February 2015, the 5-foot-8, 179-pound winger suffered a severe knee injury, one that would sideline him for the rest of the season. Not only had he not gotten to play in Hershey, but he would be held out of the lineup, and his development would be paused further. His dreams seemed to be slipping away.
But something that could have ended his career, ended up jump starting it. He recuperated and returned to Hershey for the 2015-16 campaign, positive and determined to get back on track as if he missed no time at all. Walker was given the opportunity to rebound, and he capitalized on it.
In 73 games with the Bears, Walker put up 41 points (17 G, 24 A), was a plus-20, and had the best season of his career. After scoring five more points in the Calder Cup playoffs, he popped up on the Capitals' radar and is one of the players still remaining on the training camp roster.
When talking to the Washington Post, Hershey head coach Troy Mann had this to say:
He's become a vital part of our team, and is probably our most improved player, in terms of contributing offensively.  I mean, he had 41 points, and we didn't anticipate that back in October. It was a nice surprise. He played with a lot of tenacity and skates really well. He's made for the way the game is being played today with a lot of speed. – Troy Mann
Winning a Full-Time NHL Job?
With the preseason winding down, some wonder if Walker will be able to crack the NHL roster. So far, he is having an impressive audition. Perhaps the biggest take away from his play so far is his physicality. Despite his small stature, Walker has been one of the most aggressive players on the ice so far. He even led Washington with six hits in their preseason game against Carolina on Sept. 26.
His biggest play of the preseason came against Montreal, and it was a courageous one that started out of the corner of his eye. Walker spotted Andrew Shaw board Connor Hobbs, and from the looks of it, Shaw had his eyes on the numbers the entire time. Automatically, without any reluctance or hesitation (despite being a lot smaller than Shaw), Walker dropped the gloves and stood up for his teammate, persevering despite Shaw's fighting skill.
Shaw ended up being suspended three preseason games, and Hobbs was not injured and has continued to participate in Capitals training camp. Walker's instance of physicality surely wasn't a one-time thing, and it made him stand out.
"I've played like that my whole life," Walker said of his physicality. "I'm not going to stop now just because the guys are a little bigger here."
As the preseason begins to wind down, and with the regular season less than two weeks away, Walker still has a shot at the NHL roster. In my opinion, I think he's earning his spot as at least the first call-up forward for Washington, but if an injury strikes, or if the Capitals just want to take a chance, giving Walker some time with the big club would be a smart move in my book. He earned it, and he will continue to be determined and work toward his goals.