Despite the Detroit Red Wings' roster appearing pretty much set heading into the 2016-17 season, Ken Holland and company still have a number of decisions to make when it comes to some waiver-eligible prospects pushing for spots. Realistically, the team only has two open spots, and the players occupying those spots are likely to serve as healthy scratches if the Wings are at full health.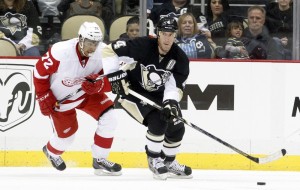 Arguably, Andreas Athanasiou, Anthony Mantha and/or Robbie Russo might be more deserving of spots on the team over others vying to make the roster. However, the aforementioned players are exempt from waivers, and management would most likely prefer they play more minutes in Grand Rapids, as opposed to having them sit in the press box in Detroit.
While there are a couple of waiver-eligible players outside the five mentioned below, the Red Wings drafted each player discussed, and they all have limited experience in the NHL. As a side note, there is conflicting information as it pertains to Jared Coreau's waiver status. Some websites claim the 24-year-old netminder will need to pass through waivers. Based on the criteria outlined here, it would appear as if Coreau will be able to safely pass through waivers for one more season.
Although he signed his first professional contract during the 2012-13 season at 21-years-of-age, he did not play in his first professional game until the 2013-14 season. Looking at Coreau's situation, his exemption stands for four years (or 60 games), so it appears as if the Red Wings can safely send him down to Grand Rapids this season. Without further ado, here are the Red Wings' five waiver-eligible prospects and their potential landing spots for the 2016-17 season.
Mitch Callahan: Grand Rapids Griffins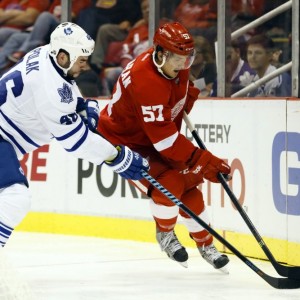 It's been a long road for Mitch Callahan, and though he already faced the waiver wire last season, it appears he will have to repeat the process again this year. Heading into his sixth season with the Grand Rapids Griffins, the 25-year-old winger has been a consummate professional, despite struggling to crack the roster in Detroit (he has only played in one game at the NHL level during the 2013-14 season).
Unfortunately, Callahan has suffered a number of injuries during the previous two seasons, limiting him to just 48 and 62 games played, respectively. Though he projects as a grinder, he has been able to serve as a net-front presence in the AHL, chipping in offensively at a respectable clip.
With the Red Wings electing to keep Drew Miller and sign UFA veteran Steve Ott during the offseason, Callahan's chances of making the Red Wings appears as unlikely as ever. Considering his status as a fringe fourth-liner/AHL'er, it's more likely that teams will take a chance on their own prospects over claiming the gritty winger. It probably won't get much easier in Grand Rapids either, as the team is has a number of promising prospects who will likely play above Callahan on the depth chart.
Martin Frk: Claimed on Waivers/Detroit Red Wings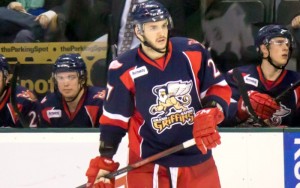 Martin Frk has struggled during his transition to the pro game, but his 2015-16 season might be enough to earn him a look at the NHL level. He bounced between Grand Rapids and Toledo for two seasons, before establishing himself as a regular for the Griffins and potting 27 goals in 67 games.
The 22-year-old sniper might catch the eye of another NHL team, or possibly serve as the 14th forward in Detroit. With Tomas Jurco sidelined until sometime in November, Frk stands the best chance at occupying his spot as a healthy scratch up front. If the Red Wings elect to keep Frk on the roster, he will have to pass through waivers once Jurco returns to full health.
His situation is similar to that of Andrej Nestrail, who earned himself a roster spot heading into the 2014-15 season. Once Stephen Weiss was ready to return to the lineup, the Carolina Hurricanes plucked the 23-year-old winger off the waiver wire. While Nestrasil probably plays a more well-rounded game, Frk's offensive potential will likely be enticing enough for a team to take a chance on him when the Red Wings inevitably waive him.
Nick Jensen: Grand Rapids Griffins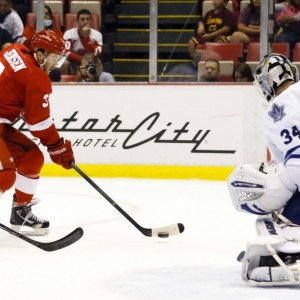 While Nick Jensen has always played a steady game, utilizing his hockey IQ and blazing speed, it appears as if he is the odd man out heading into the 2016-17 season. The Wings were able to take their time with the 26-year-old defender, as he elected to go the college route, playing for St. Cloud State before turning pro heading into the 2013-14.
However, the time has come to make a decision on Jensen, who along with Xavier Ouellet and Ryan Sproul will either make the roster or face waivers.With speed at a premium in today's NHL, Jensen could prove an asset to Detroit's blueline.
Still, he will have to put together a solid camp and turn some heads if he hopes to earn a spot with the Red Wings. After registering 27 points and a plus-30 rating during the 2014-15 season, the smooth-skating defender had an "off" year during 2015-16, dropping to just 19 points and a plus-1 rating. Considering the dip in production and his competition, it is probable that Jensen will slip under the radar and head back to Grand Rapids this season.
Xavier Ouellet: Detroit Red Wings
It would come as a big shock to see Ouellet on waivers, as all signs point to the 23-year-old blueliner making the Red Wings roster as their seventh defender. While his offensive totals are not likely to turn any heads (29 points through 61 games), the native of Bayonne, France plays a solid, all-around game that the Wings' brass values.
Ouellet has played in 30 games with the Red Wings, giving him the most experience of the three waiver-eligible defensemen. While he could stand to produce a bit more offense, there are not many holes in his game. With a bit more experience at the NHL, Ouellet has the potential to slot just about anywhere on the Wings' blueline. His potential and reliability likely push him ahead of his competition in his quest to make Detroit's roster this season.
Ryan Sproul: Detroit Red Wings/Claimed on Waivers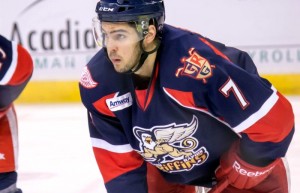 Whether Sproul makes the Red Wings' roster could depend largely on the status of Niklas Kronwall heading into the season. With the 35-year-old Swede facing some knee-related issues, the team could elect to carry eight defensemen, as opposed to the typical 14 forwards. There are already several question marks regarding the group of defenders in Detroit, so they may want some extra insurance on the back end.
The 6-foot-3, 205-pound defender has a booming slapshot and raw, offensive potential, but still struggles on the defensive side of the puck. Sproul's production bounced back last season, as he scored 35 points through 75 games, after a bit of a drop during the 2014-15 season. While Jensen has an edge in terms of his skating ability and overall game, Sproul's offensive capabilities and prowess on the power play offer the Red Wings something they lack on their blueline. Much like Frk, Sproul's time on Detroit's roster would likely end sometime in November, once Jurco is healthy enough to return. Once placed on waivers, it's possible that 23-year-old rearguard's offensive potential could entice another team to take a chance on him.
I am a writer from Windsor, Ontario who has covered the Detroit Red Wings for The Hockey Writers. I have had the pleasure of doing so since February of 2015. Previously, I have written about Red Wings prospects for Hockey's Future. I am always up for chatting about the Red Wings and hockey in general, so leave me your comment and/or tweets. Follow me on Twitter at @BrandonPeleshok.