After dominating the NHL and projecting to be the Stanley Cup favorites over the last three seasons, the Washington Capitals are now in a tight spot.
Heading into this season, the Capitals are in a cap crunch; though they re-signed their key free agents, they lost a number of veterans over the course of the offseason thanks to free agency and the expansion draft and cannot afford to replace them.
With the Stanley Cup window closing and just $4 million in cap space, the Capitals will have to rely on the young, up-and-coming prospects already in the system to fill the holes on their NHL roster. From promising AHL forwards to up-and-coming junior defensemen, the Capitals have a number of prospects they can rely on. Here are Washington's top prospects of 2017.
Travis Boyd
The Capitals used their sixth-round pick in the 2011 NHL Entry Draft to take a chance on Travis Boyd. A young center hailing from Minnesota, Boyd had USHL experience and a lot of upside. He developed his game within the organization throughout the years, but his time in the NCAA is where he truly grew as a player.
In four years with the University of Minnesota, Boyd transformed into a top-line center who could not only serve as a playmaker but also score goals. In his senior year with Minnesota, Boyd finished with 19 goals and 41 points through 32 games and was among the best players in the Big Ten. His hard work and dedication to developing his game earned him a two-year, entry-level contract with Washington, which he signed in March 2015.
He suited up for the Hershey Bears the following season, hoping to further prove himself while also trying to remain consistent as he moved up the ranks and closer to the NHL. He finished with an impressive 53 points in his first year with the Bears but set a new standard this past year.
n 76 games, Boyd finished with 16 goals and a career-high 63 points. Not only did Boyd lead the Bears in scoring, but his 47 assists ranked third in the NHL, and he finished sixth among all AHL skaters in points. The 23-year-old was also voted the team's MVP and earned a spot in the AHL All-Star Game.
With Washington in need of more players to fill out the bottom-six, Boyd could compete for a spot on the NHL roster this coming season. He's proved to be a consistent point-scorer and could help fit into a similar to Marcus Johansson.
Connor Hobbs
Another late-round pick, Connor Hobbs proved to be a hidden gem in the 2015 NHL Entry Draft. In his pre-draft year, Hobbs went somewhat under the radar, posting just two goals and 18 points in 45 WHL games, split between the Medicine Hat Tigers and Regina Pats. However, after he was taken by Washington in the fifth round and spent a week in development camp over the offseason, Hobbs returned to Junior looking to make a bigger impact.
He proved to have a breakout year with the Pats in 2015-16, registering 19 goals and 41 points through 58 games in the regular season. His success carried over into the playoffs, where he racked up four goals and 10 points in 12 postseason games. His hard work and upside earned him an entry-level contract in July 2016, and that would fuel his game heading into this past year, where he would outdo himself.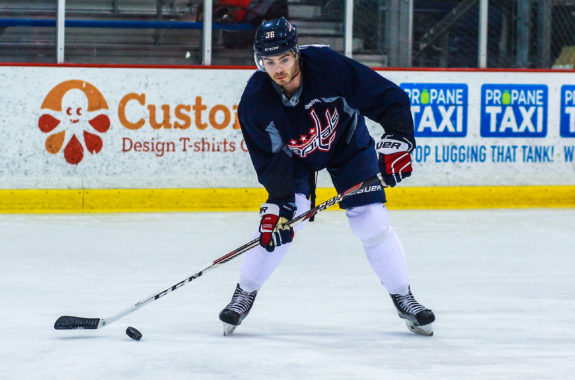 In 67 games through 2016-17, the 20-year-old recorded 31 goals and 85 points and was a plus-30. His career numbers were among the best among all WHL blueliners, and he was the runner-up for WHL defenseman of the year. Not only was he among the best defensemen, but he was among the top prospects in the Capitals' organization.
The 6-foot-1, 187-pound defenseman plays a sound game, but he also has excellent puck-moving ability. Not only is he able to create scoring chances and start the breakout, but owns an outstanding point shot. Hobbs has the skill set, as well as the defensive awareness and puck-moving ability to make the jump from the WHL this season. He could even compete for a spot in Washington roster, especially with the Capitals' hole on defense.
"Going forward here, we're going to have some ability for people to get the opportunity," head coach Barry Trotz told Hobbs this offseason, as per the Washington Post. "I would put yourself in that competition with the other guys… I would put yourself in a group of guys that are competing for a job because we're going to have some holes here."
Jakub Vrana
Another standout player on the Hershey Bears' roster is Vrana, one of Washington's top forward prospects who will see time in the NHL this coming season. In fact, he might be in the top-six wing, as he has the potential to be an avid point-scorer at the NHL level.
In 49 games with the Bears last season, Vrana finished with 19 goals and 36 points. The Czech Republic native finished fourth on the Bears in goals, and his hard work earned him time in the NHL this season. In 21 games with the Capitals, Vrana posted three goals and six points and was a plus-2. Despite low scoring totals, Vrana showed great skill and a trend in the right direction. Additionally, his success in Hershey did not go unnoticed, as he is expected to be one of the most NHL-ready prospects in the system.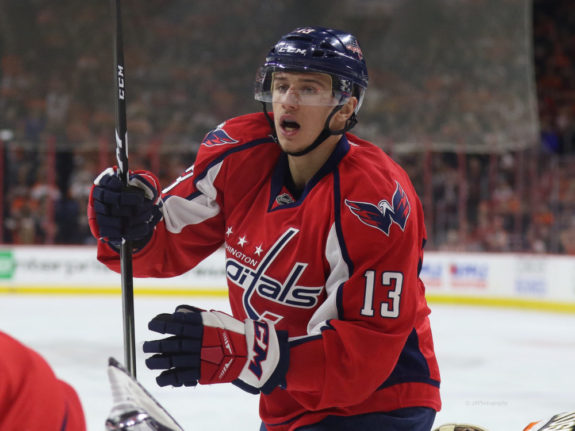 The 2014, 13th overall pick is an outstanding skater who plays a dynamic offensive game. He has a remarkable stick-handling ability and great hands, and also has a solid, accurate shot. In addition, Vrana can play either side of the wing and knows his role while also playing well at both ends of the rink. His two-way ability, as well as his offensive acumen, makes him one of the Capitals' most promising players heading into next season.
Though Vrana is not expected to fill in as a top-line winger to start the season, he will have to pull his weight and put up more points if he wants to keep a full-time spot in the NHL. With the Capitals losing key scorers like Johansson and Justin Williams, the 21-year-old forward will be expected to contribute as much as possible and fill that void, all while showing his worth to the organization.
Christian Djoos
Djoos was a seventh-round pick in the 2012 NHL Entry Draft and has come a long way since then. The son of famous offensive defenseman Par Djoos, Christian possesses the same skill and mindset as his father and showcased that ability this past season.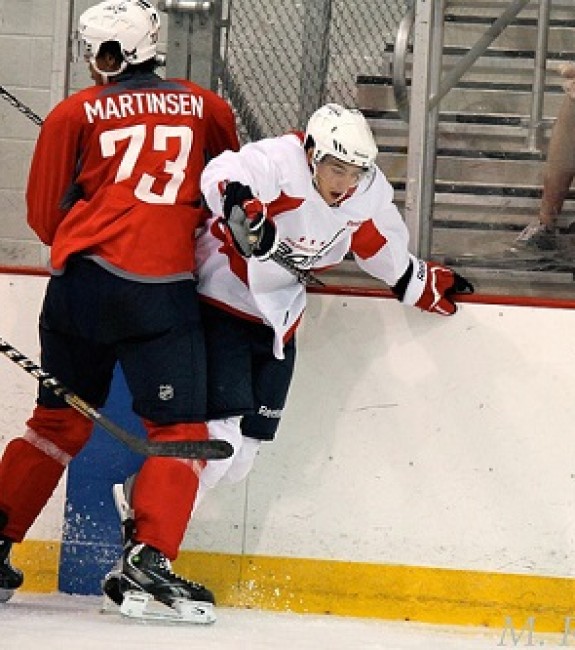 In 66 games with Hershey in 2016-17, Djoos ranked second among the Bears in scoring, recording 13 goals and 58 points. His 45 assists were tied for the League-lead among all AHL defensemen and he finished third in points. Washington re-signed the 22-year-old to a two-year deal earlier in the offseason. The contract is a two-way deal through 2017-18 and one-way through 2018-19, which all but says Djoos will be playing in the NHL soon.
A left-hand shot, Djoos plays a solid defensive game, where he takes care of matters in his own end but still enjoys joining the rush and starting the breakout. Not only is he a strong skater, but he is also a good passer and knows how to take care of the puck. He seems to be shifting more toward an offensive mindset as he continues to develop, which is exactly what the Capitals need on the backend.
Though Djoos just wrapped up his second full season in the AHL, he appears to be ready to bring his skill-set to the NHL. Though the 6-foot, 164-pound blueliner lacks size, it doesn't stop him from playing a strong game. Djoos possesses the offensive ability and defensive awareness to match his opponents and make an impact at the NHL level. With Washington lacking depth on the blue line, they need a reliable, consistent player like him to step up to the plate. In fact, with his skill and scoring prowess, Djoos could outshine Brooks Orpik and compete with him for a spot on the top-four.
Sammi Silber covers the Capitals beat for The Hockey Writers and is an NHL contributor with Sporting News. She has also contributed to USA TODAY College, Huffington Post, FanSided and the Nation Network. Silber has written four books and recently worked on graphics for the film, The California Golden Seals Movie.