Perhaps the reason why more people do not know who Mira Jalosuo is stems from her humbleness as an athlete, and the fact that her values take up more space in her heart than the numerous medals that have been draped over her shoulders. After all, she is one of the most decorated athletes you will ever find, and even more so one of the most decorated hockey players in women's or men's hockey. When you look over Jalosuo's résumé of achievements in her career, you will likely find it both staggering in terms of how widespread it is and also inspiring that one player has been a component of so much success. And as numerous as her on-ice accomplishments might be, multiply them by a thousand in order to reach the level of character and compassion that are imbued from within her into everything that she does.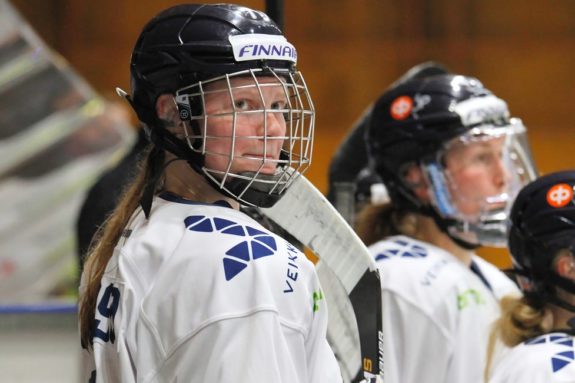 Playing for her native Finland, Jalosuo has won five bronze medals at IIHF Women's World Championships in 2008, 2009, 2011, 2015 and 2017. At the 2018 PyeongChang Winter Games her stalwart play on defense helped obtain an Olympic bronze for she and her country. Jalosuo won two NCAA championships with the University of Minnesota Golden Gophers in 2012 and 2013, as she and fellow Finn Noora Räty became the first European players to join the school's women's hockey program. She has won a Finnish championship in her country's Naisten Liiga, which is their top level of women's hockey. If that were not enough, Jalosuo won a Swedish championship in the Svenska damhockeyligan (SDHL) – the top women's league in Sweden – and a Russian championship in what is now currently the Russian Women's Hockey League (WHL) (NOTE: WHL is anglicized from Женская хоккейная лига (ЖХЛ). There is not much that this woman has not achieved in hockey.
And yet, it is difficult for her to pinpoint a particular achievement that stands out as a favorite or most meaningful. Not because there is not enough moments to choose from or because one is arguably more important than the others. Rather, Jalosuo bases her success in hockey and in life by how she treats others. The integrity that she exudes is cut from the finest cloth, and it has been visible during her days as a player, and now even more so as a coach.
If you do not know of her already, let us make sure that you do so now.
Learning the Game in the Eastern Parts of Finland
When she was a young girl Jalosuo grew up in the more eastern part of Finland in the smaller city of Lieksa. With a population of just under 11,500 residents, Lieksa is where Jalosuo first learned the game of hockey and fell in love with it. Oftentimes the hockey of her youth was played in its most traditional sense – outdoors and alongside both boys and girls.
"I was fifth grader when I started playing hockey," Jalosuo told THW. "I loved growing up in a smaller city. I remember being very young, and just spending countless hours playing pond hockey with my friends. The nice thing about being from a small town is that you get to play with boys, and they will treat you like you are one of them. I also played with girls so I would say that it was beneficial for me to be a girl since I got to practice twice a day."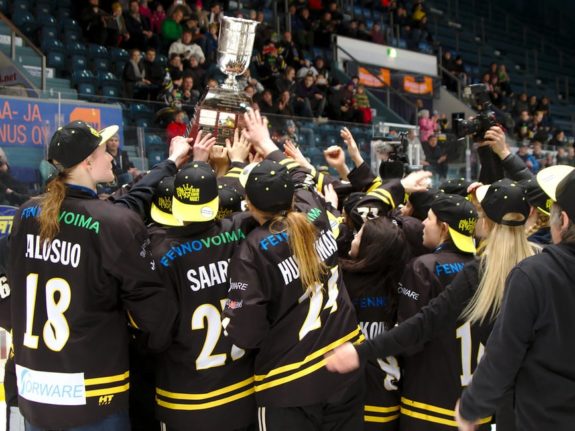 We do not always realize how the little things as a child, such as partaking in both a boys hockey practice and a girls hockey practice, can be key contributors to a youngster's development. Major dividends are paid later on in life, no matter what the craft is that a child is honing. In this case it is hockey. Jalosuo recognizes and appreciates how the opportunities that she had early on in life were a factor in her overall development as a hockey player.
Role Models and Reading Plays
Hockey is a tradition that is not only passed down from generation to generation, but there is a fostering and nurturing part of the game as well. The sizable Jalosuo, who stands 6-feet tall and is 185 pounds, took an interest in hockey at a later age compared to most kids (though obviously that did not slow her down) and did not necessarily find a role model or a player to look up to until she was older and already playing for the Finnish national team.
"I was a little older when I started playing hockey, so I didn't really have an idol," Jalosuo shared. "But once I got a little older, I looked up to Saija Tarkki. We played together for Oulun Kärpät and the Finnish National team and she was always the hardest worker."
Jalosuo and Tarkki were teammates for the 2008 and 2009 World Championship bronze medal-winning teams for Finland. Similar to Jalosuo, Tarkki has some size to her as well standing 5-foot-8 and over 130 pounds. Capable of playing either forward or defense, Tarkki played for Kärpät this past 2017-18 at age 35 and helped the team win the Finnish championship. In fact, she also led the team in scoring with 19 goals and 33 assists for 52 points in only 28 games. She would add another 11 points (2G, 9A) in nine playoff games. Being six years Jalosuo's senior served as a nice range between ages for the younger defender to look up to Tarkki.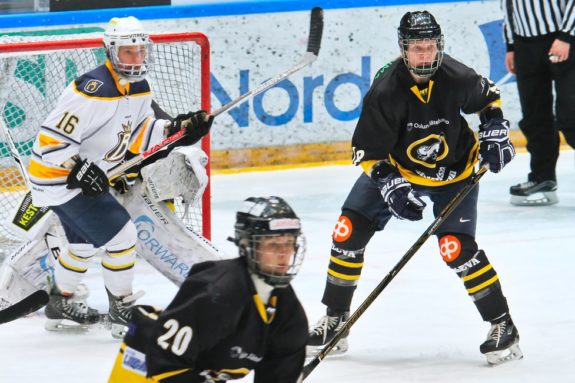 During Jalosuo's own career with Kärpät she scored 55 goals and 53 assists in 91 games as a blueliner for 108 points. She even captained the squad during the 2008-09 season. Being an ever-capable defender herself, Jalosuo was able to think back upon her best attributes as a hockey player.
"I would say that I was a very good locker room player who treated everyone evenly," she stated. "On the ice I had a pretty good shot, and I was able to read the game well."
Those sentiments are understatements, but again, Jalosuo is quite humble.
Championships and Experiences Abound
In addition to her seven seasons with Kärpät, Jalosuo played at the top levels for women's hockey in both Sweden and Russia. During the 2013-14 and 2014-15 seasons she played for SKIF Nizhny Novgorod. The Russian championship was SKIF's to be had during the 2013-14 season, and a major part of that was due to Jalosuo's play on the back end. She finished second in scoring among the team's defenders and and fifth overall for SKIF's skaters with eight goals and 33 assists for 41 points in just 29 games.
After playing in Russia, Jalosuo would join Luleå HF of the SDHL in Sweden, and another championship would be had during the 2015-16 season. Playing in three regular season games with Luleå she managed to score two goals and tacked on five assists all the same. However, Jalosuo played in all seven postseason games en route to the championship, while contributing another three goals and two assists.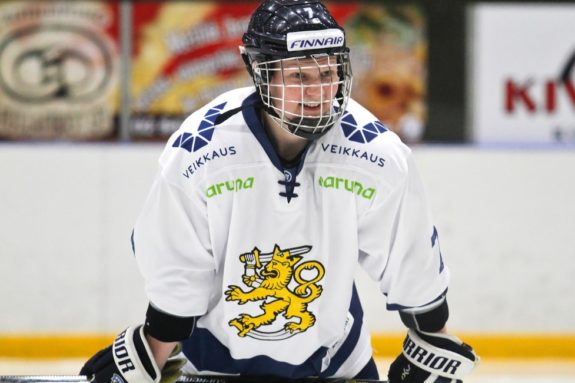 Separately from her time in Europe, Jalosuo also has played for the independent women's professional level team, the Minnesota Whitecaps too. Though when she looks at all these championship and achievements, there has to be one though that touches more upon her heartstrings than the others. When pressed for an answer, Jalosuo brought it down to one.
"Winning a championship is always a special moment, but I gotta go with the first NCAA championship," she said. "We faced a lot of adversity during that year, and the championship game against the Badgers was a battle."
Jalosuo and the Golden Gophers were able to defeat the Wisconsin Badgers in an incredibly hard fought championship game that ended by a score of 4-2. Jalosuo had two shots on goal during the game, which also included stellar performances by teammates and household names Amanda Kessel, Megan Bozek, and Räty in net. The Badgers meanwhile had Hilary Knight, Madison Packer, Brianna Decker, and other stars of women's hockey too.
Growing up and Understanding This Sport
Born Feb. 3, 1989, Jalosuo is about to enter her 30s. Though retired now from active playing, she continues to stay plenty busy in hockey and coaches with a wide variety of teams and programs. As of the 2017-18 season, she serves as a volunteer assistant coach with the Hamline University Pipers women's hockey team, a Division III NCAA program in St. Paul Minnesota. Separately, Jalosuo is the assistant coach at Wayzata High School, the director for both the Minnesota Ice Cougars AAA and the director of girls Red and Black HS league, along with being the owner of New Generation Training.
All of these things are a testament as to how much Jalosuo truly loves hockey, and her desire to grow the game for players of all generations, but particularly young women. THW asked Jalosuo what the was best piece of advice she ever received in hockey, and if it is something she imparts to her players. Her answer to this question is rooted deeply within both her heart and her approach to the game itself.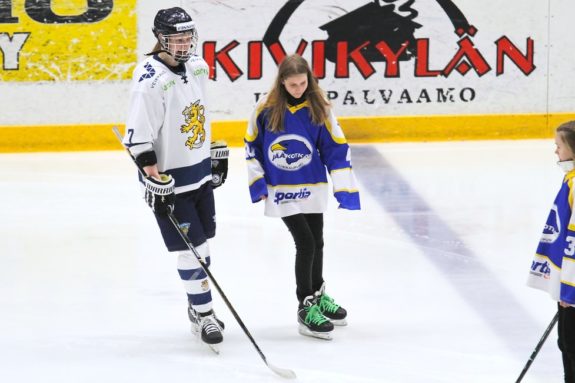 "It's kind of off-ice related," Jalosuo said, "but I always liked how (Golden Gophers) Coach (Brad) Frost and (assistant coach Joel) Johnson told us that 'Our team will be measured by how we finish the season, but we will not be defined that. We will be defined by our values'. I have played for a lot of coaches who think values are overrated, but I gotta say that the coaches who teach the players values and hold them accountable are the most successful ones."
That goes beyond hockey – this is a concept key to life. How much money you make, how fancy a car you drive, how many trophies you may have, or what your job title is – these pale greatly in comparison to sound values and morals. Jalosuo understands this, and it is a belief that has brought her much in life – things that cannot be touched, but instead are felt.
Jalosuo Wants You to Follow Your Heart
Yes, Jalosuo has obtained a multitude of medals and accolades in her career. But a bronze medal or an NCAA championship holds a considerably less value than the friendships and the wisdom she has gained through these moments of success. Jalosuo still maintains lifelong friendships with many of her teammates across the world.
Aside from that, it takes a special sort of person to be a successful coach, particularly when working with children. It takes an even more unique individual to be so heavily involved with coaching not just one team, but many teams. Jalosuo is a unique individual and one whom you cannot help but marvel at who she is as a person, let alone as a hockey player.
We wanted to know of Jalosuo what is something she knows now that she would have wished that her 12-year old self knew? She responded as such:
"Do not take it too seriously. I always hated losing more than anything, and I showed my emotions after a game the way I would not like to see my kids showing them."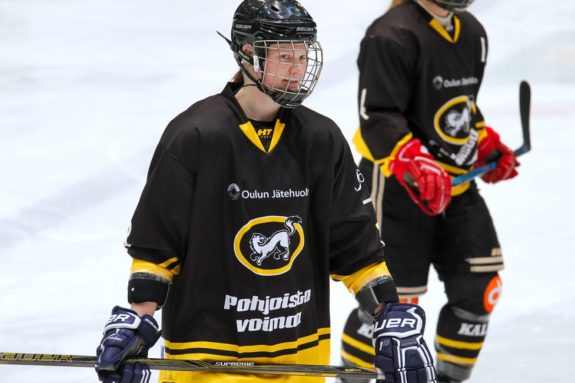 Jalosuo speaks from experience. She has been there before, and knows not only how young hockey players should behave win or lose, but how they should carry themselves along the road of life. Jalosuo has learned a great deal herself, and she is willing to share and impart. Hockey itself is a vehicle that can bring players to a vastness of knowledge.
"It's hard to say only one thing," Jalosuo said when asked about what hockey has taught her with regards to life, "but I have to go with: don't prejudge anything. I have played in four different countries, and I have learned so much from each experience. I would say for a young hockey player – follow your heart. If it is telling you to go somewhere, please do it."
If each of us did what Jalosuo is encouraging, there would bound to be stronger feelings of levity and meaning in each of our lives. Take it from a great coach, a great hockey player, and a tremendous person who continuously betters others – Mira Jalosuo.
General Manager of the Buffalo Beauts (NWHL). Hockey history writer "The Hockey Writers". Credentialed media for the NHL Combine and 2018 IIHF World Junior Championships in Buffalo, NY, USA. Born and raised in Buffalo, NY. Lifelong hockey fan for over 40 years. Proponent of the women's game.