Winnipeg Jets general manager Kevin Cheveldayoff is rightly and regularly heralded by hockey pundits and fans for his wizardry at the draft table. His patient, draft-and-develop approach has finally paid off. His team, comprised primarily of homegrown players like Mark Scheifele, Adam Lowry, Patrik Laine, Kyle Connor, Josh Morrissey, and Jacob Trouba, occupy nearly every nook and cranny of his lineup and led the Jets to a historic 52-win season.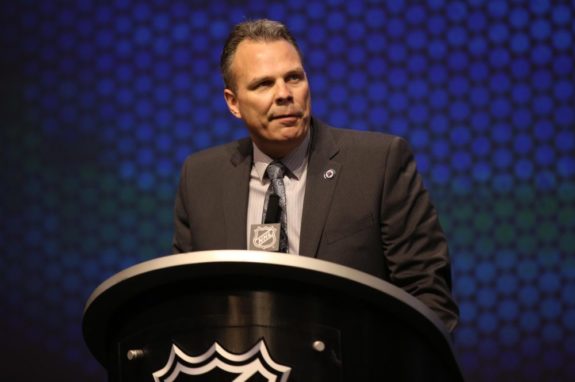 A lot of the Jets' draftees are already firmly entrenched NHLers, but that doesn't mean the cupboard of prospects is bare. The Manitoba Moose, who have had by far their best season since returning from St. John's, are well-stocked with prospects who look like they'll be able to be impactful NHLers. There are three in particular who look poised to make a jump to the Jets in 2018-19.
1. Sami Niku
Technically, Niku already joined the Jets this season. He made his NHL debut against the Montreal Canadiens on Apr. 3. It was a heck of a premiere performance. He didn't look out of place, logging over 15 minutes of ice time, moving the puck well, and most memorably, scoring his first NHL goal on his first NHL shot.
"There's lots to like there," Maurice told reporters post-game praising Niku's play. "I didn't think there was a lot of risk in his game. I thought it was smart plays. In traffic, he didn't panic with the puck. He moved it pretty efficiently — all the things that a young defenceman has to learn. The skill set that he has is impressive."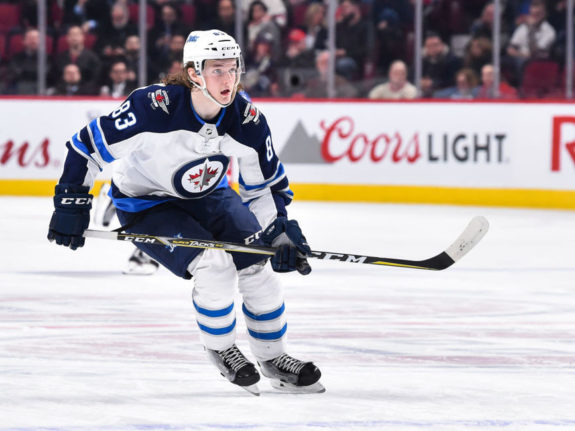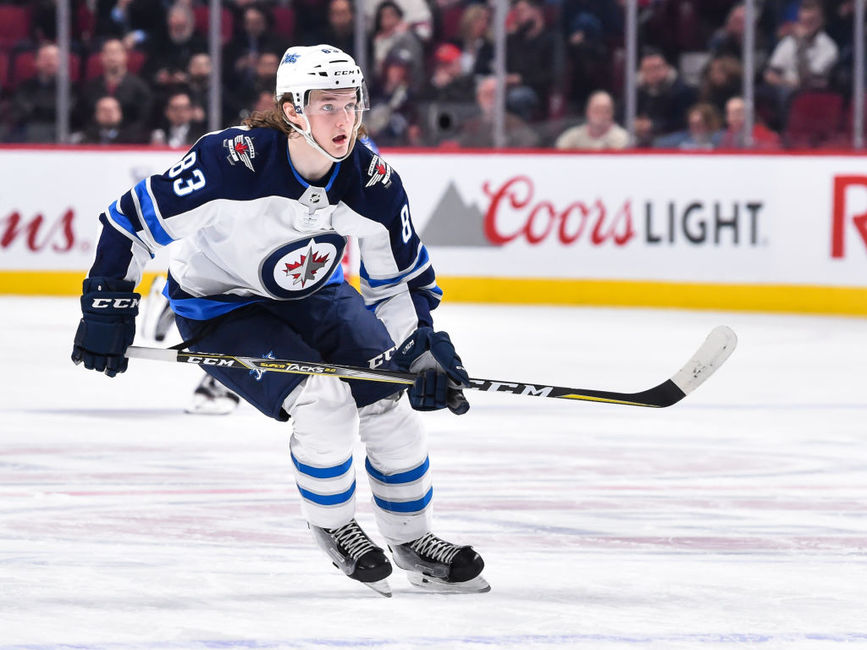 Niku displayed the skill set he showed in Montreal all year for the Manitoba Moose. The 21-year-old exceeded — shattered, really — all expectations in his rookie season. Long locks flowing behind him, the 2017 seven-round pick is not afraid to step into the rush and use his explosive speed to generate offence.
Check out the wheels on Sami Niku. Nice give and go with Appleton before finishing it off by dishing it to Cormier for his record setting 19th of the year. pic.twitter.com/ricqUmxMkU

— Dave Minuk (@ICdave) February 7, 2018
He showed off his good puck-moving ability as quarterback of the Moose power play. He displayed a calmness uncommon in such a young player. He finished second among AHL defensemen with 54 points and a plus-17 rating. He set a Moose record for points by a rookie d-man with 49. He was named to the AHL 2017-18 All-Rookie Team and the AHL First All-Star Team. If those accolades aren't enough, he was also voted the AHL's top defenseman.
There's nothing left for Niku to prove at the AHL level. He's ready for the big time. With the Jets unlikely to re-up Tobias Enstrom, expect Niku to slide seamlessly into his left-side spot on the blue line next year.
2. Mason Appleton
It's hard to believe there was doubt as to whether Appleton would turn pro this season. Even Moose bench boss Pascal Vincent told The Winnipeg Sun's Paul Friesen he had no expectations for the Wisconsin native.
Appleton is another youngster who eclipsed expectations. The 22-year-old had a stellar season, racking up 66 points. He has a hard, accurate shot, good speed, intelligence in the offensive zone, and a tenacious game. He appeared frequently in Moose highlight reels as a result of these traits.
OH SNAPpleton! #GoMooseGo pic.twitter.com/XELbeCegZt

— Manitoba Moose (@ManitobaMoose) March 27, 2018
Appleton's a game-changer capable of snagging a timely snipe or dishing a pretty pass to a teammate to set up a goal. He had a whopping 19 multi-point games and, like his teammate Niku, was named to both the AHL Rookie Team and First All-Star Team. In addition, he was named the AHL's Outstand Rookie. His maturity and ability to look at his stats as the result of hard work rather than pure talent set him apart from most his age.
"I always talk about my legs and my hard work and that's what drives my game," he told Mitch Peacock after a late season practice . "The results from that is the point… I don't judge myself off getting points, because I can play, you know, a really average game and still find myself on the scoresheet."
Appleton should challenge for a role among the Jets' bottom-six next season. Shawn Matthias, Matt Hendricks, and Marko Dano are likely on their way out the door and it should be left open for Appleton, who can play both centre and wing. The Jets would be well-advised to give him, at the very minimum, a long look at camp this fall.
3. Brendan Lemieux
When you watch Brendan Lemieux play, it's clear the apple doesn't fall far from the tree. He's the son of famed agitator Claude Lemieux, who played over 1,200 games and tallied nearly 800 points and 1,800 penalty minutes.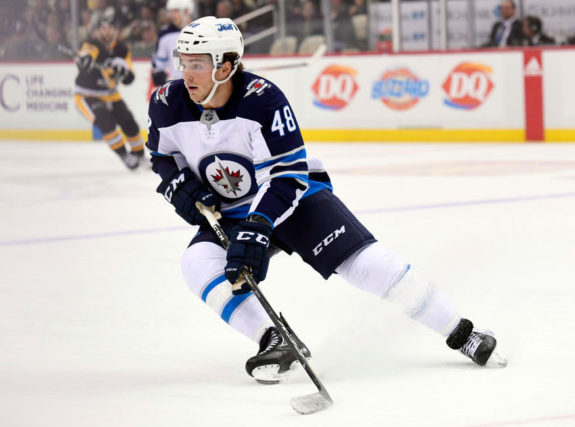 Lemieux plays just like his dad. He's a tenacious, hard-nosed player who's always in the middle of donnybrooks and isn't afraid to throw his body or his fists around. He is the epitome of a workman player; the type a lunch-bucket, blue-collar city like Winnipeg absolutely adores. His offensive upside is a bonus — this year, he's averaged nearly a point per with 43 in 51 games. In October, he had a cup of coffee with the Jets and scored his first NHL goal. He may be able to find a permanent seat at the table with them next year.
Like Appleton, Lemieux could take a bottom-six slot. Imagine how gritty and annoying a line with Lemieux and Brandon Tanev or Adam Lowry would be for opponents.
Lemieux does, however, need to work on his discipline. He cut ruts to the sin bin all season, picking up 170 PIMs. He needs to learn how to play on the edge, but not cross over it, as his penchant for taking careless penalties hurt the Moose at times. In fact, in a game against Iowa on Mar. 4, he was actually benched for taking an unsportsmanlike penalty and didn't see the ice for the final 53 minutes of the game.
While the Jets' present is already bright, it's clear their future — partly because of this trio of up-and-comers — is too.