For the Winnipeg Jets, the path to success has been a winding and at times painful one. Jets general manager Kevin Cheveldayoff knew the path all along, however, and stuck to it.
For a Jets team that saw just one playoff appearance in its first six years, and no wins in that appearance, it must've been tempting to stray from the course. Cheveldayoff resisted temptation, sometimes to the scorn of Jets observers.
The worst thing you could say of Cheveldayoff was that he was inactive. His trade record wasn't as spotty as certain other GMs in the NHL. It was simply non-existent.
Cheveldayoff finally got active on the trade front when Evander Kane forced his hand. Yet despite everyone in the league knowing Kane had to be moved, and despite him being injured at the time, Cheveldayoff still pulled a coup on the Buffalo Sabres.
That should have been a sign for Winnipeg Jets fans that their GM had a few tricks up his sleeve. His draft record to that point—Lukas Sutter in the second round of 2012 notwithstanding—had been solid as well.
Now, in year seven of his tenure with the Jets, Cheveldayoff looks to have assembled a contender. Deep at all positions and littered with homegrown talent, this Jets team has the makings of a powerhouse.
Through patience and persistence, #NHLJets GM Kevin Cheveldayoff has put together one of the deepest and most exciting NHL teams.

More from @RoryBoylen:https://t.co/dOln71HyFC

— Sportsnet (@Sportsnet) March 23, 2018
It wasn't always easy, and Jets fans weren't always as happy with their fearless leader as they are now. It can be hard to say the Jets were in the right after so many seasons devoid of playoffs, but there's no denying the potency of the end result.
Cheveldayoff Makes Tough Call in 2015
After the Jets' first playoff season in 2014-15, Cheveldayoff took the team in a new direction. It can't have been easy, given how promising things looked and how many of the Jets' best players were in their prime.
Rather than try to go for it prematurely, however, the Jets elected to serve youth. Out were Michael Frolik, Lee Stempniak, and Jiri Tlusty. In were Nikolaj Ehlers, Nic Petan, and Andrew Copp. Adam Lowry, Mark Scheifele, and Jacob Trouba all saw their ice time rise, and hiccups followed.
'It was only a year ago when we wondered aloud, "Why on earth would Jets ownership extend general manager Kevin Cheveldayoff and head coach Paul Maurice?" #NHLJets #GoJetsGo https://t.co/TTI3zGiqIv

— Spinorama 🔄 Hockey (@spinohockey) March 21, 2018
While no one could predict the Jets would win the draft lottery that year, that was the end result. Patrik Laine, the best goal scorer the Jets 2.0 have ever had, fell into their laps and joined an already-impressive forward corps.
In 2016-17, it was more youth and more hiccups. Connor Hellebuyck replaced longtime subject of fan vitriol Ondrej Pavelec, and Michael Hutchinson was relegated to backup. Not one Jets goalie had even a passable year, and the Jets missed the playoffs.
Yet again, however, the patience appeared to pay off. Hellebuyck deserves most of the credit for this one, putting in tremendous work in the offseason to put up a year that has earned him Vezina whispers. Cheveldayoff and Paul Maurice have to get some credit for their faith in him, however.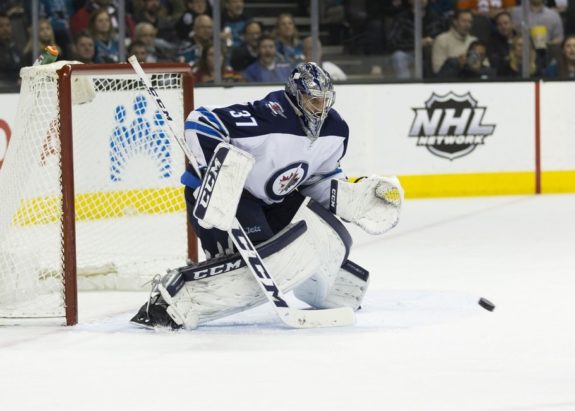 With Hellebuyck, who was a fifth-round pick in 2012, taking firm control of the Jets' crease, Cheveldayoff's free-agent signings haven't flattered him the way his drafting has. Yet both were necessary additions.
The consensus at the end of last year was that the Jets desperately needed help on the left side on defense and between the pipes, so Cheveldayoff signed Steve Mason and Dmitry Kulikov. Neither free-agent signing has worked out, but both were undoubtedly needed and showed a willingness to spend for the first time in Cheveldayoff's tenure.
Cheveldayoff Preaches and Practices
From day one of the team's arrival in Winnipeg, the team's higher-ups, Cheveldayoff included, preached 'draft and develop.' One look at Winnipeg's roster tells you it wasn't all idle talk.
The Jets have first-rounders in their lineup from every draft except their most recent one. Their later-round picks, including Adam Lowry, Andrew Copp, and Tucker Poolman, have all contributed. Their starting goaltender was a draftee.
It's easy to preach the strategy of drafting and developing from within. Indeed, most teams do. Few have pulled it off as well as Cheveldayoff.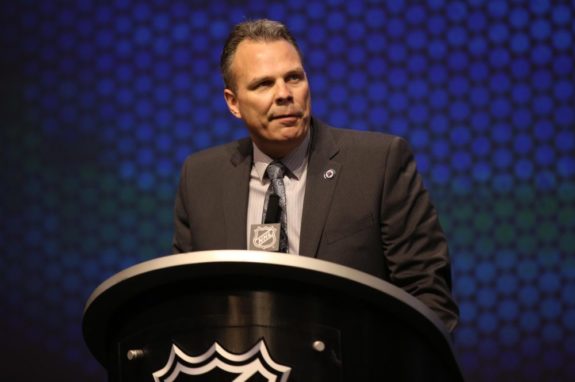 All this is without Nic Petan or Jack Roslovic playing regular minutes, both of whom were Jets picks and could play next year. Ditto for Eric Comrie and Kristian Vesalainen. And rounding out the rest of the roster are the results of shrewd trades, more evidence of the work Cheveldayoff has put in.
The current Jets roster bears little resemblance to the one Cheveldayoff was first given. Examine where some of the key members of Jets 1.0 went and you'll see Cheveldayoff at work again.
Johnny Oduya went for picks that turned into Comrie and (after another trade) Frolik. Andrew Ladd became Marko Dano and prospect Logan Stanley. And we know full well what became of Kane and Zach Bogosian.
Cheveldayoff's work has been quiet and largely unspectacular. He has mostly shied away from blockbuster deals and gone about his work in the draft as promised. Now that work is paying off, he has to feel a little vindicated.
A long time hockey fan and player from Winnipeg, Manitoba. Play-by-play man with the SJHL's Estevan Bruins. Graduate of Red River College's Creative Communications program with a major in journalism. Former PxP man for the University of Manitoba Bisons. Lover of all things Jets and Avs related and always looking for a good hockey debate.