Through thick and thin and sickness and in health, one man's been constant for the Winnipeg Jets through the 2017-18 season. That man is Connor Hellebuyck.
Many players have contributed to the Jets' winning ways this season — Hart Trophy candidate Blake Wheeler, savvy sniper Patrik Laine, and the outrageously overlooked Kyle Connor, to name a few — but Hellebuyck's been the cornerstone of their success. As such, he should be a serious contender for this year's Vezina Trophy.
The truth is this: the Jets simply wouldn't be where they are right now without the rock-solid play of their goaltender from Commerce, Michigan. Like a thief in the night, Hellebuyck has stolen countless wins. He may not have the NHL's top numbers but his consistency, competitiveness, and mettle make him a compelling Vezina candidate.
Just the Stats, Man
It doesn't take a statistical guru to see that Hellebuyck has been one of the NHL's elite goaltenders in 2017-18; he's near the top of the leaderboard in most statistical categories.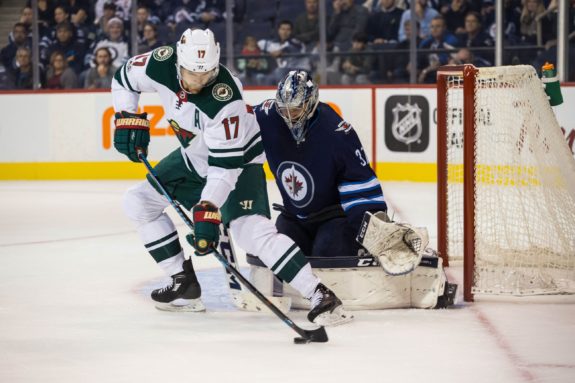 He's posted 37 wins, good for third in the NHL. His minuscule goals-against average of 2.34 is third amongst goaltenders who have made more than 40 starts, and his six shutouts also rank third. This handy-dandy infographic — conveniently titled "Bucky for Vez" — provides, at a glance, just how important his contributions have been in helping the Jets to their highest win total since the franchise relocated to Winnipeg.
From Mediocre to Masterful
One of the most impressive things about Hellebuyck is how he's rebounded after a tumultuous season, during which many questioned if he was fit for an NHL starting gig.
He was given the reins at the start of the 2016-17 season and while he sometimes looked like the thoroughbred everyone was expecting after his great greenhorn campaign, more often, he looked like a mule. He posted a 26-19-4 record but his goals-against average of nearly 3 and save percentage of just over .900 weren't good enough to haul the Jets anywhere close to the postseason.
His sophomore slump prompted Kevin Cheveldayoff to wrangle Steve Mason on July 1, inking the more experienced goalie to a two-year deal. Hellebuyck reacted the right way. He didn't pout or whine but instead undertook a "rigorous off-season training regimen," Winnipeg Sun sportswriter Ted Wyman reported in late October.
"He did what he needed to do in the summer," Paul Maurice told Wyman. "He made changes in how he trained and sought out the proper work environment for him and improved his game."
Hellebuyck Seized His Opportunity
Winnipeg Jets fans and followers — author included — have grown so used to seeing Hellebuyck standing on his head on a nightly basis that it's easy to forget that, seven months ago, he was the backup. Mason was given every opportunity to be the Jets' main masked man at the outset of the season, with Hellebuyck in a supporting role.
However, less than a year later, Cheveldayoff's acquisition of Mason looks more like an error in judgement than a stroke of genius, due in part to Mason's laundry list of injuries. The 29-year-old goalie was supposed to help the Jets take off smoothly and soar through clear skies but instead encountered some serious turbulence to start the year.
Mason allowed 5 goals on twenty shots in the Jets' home opener versus the Toronto Maple Leafs and was ejected from the pilot's seat. He was given another chance at the helm a few days later against the Calgary Flames, but crashed again, letting six tickle the twine.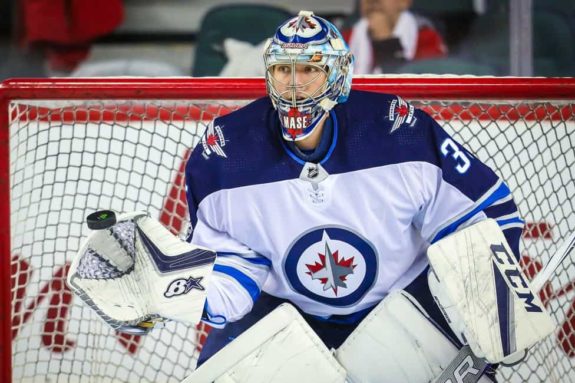 This swung the controls back to co-pilot Hellebuyck, who took firm grip of them and hasn't relinquished them since.
"I'm sure there's lots of people who wrote me off after last year," Hellebuyck said in January after being named an NHL All-Star. "So it is pretty nice to be here and to successfully show that I actually have more."
Not Overwhelmed by the Workload
Another reason Hellebuyck should be seriously considered for the hardware for the league's best goalie is that he's not only become the guy for the Jets but more often than not, he's been the only guy. He has thrived despite shouldering an absurdly heavy workload. He's started more games (61) than anyone else in the NHL.
It's not as though the Jets intended for any goalie — let alone Hellebuyck — to have to make nearly 85 percent of the starts. However, Mason and Michael Hutchinson's frequent injuries  — both have suffered a pair of concussions this year — have forced Maurice to rock with Hellebuyck (including four times on consecutive nights.)
Asking many other goalies to bear the burden of so many starts without a break would be a recipe for disaster. Hellebuyck, however, hasn't shown any signs of burnout down the stretch. His March save percentage is .939 and he's allowed 3 goals or fewer in eight straight games, posting a 6-1-1 record.
Vasilevskiy, Rinne Tough Competition
If Hellebuyck had posted the numbers he has this season a year ago, he would have won the Vezina easily. They're better than Sergei Bobrovsky's, who was awarded the title last year. This year, though, is not last year. Despite Hellebuyck's scintillating statistics, he's not even the favourite to win. He faces stiff competition from another Russian and a Finn, who are also having outstanding campaigns and creating an exciting three-man race.
NHL.com determined last month, after a panel of 19 staff members voted on who they thought should win each major award, that the Tampa Bay Lightning's Andrei Vasilevskiy is the frontrunner.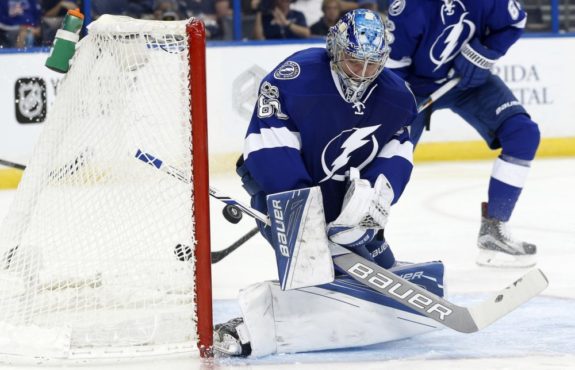 The 23-year-old Russian is having a super sophomore season for the tremendous Tampy Bay team and has been one of the main reasons the Lightning sit at the top of the Atlantic Division. Some of Vasilevskiy's numbers are better than Hellebuyck's: his 42 wins are four more than the Winnipeg netminder's and he's made more saves. However, his goals-against average is higher — 2.60 compared to 2.34 — and his save percentage — .921 to .924 — is lower.
Vasilevskiy is younger than Hellebuyck and that may be a consideration when it comes time to hand out the hardware. In addition, he hasn't left anyone's minds since he made his viral behind-the-back glove save in February.
No lie, this might be the greatest save of all time. Good lord, Andrei Vasilevskiy.pic.twitter.com/ORxIpXUynt

— Faizal Khamisa (@SNFaizalKhamisa) February 11, 2018
Pekka Rinne is also in the mix. The 35-year-old's done what he's done for years for a Predators team that does nothing but win. He's made less starts than Hellebuyck but his 40-10-4 record, .929 save percentage, and 2.26 goals-against average are among the NHL's best.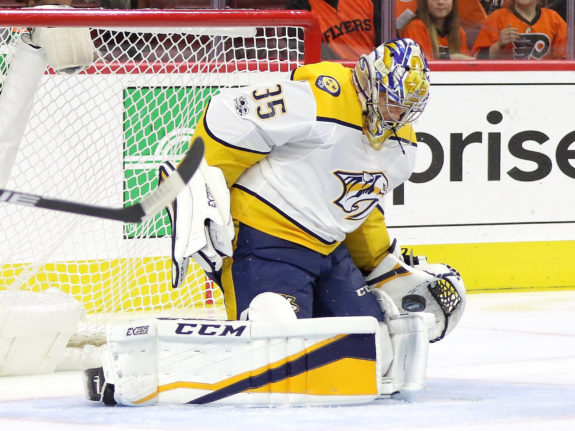 Sportsnet's Andrew Berkshire did a statistical analysis of Rinne's play earlier this month and called him "the runaway favourite for the Vezina Trophy."
The Case for Hellebuyck
If the criteria for winning the Vezina were just slightly different and it was awarded to the most valuable goalie instead of the one "adjudged to be the best at this position," Hellebuyck would be a shoo-in.
No goaltender, Vasilevskiy and Rinne included, has been more integral to their team's success than Hellebuyck or have had more pressure put on their shoulders to perform. There are a few other factors that make Hellebuyck's case for the Vezina even more credible.
Vasilevskiy's had the luxury of having the league's highest-octane offence in front of him. With 277 goals scored, the Bolts lead the league in that category by far. It takes some of the stress off when Nikita Kucherov and Steven Stamkos, who are both closing in on triple digits in points, are filling the net on a nightly basis. It's not that the Jets are offensively anemic — they've scored the most goals in the Central Division with 245 — but their offence is not quite as prolific as the Lightning's.
Rinne's had the luxury of having a healthy, experienced defense around him all season. Roman Josi, PK Subban, Matthias Ekholm, and Alexei Emelin are all veterans of over 450 NHL games, and the Preds have only lost 59 defensive man games. In addition, Rinne's had a viable backup in Juuse Saros, who's started twenty games to ease the Finn's workload.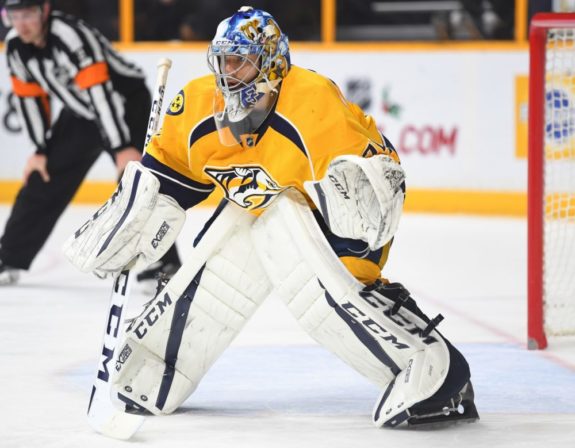 Hellebuyck's had neither a healthy D or consistent support partner. The Jets have had a depleted d-core all year long and have been forced to play long stretches without top blue-liners Dustin Byfuglien, Toby Enstrom, Dimitry Kulikov, and Jacob Trouba.
The Jets' other goaltenders have made more trips to the infirmary than a hypochondriac. Mason and Hutchinson are both, once again, on the shelf. Eric Comrie's been up and down between the Moose and the Jets but he's only made two starts and hasn't really been anything more than a guy who comes in if Hellebuyck goes down. It's been 'Buyck or bust' for the Jets.
Vezina or Not, Hellebuyck Deserves Props
Whether these factors will come into play when it comes to select the league's top tender remain to be seen but Hellebuyck deserves a long look when it comes to awards time. What everyone's seen, without a shadow of a doubt, is that Connor Hellebuyck is the reason the Jets are poised to make a deep playoff run. He deserves huge credit, whether that credit comes in the form of end-of-season accolades or not.