It's been nearly three years since the Buffalo Sabres and Winnipeg Jets made their blockbuster, eight-player deal. The Feb. 11, 2015 trade, a few weeks before the 2015 NHL Trade Deadline, involved players, prospects and a first-round pick.
At the time, the Sabres were in 30th place in the NHL standings, while the Jets were jockeying for a playoff spot. General managers Tim Murray of Buffalo and Kevin Cheveldayoff of Winnipeg put together a deal that each thought made their teams better.
The Trade
The Jets sent Evander Kane, defenseman Zach Bogosian and goaltending prospect Jason Kasdorf to Buffalo for Sabres' blueliner Tyler Myers, winger Drew Stafford, winger Joel Armia (former 2011 first-round pick/sixteenth overall), the rights to Brendan Lemieux (former 2014 second-round pick/31st overall), and a first-round pick (25th overall) in the 2015 NHL draft, which became center Jack Roslovic.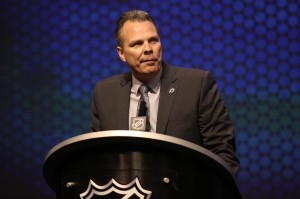 "I'm excited about what this trade brings to our organization," said Cheveldayoff. "At the end of the day, it is a big deal, but we think it's something that's going to help us both in the short term and really help us in the long term."
Murray, in the midst of a rebuilding process with the Sabres, said he knew getting Kane would be expensive. "Either you're in and you know you're going to pay a big price, or you're out," said Murray. "[Evander] is going to be a big part of any success we have here. He plays hard. He plays in traffic. He doesn't play a perimeter game. He plays the game right."
Headed to Buffalo
For the Sabres, Kane was considered to be the blue chip of the trade–a star ready to hit his prime. Picked fourth overall in 2009, he had already scored 30-goals in his rookie season. In subsequent seasons, his production was limited by repeated injuries. After seasons of 48 and 63 games, shoulder surgery ended his fourth after just 37.
Kane's time in Winnipeg was peppered with drama, both on and off the ice. The last one was an incident resulting in teammate Dustin Byfuglien throwing his tracksuit into the shower.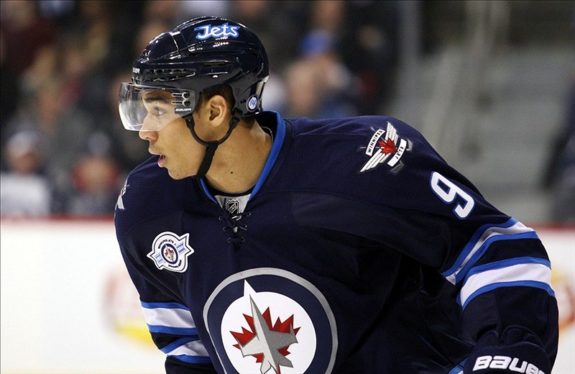 "There's definitely a lot more to it than some of the funny story lines that came out," said Kane. "Sometimes you have to just let a story die and I guess that's what we'll do. But it was definitely disappointing with how everything shook out and some of the information was misconstrued, misleading, some of the facts kind of came out wrong or didn't come out at all. That's to be expected. But I'm definitely glad to be moving on."
Kane had fallen out of favor in Manitoba but was still under contract through the summer of 2018 at $5.25 million annually. He was ripe for a fresh start with a new team. The Sabres saw him as an aggressive power forward who would become a principal in their youthful core.
Bogosian, a first-round draft pick (third overall) in 2008, was talented but erratic. He was having trouble living up to expectation and in need of fresh scenery. The defenseman still had five seasons left on his 7-year, $36 million contract ($5,124 million annually).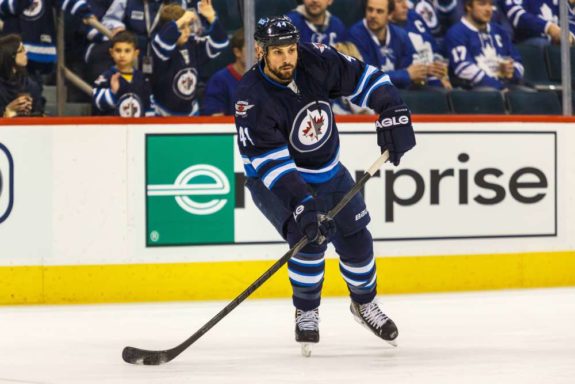 Murray believed that Kane and Bogosian would lead the team to success. "I believe in these two players. I think that they make us a better organization and a better team," said Murray confidently. "We're going to be adding young guys as we go along, and they need the right people to follow. I think these two guys fix that."
Kasdorf, a 22-year-old, was 9-14-0 with a .900 save percentage for Rensselaer Polytechnic Institute. He was low on Winnipeg's depth chart. The Sabres assumed his rights while he remained in college and for 30 days after leaving school.
Headed to Winnipeg
For Winnipeg, the pivotal player was Myers, a smooth skating defenseman capable of playing a lot of minutes. He still had four years left on his contract, with an annual hit of $5.5 million. The tall, puck-moving blueliner had earned accolades as the league's top rookie in 2010. That year, he scored 11 goals and added 37 assists for 48 points. His follow-up seasons (37 points in 80 games in 2010-11, 23 points in 55 games in 2011-12, eight points in 39 games in 2012-13, and 22 points in 62 games in 2013-14), never quite lived up to his rookie year in Buffalo.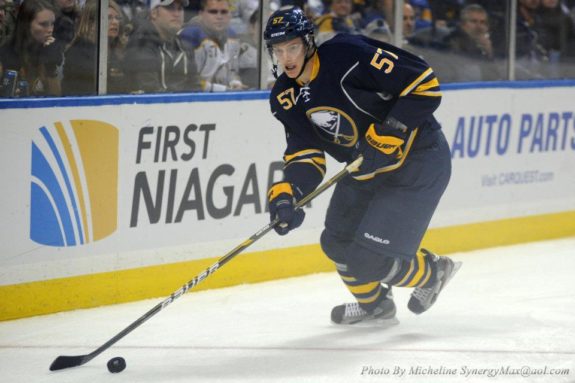 Stafford, a streaky point-producing forward was considered to be more of a throw-in piece of the puzzle. He was a pending unrestricted free agent who the Jets hoped would add some much-needed secondary scoring to the Jets. Adding Stafford allowed Byfuglien to move back to his natural position on defense, where the team had been thinned by injuries.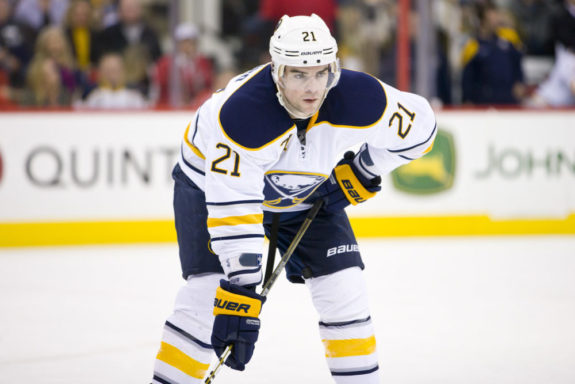 Armia was a 21-year-old, 6-foot-3, 192-pound Finnish prospect. The forward had 10 goals and 25 points in 32 games in Rochester. He had played only one game for the Sabres.
Brendan Lemieux, son of former NHL player Claude Lemieux, had 35 goals, 50 points and 120 penalty minutes in 46 games for the Barrie Colts of the Ontario Hockey League. He had yet to sign an entry-level contract.
The first rounder the Jets acquired turned into Jack Roslovic. The center from Columbus, Ohio played the 2015-16 season at Miami University, putting up 26 points in 36 games. He then signed a three-year entry-level contract in the summer of 2016.
Player Contributions Since the Trade
After the trade, the Jets finished the regular season with 99 points and earned the last wild card spot in the Western Conference. It was the Jets' only playoff appearance and it was short-lived, as they got swept in the first round by the Anaheim Ducks. In 2015-16, the Jets finished with 78 points, nine points shy of a wild card spot. In 2016-17, they finished with 87 points, seven shy of a wild card spot. This year, they're sitting pretty–one point ahead of Nashville for the Central Division lead.
The Sabres, finished 2014-15 season with 54 points, worst in the league. A 27-point improvement to 81 points in 2015-16 was still 15 points shy of a wild card spot. The team regressed to 78 points in 2016-17 as Tim Murray and Dan Bylsma were both fired after the season ended. This year, the Sabres are once again among the league's worst – the playoffs have been nothing but a pipe dream since November.
Evander Kane
As expected, after being traded to Buffalo in 2015, Kane did not see action immediately. He was still rehabbing from shoulder surgery. When he eventually returned to the ice in 2015-16, he put up 35 points (20 goals, 15 assists) in 65 games. In 2016-17, he recorded 43 points (28 goals, 15 assists) in 70 games. It appeared as though the power forward was going to be traded last year since the Sabres were never really playoff contenders. Compounding that, he was facing discipline for missing a team practice, and his rough-and-tumble style was keeping him out of the lineup.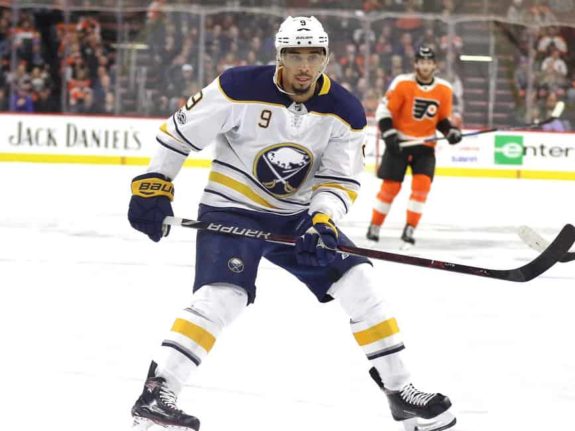 Though the Sabres are once again cellar dwellers this year, it's not because of Kane. He started the year playing the best hockey of his life, with 31 points (14 goals, 17 assists) in 33 games–on pace for career bests in both points and goals as the team's leading and most consistent scorer. Equally important, the prototypical power forward has matured, staying away from off-ice legal trouble and drama for nearly two full years. He's been almost exactly what then-GM Tim Murray had hoped he would be. He's cooled off considerably since then, though, with only five points in his last 20 games. The cooling off could be attributed to being removed from Jack Eichel's line and/or taking his foot off the gas, since he's known that he has been on the trading block since Thanksgiving.
Zach Bogosian
Bogo has had trouble staying healthy. In 2015-16, he played in only 64 games, though he did put up 24 points. Last year, he dressed for only 56 games, putting up 11 points. This year, he suited up for just 18 games recording a single assist before shelving the remainder of the season due to hip surgery. He's expected to be ready for 2018 training camp. He's clearly not living up to his salary or his expectations.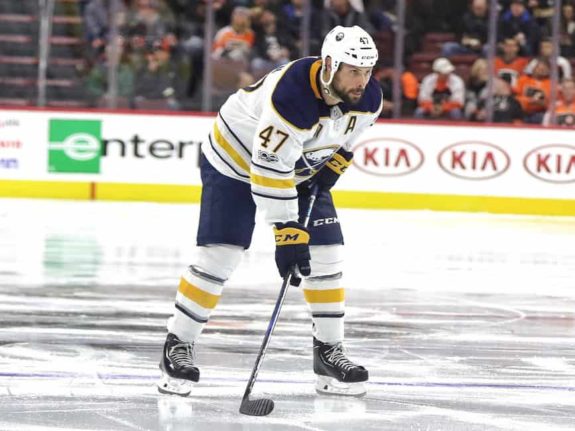 Jason Kasdorf
Kasdorf, a throw-in part of the trade, finished his senior year at RPI with a 2.30 goals against average and .931 save percentage in 30 games. At the end of the 2015-16 season, he made his debut in a loss for the Sabres. Since then he has struggled, mostly in the ECHL. In 2016-17, he played in 31 games for the Elmira Jackals, only winning five of them to go with a monstrous 3.96 goals against. His rocky ride has improved this year with the Cincinnati Cyclones. He has a robust 2.96 goals against average .895 save percentage in 15 games.
Tyler Myers
In the remaining 24 games for the Jets, Myers scored three goals and 15 points. He averaged nearly 24 minutes per game over that stretch and played on the top D-pairing. He played similar minutes in the Jets postseason games and even scored a goal.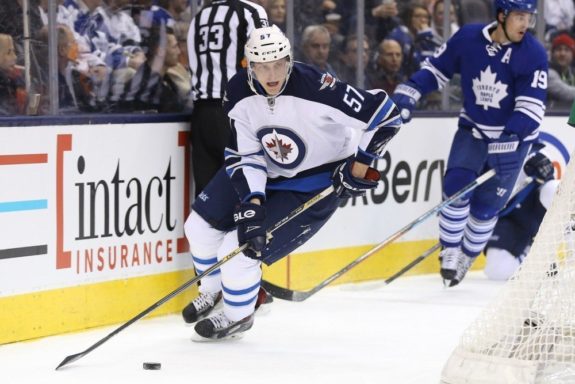 In 2015-16, Myers was a steady, reliable blueliner, averaging 22:30 of ice time per game. He had a strong puck possession percentage, produced nine goals and 27 points (nine goals, 18 assists) and had the best goals-for percentage at 5-on-5 of any Jets defenseman. In 2016-17, Myers played only 11 games due to groin surgery. This year, now healthy, he's played in all 54 of the Jets' games, putting up 26 points. It's a pace that would result in his second-best output to his rookie season.
Drew Stafford
Stafford immediately paid dividends for the Jets. He contributed with 19 points in 26 games, helping the Jets secure a playoff spot in the final weeks of the season. Stafford's early impression was enough to merit a two-year deal in June 2015 for $4.35 annually.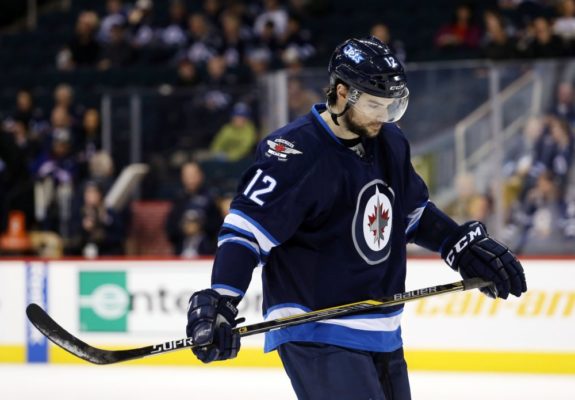 In his first full season with the Jets, he put up 38 points (21 goals, 17 assists) in 79 games. The following year he scored only four goals and nine assists in 40 games–not exactly a value for his salary, before being dealt to the Boston Bruins at the trade deadline. He has since signed a one-year deal with the New Jersey Devils for the 2017 season.
Joel Armia
Armia has slowly come into his own, becoming a regular on the Jets' bottom six this year. In 2015-16, the winger played in 43 games and recorded ten points. The following year, he dressed for 57 games and put up 19 points. He's played in 51 games this year and already has 22 points (10 goals, 12 assists), on pace for career bests in both categories.
Brendan Lemieux
Lemieux played in the OHL with the Barrie Colts and Windsor Spitfires, putting up better than point-per-game numbers. In 2015, he joined the Manitoba Moose of the AHL and has played in 84 games and has 41 points. He played in nine games for the Jets' this year, scoring one goal. Like his father, he's an agitator with an edge to his game.
Jack Roslovic
Winnipeg used the Sabres first-round pick on Jack Roslovic, a center from Columbus, Ohio.  He excelled on the U.S. National U-18 Team and then put up 26 points in his only season at Miami University. In 2016-17, he played in 65 games for the Manitoba Moose, recording 48 points. In 32 games with them this year, he has 35 points. Roslovic has appeared in 12 games with the Jets this season, scoring three goals while averaging less than 13 minutes of ice time per game.
No Clear Trade Winner
Neither team has reaped great rewards from the trade, but neither team lost, either.
When breaking down a trade, some people focus on who got the best player of the deal. At the time of the trade, that was Kane–a pure goal-scoring difference maker.
In 2015, the Jets made the playoffs, and that might lead one to tilt the scales to them winning the trade. However, the playoffs were never a goal for the tank-mentality Sabres. By clearing out Stafford and Myers, and knowing Kane was not going to be on the ice for the rest of the season, it helped cement them in the league's basement. Though the Edmonton Oilers won the lottery and landed Connor McDavid, the Sabres guaranteed themselves the second pick and chose Jack Eichel. That was a win.
Some will say Myers has meant more to the Jets than Kane has to the Sabres. No matter how many points Kane has put up, he has yet to make a significant difference for the Sabres' record.
Some will mistakenly compare Bogosian to Myers. Through that lens, Myers easily gets the nod for his better offensive output, foot speed, and ability to stay healthy in the lineup.
Jets Win Trade
Though Stafford is long gone, Myers and the Jets are a serious playoff contender this year. Myers has found his form again, pitching in nearly a half point per game while averaging over 22 minutes a game against the opponents' best line. It's worth more than the production Kane is bringing.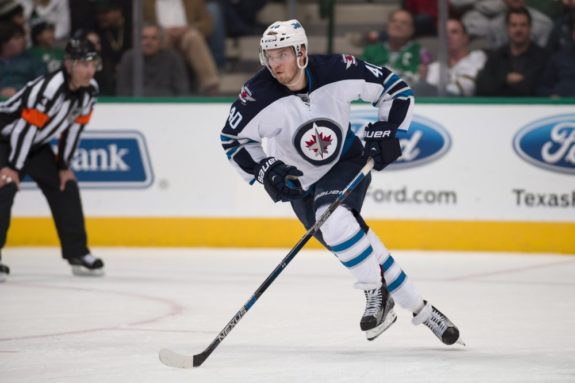 At this point, what really gives the edge to the Jets are all the supplementary pieces of the trade. Armia, Lemieux and Roslovic are all starting to contribute, while the brittle Bogosian is on injured reserve, Kane is on his way out of town and Kasdorf has yet to show signs of reaching the big league. If any of the three Jets' players pan out, longer-term, it's clear the Jets easily won this trade.
Sabres Possibly Win Trade
The only saving grace for the Sabres will be if Jason Botterill can fleece a general manager in the next few weeks when he flips Kane at this year's deadline. If J-Botts can bring in what he hopes to–a first round pick, a prospect, a roster player and a conditional pick – it could swing the deal back in the Sabres' favor.
A final note: Tim Murray was let go by the Sabres after the 2016-17 season. Kevin Cheveldayoff is in his sixth season as the Jets' general manager.
Jeff has been covering the NHL for over a decade for various sites. He's been with The Hockey Writers as a lead Sabres writer three years, while also writing a satire column called "Off the Crossbar."