Today marks 40 days until the Feb. 26 trade deadline. That means Evander Kane has a little more than a month to finish out his career as a Buffalo Sabre. Kane knows he's the big fish for contending teams hoping he will put them over the top this year. His phone could ring at any moment so he's taking it one day at a time.
Evander Kane on continuous trade speculation:

"Obviously I'm aware of my situation and things are probably going to happen with the position were in as a team," @WKBW pic.twitter.com/jWBHPk1QLv

— Matthew Bové (@Matt_Bove) January 17, 2018
"I'm not holding my breath, that's for sure," said Kane. "I'm aware of the situation that our team is in and the position that I'm in with my contract. You know, it's part of the business and it's not something that I worry about or concern myself too much with. I'm just focused on each and every game and with the [bye week] break, you're able to get that focus a little bit tighter, so it's good."
Kane's Numbers
A strong market has developed for Kane since last summer. He is a pending unrestricted free agent on the 30th-ranked club in the NHL and the Vancouver native is on pace for a career season, with 16 goals and 20 assists. Of Kane's 36 points, 28 have come at even strength. Since Dec. 3, 2016, Kane has scored 44 goals and 35 assists in 114 games. His even-strength production is a rare commodity.
Kane has also kept his name out of the news for two years. It's possible he's matured and moved on from his questionable behavior though his attitude doesn't seem to have changed. During the Sabres bye week, he posted a shot of himself chilling on a private plane and then lounging on a beach giving a thumbs-up salute and a message that said "#Blessed."
Was Kane giving a thumbs up or is he ready to hitch a ride to a Stanley Cup contender?
Botterill's Asking Price
Kane's value seemingly rises with every even-strength goal he scores. His services won't be cheap. According to Darren Dreger of TSN, Sabres GM Jason Botterill is seeking a first-round pick, an NHL player, a prospect and a conditional draft pick if Kane is re-signed by the team he's traded to. It's a king's ransom.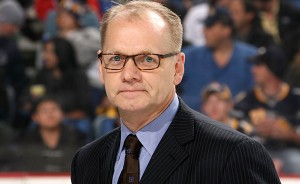 Overvaluing players wearing Blue and Gold is not exactly a new concept. Darcy "Suffering" Regier was often victim to it. However, he excelled at selling players before the deadline. Botterill knows he needs to create a starting point for a trade conversation. He may as well set it high. Very high. Can you blame him?
Getting Snowed
The risk of asking for too much for a player is that it will deter teams from tangoing with you. In 2014, Garth Snow was forced to deal Thomas Vanek at the deadline for a conditional second-round pick and Sebastian Collberg. Collberg, the 23-year-old Swede, has yet to skate in the NHL. Snow held on to his asset as long as possible and was forced to sell low while Vanek is lighting it up with the Vancouver Canucks and is still valuable.
Not Just A Rental Player
For a general manager who desperately wants to win a Stanley Cup and who believes Kane is a player that can be the final piece of their puzzle, the 26-year-old power forward is an investment and not an expense. He isn't necessarily a rental, either.
Teams can work out a maximum seven-year contract extension before he hits the wild and lucrative free agent market on July 1. This is the biggest question mark of Kane's deal: does he insist on going to the highest bidder or can the team that snags him re-sign him?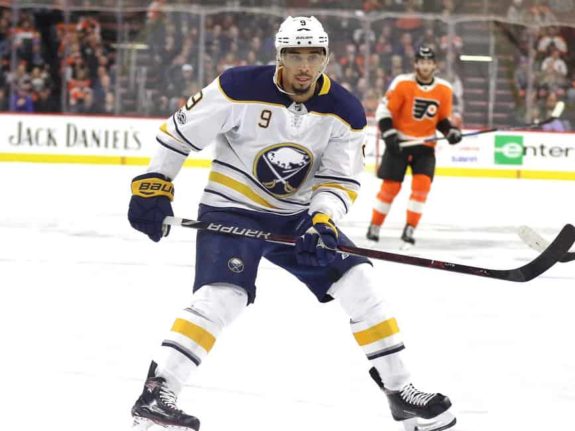 Trade Deadline Precedent
At the trade deadline last year, St. Louis Blues defenseman Kevin Shattenkirk was the big prize. It cost the Washington Capitals a 2017 first-round pick, a conditional 2018 second-round pick, and forwards Zach Sanford and Brad Malone. The Caps had his services for all of 19 regular season games and 13 playoff games.
The contingencies surrounding the deal were enough to make lawyers' heads spin. It was a bold move for a Caps team that was determined to advance past their nemesis, the pesky Penguins, which they didn't. And, it was fairly well-known that the defenseman wanted to play for the Blue Shirts on becoming an unrestricted free agent.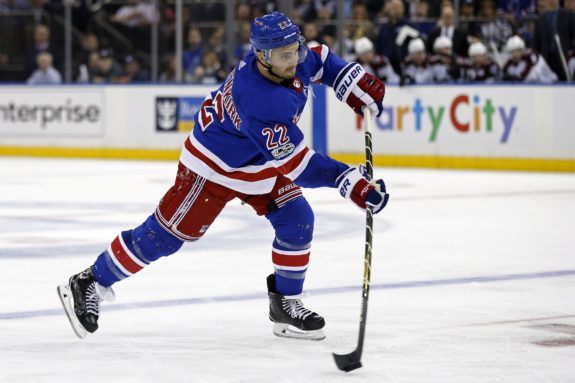 The Minnesota Wild gave up a 2017 first-round pick, a 2018 second-round pick, a 2019 conditional fourth-round pick and forward Teemu Pulkkinen for Arizona Coyotes' bottom-six center Martin Hanzal. Hanzal played all of 20 regular season games and five playoff games with the Wild. On July 1, 2017, he inked a shiny three-year deal for $14.25 million with the Dallas Stars.
The Stars shipped Patrick Eaves to the Anaheim Ducks for a conditional 2017 second-round pick that became a first-round pick after the Ducks advanced to the Western Conference Final. The Ducks signed him to a three-year extension for $9.45 million before he hit the free agent market. Eaves was a 25-point guy.
In 2016, Andrew Ladd, a 20-goal scorer, was sent to the Chicago Blackhawks with defenseman Jay Harrison and forward Matt Fraser. The Winnipeg Jets hauled in forward Marko Dano, a 2016 first-round pick and a 2018 conditional third-round pick.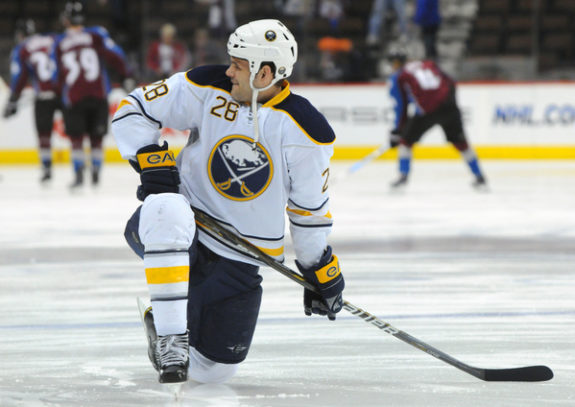 For Sabres fans reminiscing about hauling in a first and fourth-round pick for Paul Gaustad, that was six years ago. The salary cap is the boss now and teams covet their first-round picks more than ever.
Who's Selling?
Right now, only the Arizona Coyotes, Ottawa Senators and Sabres have accepted their status as sellers and have opened themselves up for business.
Click here for TSN's trade bait list.
The Senators, without a first- or second-round pick this June, are dangling forwards Mike Hoffman (signed through the 2019-20 season), Zack Smith (signed through the 2020-21 season) and Jean-Gabriel Pageau (signed through the 2019-20 season).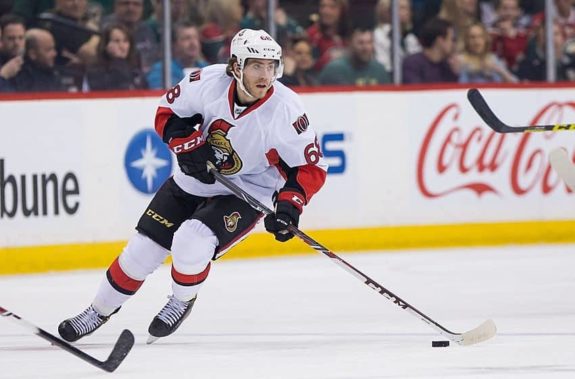 The Toronto Maple Leafs have three players who are set to become UFAs on July 1: James van Riemsdyk, Tyler Bozak and Leo Komarov. The Leafs are fighting for a playoff spot and according to TSN Hockey Insider Bob McKenzie, they won't make a deal unless they get an offer that "absolutely knocks [their] socks off."
Other trade possibilities include James Neal, of the surprisingly good Vegas Golden Knights, who's has had his name in the rumor mill for months and Canadiens general manager, Marc Bergevin, is a wild card who could look to flip Max Pacioretty and Alex Galchenyuk.
Who's Buying?
The list of teams interested in making a play for Kane's services include the Ducks, Edmonton Oilers, Pittsburgh Penguins, Tampa Bay Lightning, Carolina Hurricanes, New York Rangers, New Jersey Devils, St. Louis Blues, Canucks, San Jose Sharks, Golden Knights, and Columbus Blue Jackets.
Many of these teams have lost critical forwards to injury in the past month. Names like Chris Kreider, Cam Atkinson, Filip Forsberg, Bo Horvat and Viktor Arvidsson are not easily replaced. On paper, plugging the offensive hole with Kane is an easy fix, at the right price. He would bring a much-needed burst of energy and goals while injuries heal in the short term.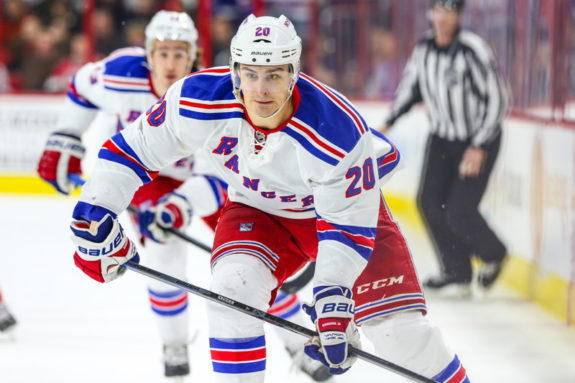 According to Bob McKenzie, "Evander Kane is one of the players that Jim Rutherford has been talking to Botterill, his former employee, about." The scoring winger might be luxury the Penguins can't afford but with some crafty bookkeeping, it's possible he'd light the lamp nightly on a line next to Malkin or Crosby. The Pens brass believes that Kane's baggage is a product of being in a losing environment and would change in Pittsburgh.
A Fair Deal
Botterill has his work cut out for him. He needs to re-build and re-shape his last-place roster. Asking prices will always start high–ask any car salesman. Sellers may set their price but buyers determine the fair market value. Aside from feeling like they're a legitimate contender, the buyer needs to have the right combination of need, spending assets and cap space to justify going after Kane.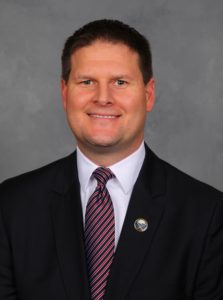 The Sabres' GM cannot let Kane walk into free agency nor can he risk his prized asset getting injured in meaningless games. But he's nowhere near the point of making a last-minute move just to get something. It's unlikely Kane will be playing for the Sabres up until the trade deadline. Too much is at stake in the next five weeks. The standings are really tight.
There's truth to the chatter that if the Sabres trade Kane, they'll be left looking for a player like Kane. But what the Sabres need most is a top-pairing, puck-moving D. It also doesn't hurt to know that the No. 1 guy in Rochester is C.J. Smith, a rookie left-winger who just made the AHL All-Star game. It could take the sting off the loss of Kane moving into next season.
When the dust settles, Kane, a bona fide goal scorer will likely bring in a first-round pick, a decent prospect and help Botterill shed a contract. You'll know it's a fair deal when both sides feel they got a little ripped off.
Jeff has been covering the NHL for over a decade for various sites. He's been with The Hockey Writers as a lead Sabres writer three years, while also writing a satire column called "Off the Crossbar."