The same questions come up every year around this time for all 31 NHL teams. Should they be buyers? Should they be sellers? Or should they push through the remainder of the season with the team they have?
For fans, it's usually very black and white. We're in a playoff spot – buy. We're not in a playoff spot – sell. Very rarely do fans want their teams to stick out the season without making any deals at all. However, it's very easy for fans to sit on the sidelines and make the calls because their jobs aren't on the line.
When it comes to team management, it's a different story. Unless your team is running away with the division lead or you're in the bottom five in the standings, there are a lot of factors that play into whether to be a buyer or seller. Do you want to finance your future for one playoff run? Do you want to trade away your star player for draft picks? Are there any contracts ending at the end of the season? It's not an easy position to be in especially because fans and ownership are very unforgiving.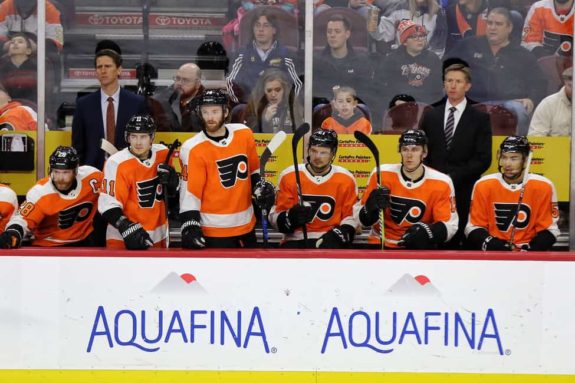 But, like any team, each situation and general manager are unique. Will the Philadelphia Flyers be buyers or sellers this year? Or will they stay quiet like general manager Ron Hextall has done the previous couple seasons in hopes of first getting a playoff spot, and then pursuing a long playoff run with their current roster?
Broad Street Buyers?
The Flyers have the opportunity to be buyers at the trade deadline. If you look at this season, it has been a bit of a rollercoaster, but the team has shown that they have fight and have strung together a few good runs. This team may only be a top goaltender and top-six scoring forward away from competing with the Washington Capitals, Tampa Bay Lightning and Vegas Golden Knights.
Hextall has been very cautious at the trade deadline over the past couple years. This has proven to be a good move because he could have easily dealt a couple of top prospects or draft picks away for immediate impact players but it wouldn't have paid off. This season, Nolan Patrick and Robert Hagg have both made the jump to the NHL, and Samuel Morin, Travis Sanheim and Tyrell Goulbourne have all made NHL appearances. One has to think that Hextall has received trade offers for at least one if not all of these players over the past couple years (in the case of Patrick, it would be for the actual draft pick).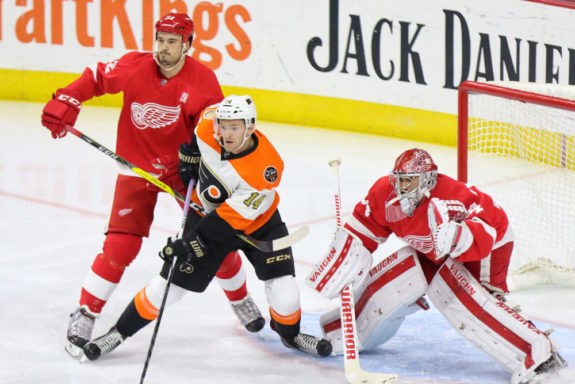 Had Hextall made trades at the past couple trade deadlines, this team would look very different. Would they be better or would they be worse? That's up for debate, but one thing that is for sure is they all have the potential to have great NHL careers, and the team is trending in a good direction as a result.
A few players that the Flyers could target if they decide to be buyers are Rick Nash, Evander Kane, David Perron, or Petr Mrazek.
Sell the Farm?
The Flyers also have the opportunity to be sellers this year. Sitting uncomfortably in the final wild card spot, there are teams right on their heels. Another significant losing streak could spell the end of the Flyers playoff hopes. With Brian Elliott recently returning from injury and Michal Neuvirth not playing well as a backup, the future of this season is uncertain.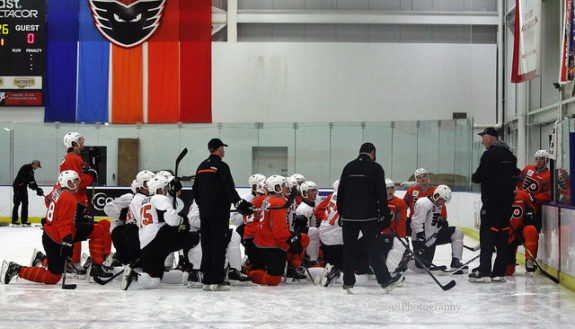 If Hextall decides to be a seller this season, he needs to do it smartly and not trade away too much of the future. He has a history of keeping his prospects and being patient with them, so this shouldn't be a worry. However, the argument can be made to trade players such as Claude Giroux, Jakub Voracek or Wayne Simmonds because they only have a couple good years left in them and the youth movement may end up coming to fruition a couple of years too late.
It's unlikely that any of those players will be traded, but Hextall has to keep an open mind and prepare for anything. If the right deal comes along and it makes the team better, he has to consider it. With the exception of Patrick, Sean Couturier, Ivan Provorov and Carter Hart, Hextall has to keep his ear open if he hears trade offers about any others.
A few players that the Flyers could actively shop at the trade deadline are Brandon Manning, Andrew MacDonald, Neuvirth, Matt Read, Valtteri Filppula and Dale Weise.
Hextall Holding Pattern
The likely route that Hextall will follow on the Feb. 26 deadline is to keep this team together. He will most likely not be very active, making just a couple minor deals. When you look back at the Flyers success rate over the past couple deadlines by not doing anything in comparison to the years when they made big splashes for players past their prime, this should be a no-brainer.
In saying that, Hextall needs to keep the phone lines open, and, if he is approached with the right offer to make the team better in both the present and future, he needs to make it regardless of who it is that he is trading. When you look back at the deal for Filppula, that was a smart way to pick up an impact player. He didn't cost much so it didn't affect the future of the team.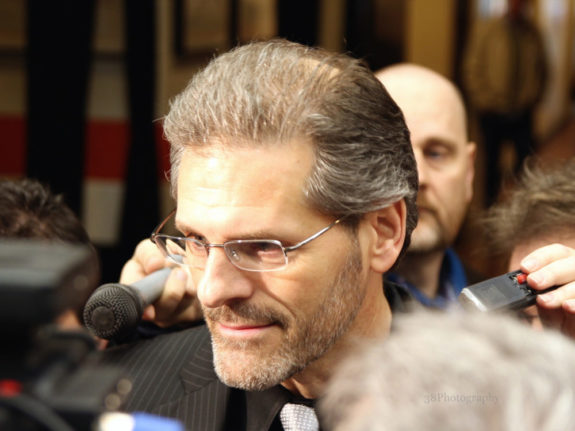 It's very easy to look back after the deadline and say that a team made good moves or bad moves but what is often overlooked is the fact that not every trade pays off immediately. Some players need a year to jell with their new teammates. Hextall's mindset appears to be on building for the future and not making knee-jerk decisions.
If I were in Hextall's shoes, I would be in the holding pattern trying to manoeuver a creative trade to try to get rid of players such as Manning, MacDonald and Neuvirth. But, aside from those players, I would try to keep the top nine forwards and top four defense in place as well as the prospect pipeline. But that's just my opinion, what is yours?