After scoring five goals in two games on the man-advantage over the weekend, the Montreal Canadiens received encouraging news regarding their most lethal asset on the power play.
Shea Weber skated for the first time since Dec. 19 on Tuesday prior to the Canadiens' practice in Brossard. Weber injured his foot in the first game of the season against the Buffalo Sabres but played hurt until November 21. Following a seven-game absence, he rejoined the team on Dec. 2 but ultimately landed on injured reserve after setbacks in his recovery 17 days later.
Montreal's Powerplay Success
The Canadiens have a 21.6% percent efficiency rating on the power play this season, ranked 7th in the NHL, and with Weber nearing a return to the lineup, his teammates believe he will benefit a unit that is among the league's best.
"It's good to get him back on the ice. It's been quite a while, so it's good to know he's getting better," said rookie defenceman Victor Mete. "Obviously he's a big part of the power play and all around, so we're just trying to do the best we can without him."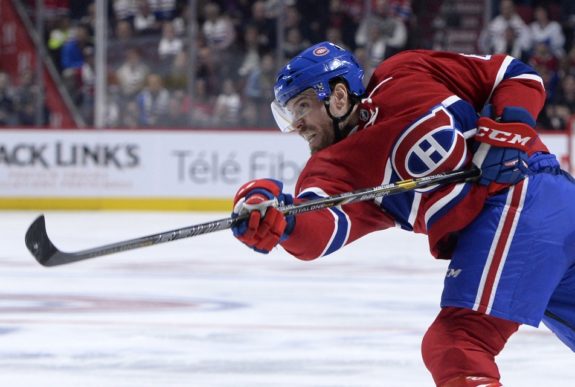 It's Weber's slapshot, described as a weapon by teammate Jonathan Drouin and head coach Claude Julien, that makes him such a threat on the man-advantage. Still, the Canadiens have been confident in themselves even without their missile on the blueline and have fared notably well.
Since Dec. 20, the team has scored 17 of their 34 goals on the power play and have an efficiency rating of 29.8 percent during that span. Taking over as the Habs' no.1 defenceman in Weber's absence, Jeff Petry has performed admirably, scoring five goals (three on the power play) and 14 points in 20 games.
"Shea has scored however many power-play goals in his career. Obviously, when he's on the ice it's going to help," said Brendan Gallagher on Tuesday. "But for us right now everyone is just trying to do their job. We still got five pretty good players on the ice at a time."
Surviving Without Weber
Credit improved puck-retrieval for the team's recent success on the power play, according to Gallagher. Being able to avoid chasing the puck and wasting energy is something Julien has emphasized all season long, and the improvements have resulted in an increased amount of scoring chances.
"I think we're getting a lot of loose pucks back and it's creating second and third opportunities," said Gallagher. "It's been paying off. We've been making some good shots, but the recoveries of the pucks have kind of led to that."
Weber is not essential for the Canadiens to succeed on the power play, in fact, he has arguably been at his best at 5v5 this season. In 26 games, he has scored 10 of his 16 points at 5v5, and his Corsi-for percentage of 54.27% is a career-high.
Without Weber, the powerplay has adapted and perseverance is the reason for their ability to cope with him away from the team, according to Julien.
"I think it's evolved with practicing it," said Julien. "Every week we're taking time to practice the power play and do video with it. I think it's just evolved with time here." He added, "I think [Weber's] shot is definitely a weapon. But our power play got better because we stuck with it. All the pain we went through earlier on is starting to pay off. I know we really rely on his shot a lot, but there's other things too that completes that power play. I think what you're seeing right now is a little more different looks and different options to score."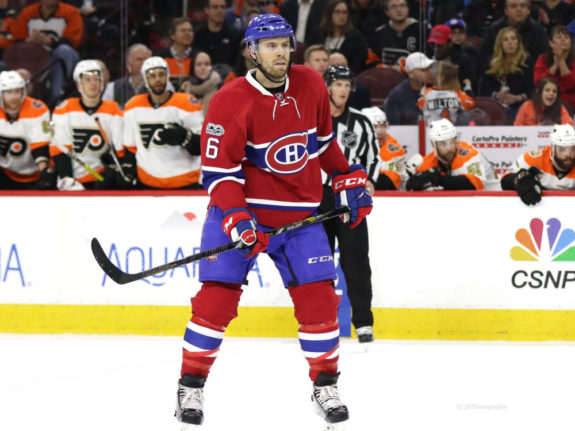 Weber's return date is still uncertain, but with the team's position in the standings, there is no need to rush the six-time All-Star and the Canadiens insist they'll be just fine until he's healthy. 
"You just try to make plays and read what the penalty killers are doing," said Gallagher. "Work and good things are going to happen. That's what we're doing right now."
The Canadiens return to action on Thursday night versus the Philadelphia Flyers at Wells Fargo Center. In the past five games against the Flyers, Montreal is 3-2 and have scored 14 goals.
I cover the Montreal Canadiens and Laval Rocket for The Hockey Writers. I am currently a student at the University of Concordia studying journalism in the hopes of one day becoming a full-time sports reporter. I have previously covered the Indianapolis Colts of the National Football League for Pro Football Spot.