Swedish defenseman, Robert Hagg was widely considered a steal in the 2013 NHL Entry Draft when the Flyers picked him up in the second round. At times scouts had him ranked to be selected in the first round, but ultimately his main downfall was his perceived attitude as a player that didn't care. It was well known that he was talented but scout's questioned his heart and will to play the game.
This has been a blessing in disguise because the Flyers have realized halfway into this season that he is no joke. Hagg looks like a seasoned blueliner, finishing his hits smartly and playing great night after night. He has fit in very well with the team and has been one of the many bright spots. He is never going to put up big points — his strengths are in keeping the puck out of the net and out of the defensive zone.
Hagg's Road to Philly Was a Bumpy One
Despite having the talent and hype of being drafted by the Flyers, Hagg didn't really catch fire when he began playing professional hockey in North America. He played great in a short 10-game stint with the Adirondack Phantoms in the American Hockey League (AHL) during the 2013-14 season. After posting four points through those 10 games, though, expectations from fans and management rose. They thought in his first full season he would pick up where he left off. This wasn't the case.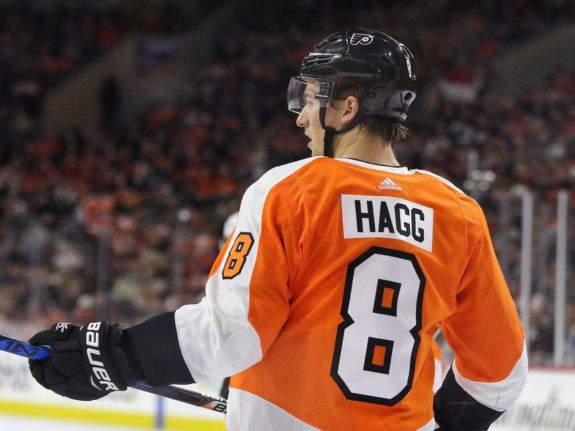 During the 2014-15 season, some of what scout's feared began to show itself. His commitment to the team was called into question by the Lehigh Valley Phantoms coaching staff. He put up 20 points through 69 games, which was respectable, but that production dropped to 11 points through 65 games the following season. He was also a minus-12 in the 2014-15 season and minus-11 in the 2015-16 season.
The 2016-17 season saw his resurgence, as he turned into a very defensively-sound defenseman. He posted seven goals and eight assists for a total of 15 points and also turned in a respectable plus-10 rating in the plus/minus category. After falling down the depth chart, Hagg has finally begun to show shades of the player that was expected to be a top round pick.
He's a Broad Street Bully
Looking at Hagg, he is not a huge player by any stretch of the imagination. He stands in at six-foot-two and weighs 204 pounds, which makes him pretty solid, but by no means is a Zdeno Chara or Samuel Morin. However, he hasn't let that stop him from being second in the league so far with a total of 182 hits through 53 games this season.
The thing that stands out the most is the fact that he doesn't go out of position to make his hits, but instead stays well in control so that he can still get back on defense. That type of discipline takes maturity which usually takes years of NHL experience. Despite all of the hits, he has stayed in control and only has 24 penalty minutes.
"I don't go out chasing hits because I want hits. You have to play the game like every game is different and some games are more physical than others. You just have to deal with it. But the physical part is a big part of my game." – Robert Hagg – PhillyVoice 
The Flyers fans and his teammates love this type of player because it brings energy to the team. He electrifies a game. He has also been very reliable in eating up minutes for the team, averaging 18:34 of ice-time per game.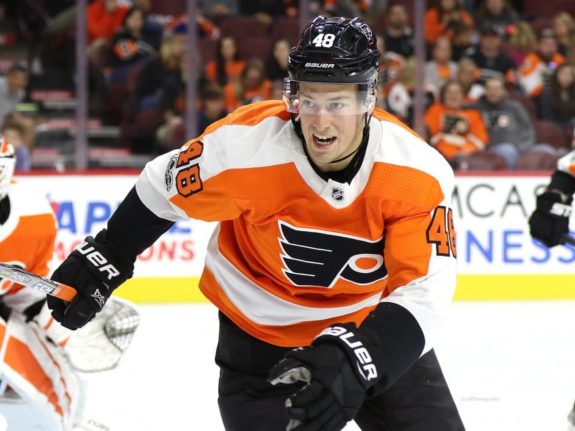 The hope is that Hagg will develop into a top four defenseman that can eat up 20-plus minutes per night, be a plus-player and chip in at least 20 points per season. Hagg is turning into a very reliable defenseman for the Flyers and fitting the mold of a traditional 'Broad Street Bully.'
Hagg's Fitting in Nicely on a Young Defense
The youth movement is coming from the Flyers and they're starting to gel. Shayne Gostisbehere is having a rebound season, Ivan Provorov is developing into a top two defenseman and Hagg is becoming a very effective piece for the Flyers.  They also have top prospects Travis Sanheim, Morin and Philippe Myers waiting in the wings. If the Flyers don't end up dealing any of them, this could be the top six for years to come.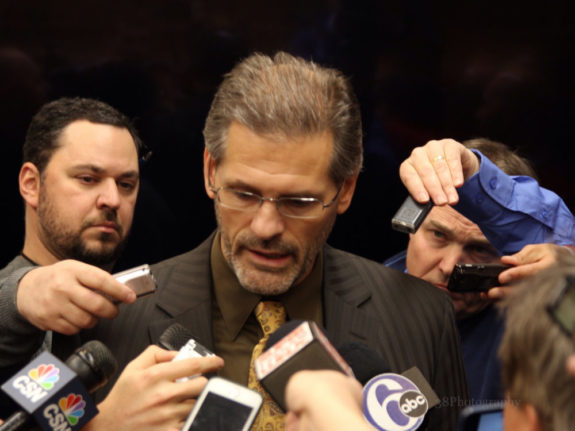 Hagg is carving out his own path and making the most of his audition this season. This has gone a long way in the eyes of head coach Dave Hakstol and general manager Ron Hextall. Hakstol is inserting Hagg into more important situations as the season is progressing and providing more trust in him against stronger opponents. This has raised Hagg's confidence levels and it is very noticeable on the ice.
Hakstol and Hextall have been very patient with their prospects, including Hagg, and it is paying off. This team is going to have a strong defensive corps for years to come and Hagg is an integral part of that. Hagg is having a great rookie season thus far, let's see if it continues.