It's been a whirlwind of a season for Edmonton Oilers forward Ryan Strome. He's been given the goat horns a lot by Oiler fans through most of the 2017-18 season. Most of that isn't his fault — it's the general manager's — but it comes with the territory. The fifth overall pick in 2011 has faced his fair share of criticism over the past few seasons, and whether he ever reaches the potential of where he was drafted is yet to be seen.
Through 51 games with the Oilers this season, Strome has seven goals and 22 points. The guy he was traded for (Jordan Eberle), has 18 goals and 40 points. Strome never asked to be traded for Eberle, but regardless he's had some poor stretches this season. The 24-year-old is coming off the worst stretch of his season where he was pointless in 11 straight games.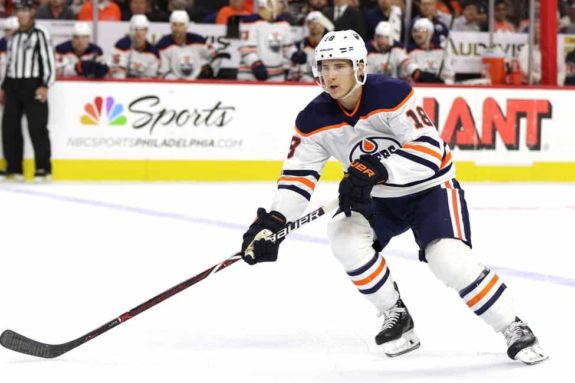 You might not believe it, but Strome's quietly turned things around while the Oilers are on their current 5-1-1 run. In his past three games, Strome has five assists. During those games, he's logged 20:23, which puts him behind only two other Edmonton forwards in Connor McDavid (23:15), and Leon Draisaitl (22:03).
Strome Earning Trust from Coaching Staff
Strome also seems to have earned some new found trust from his coach Todd McLellan. In those last three games, he's been averaging the most shifts amongst the forward ranks with 24.3. McDavid and Draisaitl are right behind him with 24 shifts per game.
"Confident, playing hard. I like him in the middle right now, feel good about putting him out in any situation, whether it's out against the other team's top players or a situation where we need a goal."
Strome's starting to find his legs during this recent stretch of games after being moved back to the No. 3 center spot. Some of that can be attributed to McLellan reuniting McDavid and Draisaitl on the Oilers top line and creating the opportunity for Strome. Strome's looked better as of late centering a line with Patrick Maroon and Drake Caggiula.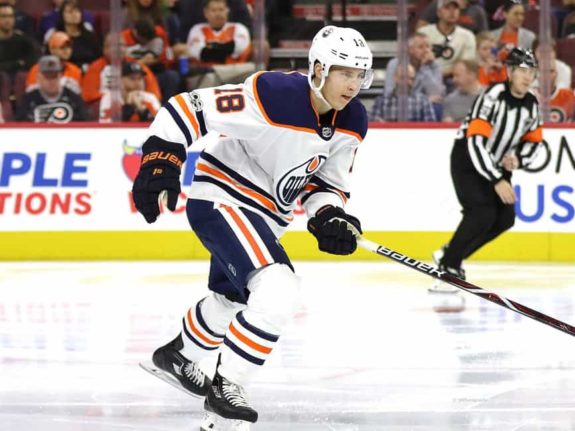 The Oilers are continuing their search for answers for their struggling power play (PP). It's operating at 15.2% and ranks 30th in the league. Strome's now earning some minutes on the power play, and he's already showing some production.
He's currently centering the top PP unit with McDavid, Draisaitl, Caggiula and Oscar Klefbom. Strome has two power play assists since being moved to that spot.
"I think him as the right-handed shot on the power play has helped a little bit. He's moving the puck quick, he's not afraid to shoot it. He just seems like a confident player right now, so that's a good thing for us."

– Todd McLellan, Oilers head coach
Confidence & Consistency for Strome & Oilers
Strome gets crapped on a lot by Oiler fans, and some of it has some validity. The one area he could improve on is his consistency. For several stretches this season, you would've forgotten Edmonton had even dressed Strome. He would disappear not only on the scoresheet but the ice completely.
During this current stretch, it's given hope that he can be a more consistent player for the Oilers. It would go a long way in silencing some of the fans that aren't letting go of the fact they gave up Eberle for Strome.
Say what you will about the kid, but he's got some confidence right now. Matter of fact, the entire team seems to have some new found confidence. But there's still work to be done. Despite going 5-1-1 in their last seven, the team has the league's worst PP at 10.5% during that stretch.
Ironically enough it's somehow increased to 20% over Strome's recent three-game run on the PP. This is an area that's going to need to be addressed as the season kicks into high gear. Edmonton's 2-for-10 on the PP in their last three. Before that, they were 1-for-22 going back to January 1 before the previous three games.
Oilers Need Strome During Stretch Drive
For the Oilers to have success down this stretch as they try to pull off a miracle and try to inch their way back into the playoffs, the PP needs to be better. Otherwise, this run isn't going to be sustainable, or result in a playoff spot. Edmonton needs 46 points in the final 31 games (a 23-8-0 record) to have a shot at contending for one of the last spots.
Related: Oilers Need a Scorer, But Who?
They'll need guys like Strome who have been hot and cold all year to have some consistency down the stretch. He can't continue to contribute for three to four games and then disappear for the same number of games.
It'll be interesting how he plays down the stretch, but if there's one takeaway, it might be that he's better off at center than the wing. It can take a while for guys to get acclimatized to new teams in the NHL, and after all the ups and downs Strome's had this year, you'd hope he's trending upwards from here on.
Related: Facing Off – Oilers Ongoing Misery
With how he's played over the last few games, you might be cautiously optimistic to say Ryan Strome has turned a new leaf. There's still a lot of convincing to do among most of the fan base, but if he can keep this up, he'll silence those doubters.
The real question is if he can maintain this stretch of success the rest of the way. What do you think Oiler fans? Leave your comments below!
Edmonton Oilers regular contributor providing insight on all things Oilers including club history, prospect profiles, trade breakdowns, and everything else in between. Check back regularly for new and exciting content. Follow on Twitter @SanderTHW.