It's never supposed to happen. When it does, the "guilty" player is typically (and often unfairly) spoken of in mockery or with scoffing for many years. Hockey fans take their sport seriously and swear allegiance to their respective teams. When a player is drafted who does not pan out, the legend of their failure often is recalled for decades and passed down through generations.
This is the case of Pavel Brendl. Every indication was that Brendl would and should have panned out. It just didn't happen. The New York Rangers made Brendl the fourth overall selection of the 1999 NHL Entry Draft. The thought was that they had selected the next big superstar to carry along the franchise. The one who would lead the next generation of "blueshirts" that would carry on in place of Wayne Gretzky, Adam Graves, Mike Richter, Brian Leetch, and the like. This never materialized.
In fact, Brendl had come and gone before anyone even knew it. He only played a total of 78 NHL games across parts of four seasons. At some point he vanished into oblivion, or it at least it appeared that way.
So seems right to throw forth the question – what happened to Pavel Brendl? Believe it or not, at soon to be 37 years of age, he is still playing hockey.
WHL Record-Setter with the Calgary Hitmen
How could the Rangers have missed with a fourth overall pick? It seems hard to fathom. Especially when considering the incredible career that Brendl carved out playing junior hockey in the Western Hockey League. Brendl essentially wrote the record books for the Calgary Hitmen.
A native of Opocno, Czech Republic, Brendl began playing junior hockey for HC Olomouc's U20 team in his homeland. Starting at all of 15 years old, he registered 35 goals in only 40 games for Olomouc during the 1996-97season. Brendl also added 17 assists that year to give himself 52 points on the season. The following year he would equal that point total off of 29 goals and 23 assists in only 38 games. He would also briefly play for Olomouc's senior team that same '97-'98 season in the Czech 2 league, which is the third tier hockey league in the Czech Republic. In 12 games Brendl would score a goal and an assist.
BOMBEN: Pavel Brendl tillbaka i svensk hockey https://t.co/K3w2Yykhe1 #twittpuck pic.twitter.com/sQtbHxPyL4

— Hockeysverige.se (@hockeysverige) January 5, 2018
From there Brendl would be selected by the Calgary Hitmen in the CHL Import Draft of 1998. The team selected him as the 34th pick. In Calgary, he absolutely exploded right from the get-go. During his first WHL season, Brendl scored an astounding 73 goals in 68 games. He would also tack on 61 assists to give him 134 points in his first season. Such a performance earned Brendl all sorts of accolades. The Jim Piggot Trophy at the WHL's Rookie of the Year, the Bobby Clarke Trophy for most points, the CHL's Rookie of the Year, and many other honors.
To go even further, Brendl would put up 21 goals and 25 assists in the WHL playoffs in only 20 games. That same '98-'99 season, Brendl helped the Hitmen win the WHL championship. With playoff point totals such as those, it is easy to see why. All of this is why the Rangers selected him at the end of that first season.
He would play two more years with the Hitmen, and continued to be far better than a point per game player. For the 1999-00 season, Brendl scored 59 goals and 51 assists for 111 points in 61 games. He final year of junior hockey, 2000-01, he would record 40 goals and 35 assists for 75 points in 49 games.
In total, Brendl finished his WHL career with a whopping 172 goals, 148 assists and 320 points in just 178 games. Simply incredible numbers. Brendl's 73 goals and 134 points in a season are still Hitmen team records.
Brendl Finds His International Niche
Around this same time Brendl began participating in international play for the Czech Republic. In 1998, he played in the final European Junior Championships that were held by the IIHF. This was a U18 tournament that has since become obsolete, but Brendl scored two goals and four assists for the Czechs in the six tournament games.
Where Brendl would truly shine was at the 2001 World Junior Championships held in Moscow and Podolsk, Russia. The Czechs would win their second ever WJC gold medal and it happened largely because of Brendl's heroics.
He led all tournament scorers with 10 points – four goals and six assists in seven games. The IIHF would name Brendl as the top forward of these championships, and the media would select him as a tournament All-Star. He was the only player to hit double digits for points at the games.
The Rangers at this point must truly have been salivating over what their highly touted selection was capable of bringing to Madison Square Garden. Trouble was, this was Brendl's peak performance. The rest of his career would be almost entirely downhill from there. Case in point, the 2001 World Juniors were the last international appearance at a major tournament for Brendl through the rest of his career, and he was only 20 years old. His nation never called upon him at either a Winter Olympics or a World Championship.
Never Catching On with the Rangers
A career with the New York Rangers would never materialize. In fact, Brendl played neither a regular season game nor a playoff game with the team. What he was capable of producing in terms of goals and points, was patently the opposite in terms of his defensive play. Brendl was just not committed to putting the effort into his own zone. Even with being such a high draft selection, the Rangers were not willing to insert such a skillful player into the lineup who would be a defensive liability to them.
Depending on how you look at it, part of the reason why Brendl had such a successful junior career was because the Rangers allowed him to remain with the Hitmen for three full years rather than keeping him with the team. The lone exception to this came during the 1999-00 season when Brendl briefly played for the Rangers' AHL affiliate, the Hartford Wolf Pack. He would play a mere two games in the playoffs, although the Pack would go on to win the Calder Cup trophy as the AHL's championship team. So there he played a small role in what culminated into a championship. Keep in mind that Brendl was a player selected ahead of the likes of Martin Havlat, Nick Boynton, Ryan Miller, Radim Vrbata, Frantisek Kaberle, and other players who were either NHL All-Stars, Stanley Cup champions, or both. Brendl himself never even came close.
What became more concerning was the common belief that Brendl was just being lazy. With this mindset, it was not entirely surprising when in August of 2001 the Rangers packaged him up with with Jan Hlavac, Kim Johnsson and third round pick, and sent them to the Philadelphia Flyers in exchange for Eric Lindros and a conditional pick in the 2003 draft. A new organization, new scenery and a new environment for Brendl seemed like a fresh start for the 20-year-old. In a way, that is what took place.
First NHL Games of His Career
Brendl would finally play his first NHL games in the early portion of the Flyers' 2001-02 season. His first NHL goal was scored in his fourth NHL game. During a 3-0 Philly win over the Washington Capitals at the MCI Center, Brendl scored the second goal of the game by beating Olaf Kolzig. He would play a total of seven games for the Flyers within the months of October and November.
Pavel Brendl återvänder till Sverige!
Tjeckiske målsprutan är klar för Wings i Hockeyettan.https://t.co/66KoIlTWzz pic.twitter.com/6bwdFDMsUJ

— SportExpressen (@SportExpressen) January 5, 2018
Unfortunately, Brendl would only play eight games total for the parent club all season. After those first seven showings, he would be sent to their AHL affiliate, the Philadelphia Phantoms. He would have one brief call-up to the Flyers in April, but that would be it. While with the Phantoms, he would be sixth overall in team scoring – 15 goals and 22 assists for 37 points in 64 games. Brendl would perhaps find a bit of comfort zone with the Phantoms as multiple teammates like Tomas Divisek, Vaclav Pletka, and Petr Hubacek were also from the Czech Republic.
Though the Phantoms would lose in the opening round of the playoffs three games to none after winning both of their qualification games to get in, Brendl was easily the team's best player. They defeated the Rochester Americans two games to zero, before losing three straight to the Syracuse Crunch. Brendl led the way in scoring for his club with four goals and an assist in five games.
From Philly to Carolina
The next year Brendl would have a decent start with the Flyers. He became a regular insert for the team's lineup and played 42 games for the club without once being designated to the minors. This was not an easy lineup for Brendl to crack either, as Philly's roster included big names at the time like Jeremy Roenick, Mark Recchi, Keith Primeau, Simon Gagne and John LeClair.
While he was a regular, the numbers he produced were still not meeting expectations. In the 42 games, Brendl scored five goals and added seven assists for 12 total points. Not terrible, but nowhere near what is expected of an elite scorer.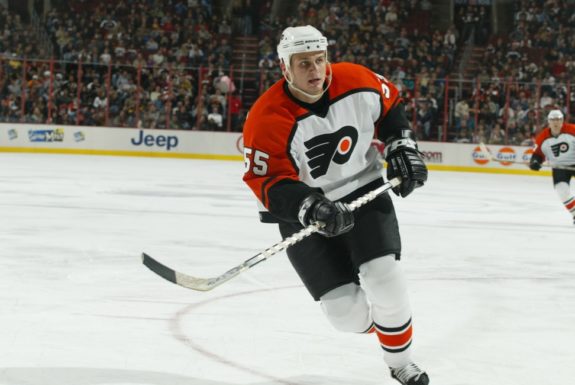 In early February, the Flyers decided to go a different route by bringing in a more established forward. Brendl and defenseman Bruno St. Jacques were traded from Philadelphia to the Carolina Hurricanes in order to obtain speedy winger Sami Kapanen and Ryan Bast.
After arriving in Carolina, Brendl's scoring still did not improve. In fact, it seemed to have gotten worse. In eight games to finish out the 2002-03 season with the 'Canes, he picked up just a single assist on a Jan Hlavac tally. What is interesting is that Carolina tried to assemble an all-Czech line with Brendl, Hlavac, and the late Josef Vasicek, but it never gained any sort of potency.
Was 2003-04 Brendl Finest NHL Season?
Now a member of the Hurricanes organization, Brendl spent the majority of the 2003-04 season with their AHL affiliate the Lowell Lock Monsters. His scoring touch may have even been recaptured, as he put forth what was likely his finest season of North American pro hockey. With the Lock Monsters, he was a averaging a point each game. In 33 games for Lowell, Brendl notched 17 goals and 16 assists to have exactly 33 points on the year.
Aside from his AHL numbers that year, he also played 18 games for the Hurricanes that stretched for most of January and February of 2004. In those relatively few appearances Brendl scored five goals and three assists. That meant he was averaging 0.44 points per game, which was his highest points average of his brief NHL career.
The 2004-05 NHL Lockout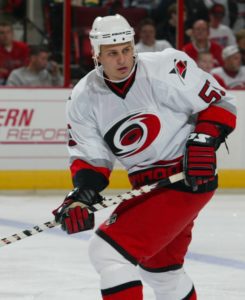 Here is where Brendl's derailment may have taken place. He would not be the only player to become a casualty of the canceled 2004-05 NHL season when a lockout took place. A number of players never played in the NHL again after that year, and some only briefly returned. Any headway that Brendl had made to establish himself as a true NHLer almost immediately fell to the wayside.
Like a large number of NHL players, Brendl sought refuge by playing in European leagues during the lockout. Even there he bounced around at a substantial rate and within lower tiered leagues. Brendl played two games in the Czech Extraliga for HC Trinec. He would return to his former team HC Olomouc in the Czech 2 league for another three contests. Brendl would have four games in Switzerland for HC Thurgau, which is a second level Swiss league (NLB) team – one step below the country's top National League. For Thurgau he would score three goals in four games.
Where Brendl played the majority of his time during the lockout was with Jokipojat of the Mestis hockey league. This is the second-highest hockey league in all of Finland. Brendl played admirably well with nine goals and ten assists for 19 points in 21 games. He would also put up a good chunk of penalty minutes as well, with 48 of them.
But keep in mind that Brendl was playing in a variety of leagues well below the caliber of the National Hockey League. There is such a wide gap between the NHL and Mestis when it comes to talent and skill level of each league's players. Perhaps it was intended to be used as a confidence booster for Brendl whenever the NHL eventually resumed for the 2005-06 season. A way to get himself on a roll with goal scoring.
The Newer, Sleeker NHL
When the NHL did in fact resume play for '05-'06, it was initially geared toward faster play, elimination of infractions, and extra scoring. One would think that it would be the perfect scenario for a player like Brendl. Former Atlanta Thrashers sniper Ilya Kovalchuk recorded his first 50-plus goal season that year, and he too was often considered a forward who shirked his defensive responsibilities. The NHL seemed geared toward the Kovalchuks and the Brendls of the hockey world.
In August of 2005 before the season got underway, Brendl had re-signed with the Hurricanes for a one-year contract. Once the season began he was assigned back to Lowell and would not see any playing time with the Hurricanes. His scoring dipped as well, which was surprising as much as it was expected, considering both the change in the way North America pro hockey was going for the better, but also Brendl's inability to be productive at this level. In 25 games for the Lock Monsters, he scored six goals and seven assists.
Not pleased with the fact he could not crack an NHL lineup, and with the Hurricanes equally souring on him, Carolina traded Brendl to the Phoenix Coyotes in exchange for Krys Kolanos. The majority of his time spent with the Coyotes organization was with their AHL affiliate, the San Antonio Rampage. Brendl got back to producing at a modest rate – 13 goals and 11 assists in 38 games.
More noteworthy was the fact that Pavel Brendl played the final two NHL games of his career that same season. In early February 2006, he was inserted into the lineup for two Coyotes losses – one each against the Minnesota Wild and the Chicago Blackhawks. Brendl would have very little to show for it as he would go pointless and was a minus-three in the two games. His three shots on goal all came in the game against the Wild.
And that would be it. Brendl's NHL career would be no more.
Finding Success Once More in a Return Overseas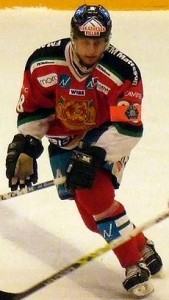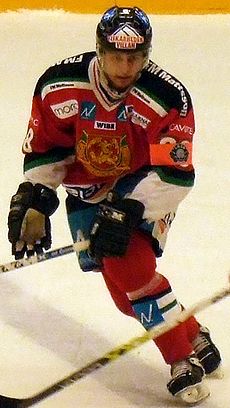 After the 2005-06 season, Brendl would never play for another North American-based team again. While he has long been deemed an NHL bust by most, his AHL career totals truly were rather good. In 160 games he scored 51 goals and 56 assists for 107 points.
Upon parting from the NHL and AHL, he would assemble four straight seasons that would be the best of his professional career. This began first in the Swedish Elite League. Brendl played the 2006-07 season with Mora IK, followed by 2007-08 with Brynäs IF. He would score 57 points (34 goals, 23 assists) in 54 games and 55 points (31 goals, 24 assists) in 54 games as his seasonal totals for those teams respectively. In both instances he was his team's point leader.
Those two campaigns were followed by Brendl playing just over two seasons in the KHL. From 2008 through 2010 he played for Torpedo Nizhny Novgorod. With Torpedo Brendl continued his scoring ways. The '08-'09 season would be one which saw him score 35 goals and 15 assists for 50 points in 56 games. In '09-'10, Brendl would pot for himself 27 goals and 10 assists for 37 points in 51 games. For both seasons he was Torpedo's leading scorer in both goals and points.
For a player who appeared lost for a long stretch, it was reassuring to see Brendl find some consistency and maybe even a place in pro hockey after all. Both the SEL and the KHL are highly respectable leagues. Brendl found his niche and proved that he could still put the puck in the net.
Brendl spent part of the 2010-11 season playing for the KHL's Nizhnekamsk Neftekhimik. In 24 games he would score nine goals and one assists, plus two goals in three playoff games. He would finish his KHL career having scored 71 goals and 26 assists for 97 points in 131 games.
Brendl's Wanderlust Continues
Here is where he succumbed to a bit of wanderlust once more. Beginning in that same 2010-11 season, Brendl played hockey in different leagues for seven different countries. Russia, Finland, Czech Republic, Germany, Slovakia, Switzerland, and most recently in Sweden. That would also include nine different teams. Talk about a rambling man – that was Brendl if there ever was one.
The closest he would again come to recapturing his glory days was when he suited up for 46 games in Slovak Extraliga for HK 36 Skalica during the 2015-16 season. Brendl would score 19 goals and 10 assists. Otherwise, he played in no more than 24 games for the other eight teams in a given season.
Five of those seven leagues were the top level of ice hockey in their respective countries. Two were second tier. Maybe it did come down to wanderlust. Perhaps Brendl's biggest challenge throughout his hockey career was not laziness or poor work ethic – it was more that he possessed the lost soul of a hockey player that continued to stray.
Brendl's Game These Days
Believe it or not, Pavel Brendl is still playing hockey to this day. After skipping out the 2016-17 season altogether, he is presently playing this current 2017-18 season with Wings HC Arlanda of Sweden's Division 1 league – the third tier of hockey in the country. Brendl is 36 years old and will turn 37 this March. In six games for Arlanda, he has scored four goals and one assist.
Hopefully we have alleviated some of the mystery surrounding what became of this once highly touted draftee. For those who wish to knock Brendl for never measuring up in the NHL, we will suppose that it is your right to do so. Unfortunately, you are missing the bigger picture.
Hockeystjärnan Pavel Brendl oväntat i Arlanda Wings https://t.co/O4BVsMHirK pic.twitter.com/u3Oxp4QrUX

— P4 Uppland (@P4Uppland) January 10, 2018
For a guy who had nearly constant aspersions cast on him by NHL fans, and likely many coaches, teammates and managers as well, he is still playing the game even in his late 30s. Seems rather sketchy to say that a player is lazy or did not care when so many years have come and gone and yet he still laces them up.
Moving from country to country, playing in leagues far below NHL standards, perhaps we were the ones who got Brendl wrong. It is sad in a way – a player only being remembered for what he was not, rather than what he did in his career outside of the limelight. Maybe we should think of Brendl differently from now on. Not as a "never was" or a "bust", but rather as a guy who has played professional hockey for nearly 20 years no matter where it has taken him. Who knows how many more years he shall play?
After all this time, we have found Pavel Brendl and maybe he has found himself.