Tonight, Wednesday, February 7, 2018, at 8:00 p.m eastern, the NHL Network will feature the 1999 movie Mystery, Alaska. If you have never seen this film, get excited. If it has been awhile, make a plan. It is as good as you remember.
A mix of Northern Exposure and Slap Shot, the film has a ton of heart and a message about the love of sport and the lull of fame. While members of the New York Rangers declined invitations to appear in the movie, it did feature Phil Esposito and Barry Melrose playing themselves.
The film tells the story of a small town in the middle of Alaska. On Saturdays in Mystery, everybody comes together to participate in the weekly game. In this town, the sheriff is captain, the grocer is the marquee player, a high school senior is the rising star of the team and the town judge is the coach.
Killer Cast and Key Cameos
Beautifully shot with an impressive cast, the film explores the politics of small towns, pride and resentment, and the love of hockey. When the local amateur hockey team accepts a challenge to play against the New York Rangers, the town is turned upside down. The final on ice showdown is exciting and the game's outcome is far from predictable.
While audiences like this film more than some critics, it is well written. TV legend David E. Kelley and Sean O'Byrne sneak in some great lines and bring truly touching scenes to what could easily have become a mere adult version of the Mighty Ducks. Likewise, director Jay Roach captures the heart of small-town life and gets a lot from the star-studded ensemble cast. Hank Azaria, Burt Reynolds, and Colm Meany, Scott Grimes, and Lolita Davidovich all grace this film. Maury Chaykin plays Bailey Pruitt, a man who seems to personify the very essence of Mystery's spirit. There are some great cameos as well. Mike Myers doing a Don Cherry-inspired commentator is something special.
Mystery, Alaska's star is Russell Crowe who plays John Biebe, Mystery's sheriff and captain of the hockey team. In a pre-Gladiator role, he brings a tender touch to a character grappling with aging and jealousy. Mary McCormack plays John's wife, Donna. Together they anchor the film and offer a glimpse of a couple who chose each other and are better for it.
Related: Hockey Films You Can Watch Right Now
Hank Azaria's performance is another highlight. Somehow, he manages to redeem a character so self-involved he fails to see how his actions might harm the town in which he grew up and with which he hasn't yet made peace. The Zamboni scene makes me laugh every time I see it.
NHL Network Added Extras
Throughout the airing of the movie, NHL Network's Tony Luftman will introduce rarely before seen interviews and behind-the-scenes clips of director Jay Roach, Los Angeles Kings broadcaster Jim Fox, and actor Russell Crowe. Crowe's experience on the film was an interesting one. His decision to wear the number ten was based in part on research he completed for the role and getting to know Ron Francis.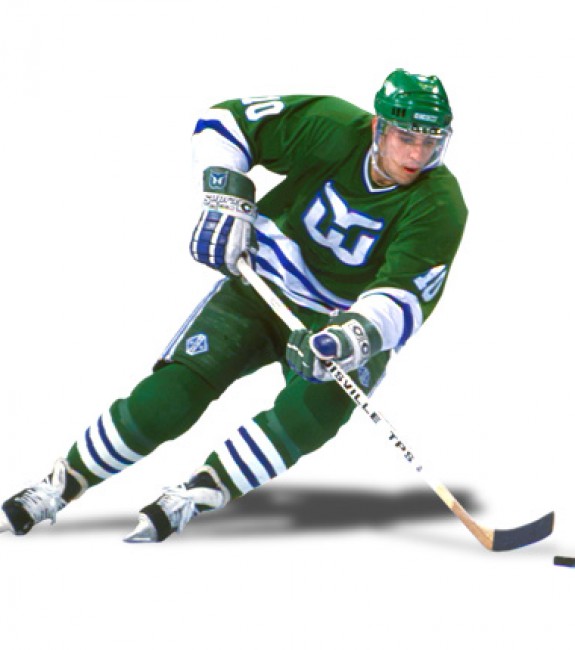 According to Crowe, meeting Francis inspired him. 
From what I've seen of the game, [Francis] is exactly the sort of guy that I believe my character would be. He's just Mr. Consistency, he ain't super flashy, he doesn't do any of that [salutes] necessarily – sorry Jaromir [Jagr]. He's just a very internalized sort of man and his real stuff just comes out on the ice. They say all these things about Ron, 'He doesn't have all the tricks,' and that sort of stuff. How many times has he scored a goal between his legs? How many times has he just flashed out of nowhere and put the really important puck away? He's just a very impressive man, a very impressive player, so that's why I went with number 10 in the course of the movie.
Mystery, Alaska airs Wednesday, February 7, 2018, at 8:00 p.m eastern on the  NHL Network.