The Winnipeg Jets thought they were addressing some major needs with free-agent signings this past offseason. Perhaps they would have been better off leaving well enough alone.
Dmitry Kulikov and Steve Mason were necessary if expensive signings. The two solidified the areas of biggest concern for the Jets coming out of 2016-17: left-handed defensemen and a veteran goaltender. They came at a cost but were considered important and beneficial signings.
Fast-forward to today and the two signings haven't been total busts, but they've had rocky starts to their Jets careers. The less said about Mason's first two games as a Jet the better. His injuries, meanwhile, have limited him to just 12 games.
In those 12 games, Mason has a goals-against average (GAA) of 3.18 and a pedestrian .906 save percentage. Now, that includes those tough two first games and since then he's been better, but it's been an undeniably difficult year for the experienced netminder.
You just have to feel bad for Steve Mason. Guy comes off an injury, gets a shutout, and then gets hurt again in practice. Poor guy can't buy a break.#GoJetsGo

— Brian Boddis (@BrianBoddis) March 8, 2018
Kulikov, meanwhile, has had a bit more luck in the injury department, though not much. He's played 62 games this year and been average or below for most of those games, and now he's out eight weeks with back surgery. He won't return before the playoffs.
So what has all this done to the Winnipeg Jets playoff hopes? Not much actually. If anything, they're in better position than they had any right to expect at the start of the year.
It's Not Kulikov and Mason's Fault, But…
Just to be clear, the Jets are a better team with Mason and Kulikov available to them. Kulikov has solidified the team, and at the very least provided Ben Chiarot with competition that forces him to be at his best.
Mason, meanwhile has shown his true colours of late, posting his first shutout as a Jet. His inclusion in the Jets' lineup has allowed Connor Hellebuyck some breathing room, which has helped him put up a tremendous sophomore season.
https://twitter.com/hkyshanny31/status/971195693405736960
Yet the two most expensive free-agent signings in Winnipeg Jets history have had almost no impact on their success. If we'd known at the start of the year that would be the case, we'd have assumed the Jets would be floundering.
Yet here the Jets are, comfortably in the second divisional playoff spot in the Central Division. They've tied their franchise-high for wins in a season following the victory over Dallas on March 18, and they still have 10 games to go.
It's obvious enough why the Jets haven't needed Mason to be a game-saver. Hellebuyck has had a season that could see him earn Vezina consideration. He's got 37 wins with a 2.34 GAA and .925 save percentage, all of which are easily the best for a starter in Jets history.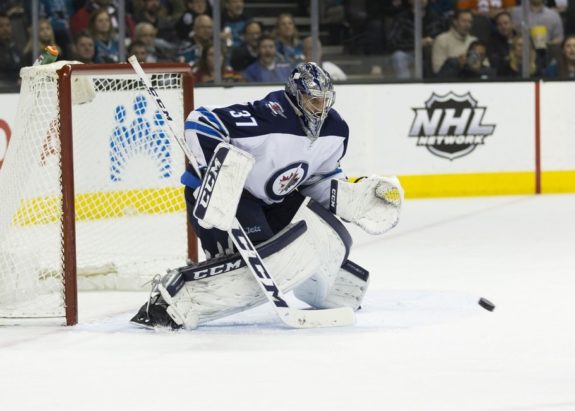 It's a bit harder to pinpoint what's helped the Jets overcome Kulikov's loss. Chiarot has begun to produce offensively of late and is having a modest career season. His advanced numbers still leave a lot to be desired, however.
The Jets have been banged up all year on the back end. Only Josh Morrissey and Tyler Myers have escaped the injury bug for the Jets this year on the blue line.
Again, look to Hellebuyck for part of an explanation here. His heroics have given the Jets the breathing room they needed with their defensive core banged up. Any given night the Jets have a chance to win because of him.
The Jets' success can also be put down to their incredible offensive prowess. All year long the Jets have been among the best in the NHL on the offensive side of the puck. They trail only the Vegas Golden Knights and Tampa Bay Lightning on that front.
Whether it's been Blake Wheeler taking the team on his back or Patrik Laine persuing the Rocket Richard Trophy, the stars have been there for the Jets all year long. With four 20-goal men (so far), nine players in double digits, and five 50-point scorers, the scoring can come from up and down the roster.
Mason and Kulikov Can Bounce Back
The Jets prize free agent signings haven't provided value for their salaries yet. That's the bad news. The good news is, they've got time to bounce back.
Very few free agents transition seamlessly to their new teams. Look at Andrew Ladd's struggles with the New York Islanders in his first two years there. The good news is many free agents do get settled in during year two (ignore Ladd on that one).
There's no reason this has to be the defining year for Mason and Kulikov. This year has proved there's no pressure on them despite their heavy contracts. The Jets can win without them.
Mason and Kulikov don't have to be franchise saviours. They just have to be small parts of a well-oiled Jets machine. If they can do that, they can provide good value for the remainder of their contracts.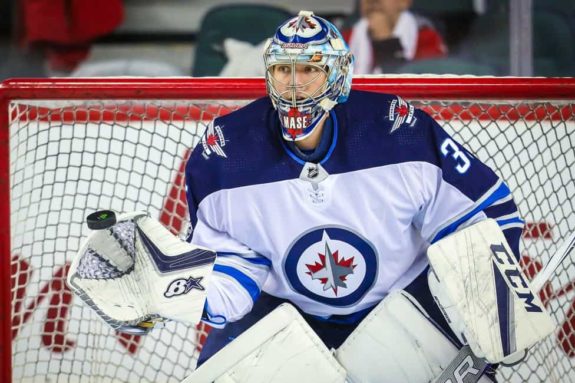 These two players are doing right now what Drew Stafford once did for the Jets. They're filling roles until the prospects in the pipeline are ready to fill those spots themselves. For Kulikov, it looks like Sami Niku will be ready sooner than later. For Mason, the Jets still believe Eric Comrie is a big part of their future, and he's having a good year in the AHL too.
When Stafford's time was up, the Jets moved on from him, but he still provided good secondary scoring for a while. Mason and Kulikov can still make good on their respective purposes too. But if they don't, the Jets will be OK anyway.
A long time hockey fan and player from Winnipeg, Manitoba. Play-by-play man with the SJHL's Estevan Bruins. Graduate of Red River College's Creative Communications program with a major in journalism. Former PxP man for the University of Manitoba Bisons. Lover of all things Jets and Avs related and always looking for a good hockey debate.