Blake Wheeler has been the player most valuable to the Winnipeg Jets for a long time now. His recent play begs the question whether he might not be the most valuable in the NHL. An injury to Mark Scheifele could've been a devastating blow to Winnipeg. It could've put their run to the playoffs in serious jeopardy, but it hasn't.
Wheeler is a huge reason why. Since Scheifele went down with an upper-body injury, Wheeler has put up eight points in five games and helped bring linemates Kyle Connor and Patrik Laine along for the ride. He's been Winnipeg's best player at a moment where they've most needed him to be.
Blake Wheeler had 4 points in the 8 games leading up to Mark Scheifele's injury. Now has 7 points in the 4 games since the injury. Production under pressure.

— Sean Reynolds (@snseanreynolds) January 6, 2018
Producing under pressure is nothing new for Wheeler, which makes it all the more enticing to think of what he could do in a playoff run. If the Jets want to have a playoff run, they'll need Wheeler to be at his absolute best. So far he's answered the call.
Wheeler is Captain Clutch
When Scheifele got hurt, I compiled a list of players who would need to step up in his absence. Wheeler wasn't on that list. It wasn't, however, because Wheeler didn't need to step up.
For one thing, Wheeler had already been flying through the season, posting 42 points in 38 games and easily on pace for a career high. For another thing, nobody doubted Wheeler would step up. Anyone who watched the Jets over the years knows that Wheeler playing well when the games get big is a foregone conclusion.
Before he was named captain of the Winnipeg Jets, Wheeler was captain in all but name. As it became clear then-captain Andrew Ladd would be traded, Wheeler stepped into a leadership role more and more, and never once shied away.
When he needed to call his team out, he did so. And he backed his words up. The most compelling example was when he called out his team's effort before a game against the Nashville Predators in 2016, then scored the overtime winner that night.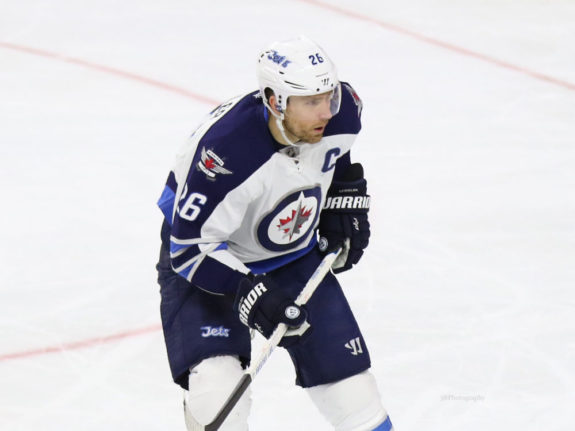 His leadership has earned nothing but praise from Paul Maurice. In fact, the Jets head coach went so far as to compare him to Ron Francis. With Scheifele going down, Wheeler has even drifted out of his usual spot on the wing to play center. He's still putting up the points despite playing away from his natural spot on the ice.
Although Wheeler will no doubt be happy to return to the wing when Scheifele gets back, he knows the team needs him there. He knows they need him to produce while he's there. He's done, as usual, whatever the Jets need from him.
#NHLJets captain Blake Wheeler was asked a question about the possibility of staying at centre once Mark Scheifele returns: pic.twitter.com/M18NxOt4D2

— Ken Wiebe (@WiebesWorld) January 6, 2018
Of course, it's one thing to be a leader, and another to put up big numbers. Wheeler, as of this writing, has 50 points through 43 games. That puts him in a tie for sixth in NHL scoring and on pace for 95 points.
If Wheeler has a few big games here and there, he could flirt with or pass 100 points. Now, that would make him hard to ignore when the Hart Trophy conversations begin.
Wheeler Can't be Ignored
It's true that Wheeler has an uphill battle in front of him if he's to actually be more than an afterthought in the MVP conversation. After all, he's eight points back of league leader Nikita Kucherov at present, and with more games played.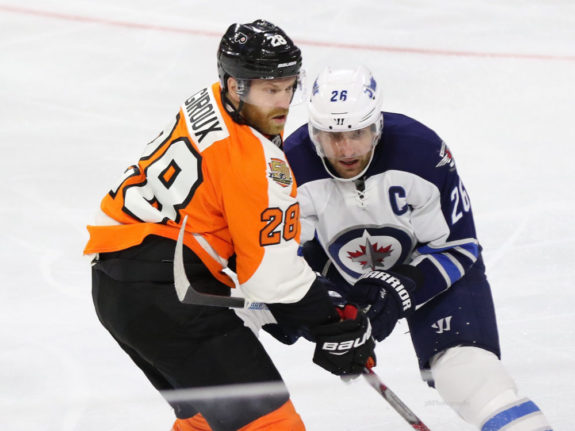 That said, over the course of 39 games, an eight-point spread between two players isn't insurmountable. And remember, the Hart Trophy is for the player most valuable to his team. Kucherov has a running mate in Stamkos who's nearly as valuable as he is.
Wheeler, meanwhile, has been excellent despite the absence of his running mate. In fact, of all the players ahead of Wheeler, only Nathan MacKinnon has no teammate in the top-ten in NHL scoring with him. Incidentally, it may also be hard to overlook MacKinnon in MVP talks, as he's on pace for over 100 points. If the Avs make the playoffs, he could well win the Hart. But that's a story for another day.
Regardless, the NHL can't pretend he's not part of the conversation anymore. From all-star snubs to being used as a fourth liner in the Olympics, Wheeler has been often underrated in his career. That's going to change in a hurry. Wheeler is going to set a career high in points this season at this rate. He might even break the increasingly elusive 100-point mark. And if the Jets make a playoff run, Wheeler will be garnering national headlines.
There's no guarantee Wheeler will keep up this pace, but it would be unwise to bet against him. If he keeps clicking along like this, he'll be part of the NHL's MVP conversation at year's end.
A long time hockey fan and player from Winnipeg, Manitoba. Play-by-play man with the SJHL's Estevan Bruins. Graduate of Red River College's Creative Communications program with a major in journalism. Former PxP man for the University of Manitoba Bisons. Lover of all things Jets and Avs related and always looking for a good hockey debate.