The Boston Bruins made significant progress in 2017-18, winning a playoff series for the first time since 2014 while several of their young prospects in Jake DeBrusk and Charlie McAvoy emerged into the spotlight and have shown great signs of being All-Star caliber players for both the present and near-future.
Lack of production at forward, depth on defense, and inabilities to contain a potent offense in the defensive zone inevitably resulted in the Bruins falling to the Tampa Bay Lightning in a five-game second-round series. With the B's top line of Brad Marchand, Patrice Bergeron, and David Pastrnak all coming off of career years, along with a young core of talented players beginning to emerge, it is clear that Don Sweeney and the Bruins are in it to win now.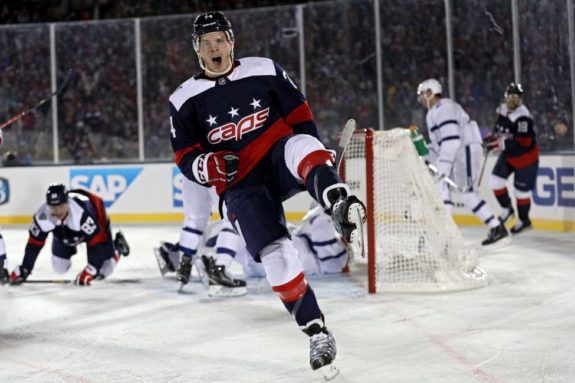 Despite some of the offensive woes during the Tampa series, the biggest key to the goal of winning now for the Bruins is adding depth on defense, and that may start and end with the John Carlson sweepstakes. Carlson, who is set to be an unrestricted free agent this summer following this incredible Stanley Cup run with the Washington Capitals, will be the top defenseman on the market and is projected to make somewhere between $7-8 million per season.
Finding a Comparable
The best comparable to Carlson as far as talent, age, and type of player when it comes to the open market is Kevin Shattenkirk, who, at the age of 28 last offseason, inked a four-year, $26.6 million deal with the New York Rangers for an average annual cap hit of $6.65 million. Similarly to Shattenkirk, Carlson is an elite two-way defender who has proved during his time in Washington that he's a significant threat on both sides of special teams, whether as a penalty killer or as a power-play quarterback.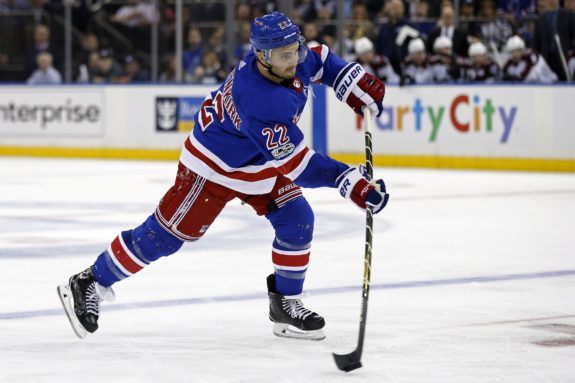 Whichever team backs up the Brink's truck this summer and acquires Carlson is going to be getting not only one of the top blueliners in the NHL, but also a guy that could immediately change that team's postseason fate.
The Kevin Shattenkirk signing obviously did not turn out the way the Rangers had hoped in 2017-18, as the Blueshirts failed to qualify for the postseason for the first time since 2009-10. There is by no means any sort of guarantee that Carlson to Boston wouldn't fall flat on its face like the Shattenkirk to New York signing seems to have. But, the Bruins have to like their chances if they were to go out and get Carlson considering the amount of talent and youth they possess in all areas of the ice compared to the lack thereof with the Rangers, who sold away half their team after signing Shattenkirk to the big offseason deal.
Is There Even a Need?
Right now, Boston has four rostered right-hand defenseman in Brandon Carlo, Adam McQuaid, Kevan Miller, and Charlie McAvoy. Highly regarded as one of Boston's top defensive prospects each of the last two seasons, Carlo suffered a nasty left-ankle injury against the Florida Panthers during the final week of the regular season that required surgery and forced him to miss the entire postseason. It's unknown whether or not Carlo will be ready for training camp, so right away there's reason for Don Sweeney and the Bruins to go out this summer and sign or acquire depth on the right side.
Along with the injury to Carlo, Adam McQuaid's future with the Bruins is unclear. Entering the final year of his deal and set to become a UFA next offseason, the Bruins may want to consider trading the 31-year-old blueliner this summer so that they can at least get something for him before he walks for nothing. Trading McQuaid, a guy who has proven to be tough as nails and has become a core member of this team, is a move that would not be easy to make. But, from the business side of things, it's a foreseeable move considering the Bruins have a recent track record of trading guys the summer before or just before their contract is set to expire (Milan Lucic, Dougie Hamilton, Ryan Spooner).
How Do the Bruins Make It Work?
The Bruins currently have approximately $8.884 million in salary cap space to work with this offseason. In order to sign a top free agent like Carlson, Boston would need to shell out almost all of that money, and considering the salary cap pit left behind from the Peter Chiarelli era that the Bruins just climbed out of, signing Carlson under these circumstances clearly cannot happen.
In order to make this signing work financially and to allow the Bruins to still be comfortable as far as having some left-over money is concerned, the B's would need to trade one of their big contracts. As stated previously, McQuaid is a guy that is looked up to in that locker room, but he's one of the few players on this roster whose skillset is expendable yet still has significant trade value.
In an ideal scenario, Boston deals McQuaid to a team in the midst of a rebuild and in need of right-side defense, such as the Detroit Red Wings or Vancouver Canucks. In turn, Boston receives, at best, a third or fourth-round pick. It would not by any means be a haul for the Bruins, but it would give them that required salary dump to free up space to go out and sign Carlson.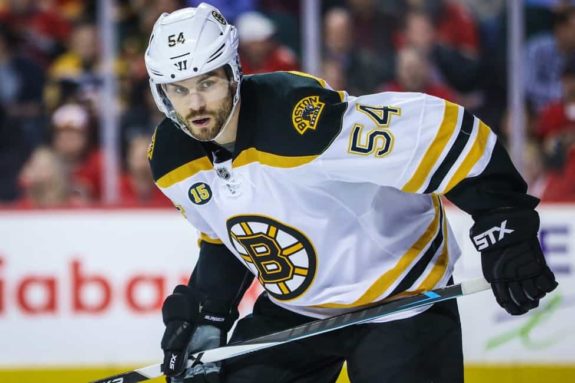 Outside of McQuaid, the Bruins could also opt to try and move a guy like Kevan Miller, but it makes more sense to move McQuaid given that Miller has an extra year remaining on his deal and is a tad bit more versatile in the offensive end. Danton Heinen, Ryan Donato, Noel Acciari, Anders Bjork, and DeBrusk are all making under $1 million next season, and the remainder of Boston's forward corps with the exception of David Pastrnak have no-movement clauses in their contracts. Boston is also too depleted at left defense to trade away any of their current rostered players such as Torey Krug or due-to-be RFA Matt Grzelcyk, so, the only realistic way that the Bruins could or would free up any sort of money this offseason would be by dealing McQuaid.
How Would Carlson Fit In?
If Boston were to trade either Miller or McQuaid and acquire Carlson (assuming Carlo is able to come back for the start of the season), the Bruins would still have four right-shot defensemen to fill three spots. Under the scenario where the Bruins deal away McQuaid, Miller is best suited on is his strong right-hand side as a primarily defensive-situational player. Boston could then opt to put Carlson on the top-pairing with McAvoy and shift Zdeno Chara, who will be 42 this time next season, down to the second pairing alongside Kevan Miller to help reduce the aged giant's minutes and get the most out of him in what could be his final NHL season.
Carlson has had his issues with pivoting while on his off-left side, but under a high-flying system that requires fast puck removal from the defensive zone and relies heavily on defensemen stepping up into the play for one-timers like Bruce Cassidy's does, Carlson could thrive in a black and gold sweater. Here is how Boston's defensive corps would look if this scenario plays into reality:
John Carlson – Charlie McAvoy
Zdeno Chara – Kevan Miller
Torey Krug – Brandon Carlo
Depth: Matt Grzelcyk (assuming Bruins retain him in restricted free agency)
Mike Flanagan is a freelance sports writer and multi-media journalist who covers the Boston Bruins and their prospects for The Hockey Writers. Mike often produces videos for the social media platforms of Barstool Sports' The Crease Dive and Spittin Chiclets podcasts and also serves as the sports editor for the newspaper Hometown Weekly. Follow Mike on Twitter at the above handle or on Instagram @flano0.