Kyle Topping
2017-18 Team: Kelowna Rockets (#24)
Date of Birth: November 18, 1999
Place of Birth: Ganges, British Columbia
Ht: 5'11" Wt: 185 lbs
Shoots: Right
Position: Center
NHL Draft Eligibility: 2018 first-year eligible

Rankings
In every draft class there are several players that are really easy to like but very difficult to love. By that, I mean that these players have a combination of several useful attributes that make them incredibly valuable to their clubs, but circumstances make it tough to determine whether they're a driver of their team's success. Kelowna Rockets center Kyle Topping is a very easy player to like, but given that he's playing on a very strong team stacked with NHL-drafted players it's difficult to judge if he's driving the team's success or just along for the ride.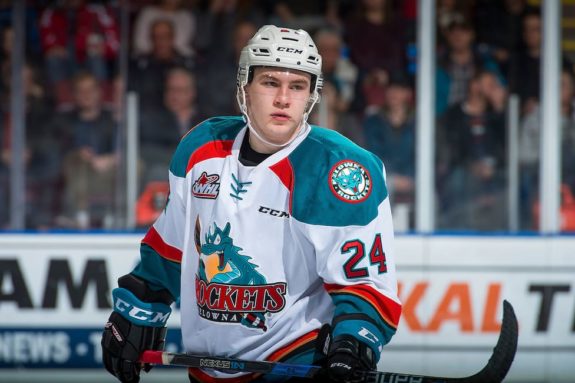 The things to like about Topping are myriad. He's a right shot center in a hockey ecosystem that can never seem to get enough of them. He's a rock-solid 200 foot player who plays a responsible brand of hockey in all three zones. There is absolutely nothing flashy about his game, but he's always in the right spot to take (or make) a pass or to disrupt the opposition's offensive chances. His older brother is Tri-City Americans overager Jordan Topping, so he's had the benefit of his sibling's WHL experience as well.
Scouts often use the phrase "can play with high-end players" to describe someone who's a complementary asset. Topping played a lot with one (or both) of Calgary Flames prospect Dillon Dube and Vancouver Canucks prospect Kole Lind for much of the season. Dube and Lind have established themselves as high end players at the WHL level that can drive play, and both were massive reasons for the Rockets' success. Topping's offensive production doubled from his rookie WHL season, but how much of that is his growth and how much is because of his excellent linemates?
It's no secret that the Rockets have been a breeding ground for high-end NHL talent over recent years – a glance at the past decade's worth of drafts reflects that. Topping is a very smart, effective hockey player who has the ability to play with high-end players and not slow them down. At worst, Topping projects as a reliable, depending complementary player that can slot in with skilled players. At best? The sky may be the limit.
Related: THW's 2018 NHL Draft Guide
Next season, once the likes of Dube and Lind graduate to the pros, it'll be much clearer whether he can develop into a high-end player in his own right. For this year's draft, though, that means there's some risk involved with selecting Topping too early in the proceedings. He's definitely a good player and will likely be a useful player at the next level because of the style he plays, but the possibility remains that Topping could end up being very good if the stars align for him.
Kyle Topping – NHL Draft Projection
Because of the unknowns floating around him, Topping likely projects as a fourth or fifth round selection in the 2018 NHL Draft. That said, if he can produce at the same rate (or higher) on his own next season then whatever team that drafts him could be getting strong value.
Quotables
"He's a good 200-foot player, he has real good speed, good offensive ability and plays in all situations. He's a smart player and kudos to him for how hard he's worked." – Lorne Frey, Kelowna Rockets assistant general manager
Kyle Topping came out flying in the first for Kelowna and despite some very solid play with the puck in the second, his play definitely looked propped by Kole Lind's speed game and Nolan Foote's offensive prowess. @FCHockey

— Justin Froese (@FroeseFC) December 10, 2017
Strengths
Effective passer and puck distributor
Strong on-ice vision and anticipation
Responsible two-way player
Very effective at winning face-offs
Under Construction (Improvements to Make)
Doesn't play a particularly physical game
Could stand to take a few more risks with the puck
Arguably doesn't have any "elite-level" attributes, but rather a collection of very strong ones
Other 2018 NHL Draft Profiles
NHL Potential
Topping projects as a third line center at the NHL level, though that projection could be revised should he continue to produce offensively in his Draft+1 season.
Risk-Reward Analysis
Risk – 1/5, Reward – 3.5/5
Fantasy Hockey Potential
Offense 8.5/10, Defense 8/10
Awards/Achievements
Topping has yet to win any major awards or represent Canada in any major international competitions.
Interview/Profile Links
Videos