After going 3-0 against the Lightning in the regular season, the Devils find themselves in a 2-0 hole and facing a must-win game when they host the Lightning at the Prudential Center tonight. They've shown signs of life in their first two games, but haven't been able to put a consistent 60 minutes together. With the Devils now on home ice, here are a few things they'll need to get back in the series. 
Can Schneider Give Devils a Lift in Net?
Entering the postseason, the Devils had plenty of certainty about who would be their starting goaltender. Keith Kinkaid was 9-1-1 with a .930 save percentage (SV%) in his last 12 games played of the regular season, so there was no doubt he'd begin the series. Unfortunately for him, things haven't gone as smoothly as they did at the end of the season. Although it's far from being solely Kinkaid's fault, he has just a .804 SV% in two games played, including giving up five goals on 15 shots in Game 2 before being replaced by Cory Schneider in the second period. 
Schneider, who has not recorded a win in the calendar year, looked sharp in his first action of the postseason. He stopped all 10 shots he faced, including this acrobatic save he made on Cedric Paquette in the third period.
CORY SCHNEIDER ROBS PAQUETTE WITH A TREMENDOUS GLOVE SAVE!#NowWeRise pic.twitter.com/RuJfGsMHnY

— Hockey Daily 365 (@HockeyDaily365) April 14, 2018
With the Devils in a hole and given Kinkaid's struggles, John Hynes will have a tough decision facing him ahead of tonight's game. While he wasn't willing to name a starter, he did acknowledge Schneider's play in relief.
"If you're asking me about Cory Schneider's performance tonight, he played very well," Hynes told Mike Morreale of NHL.com, "Cory has worked hard, he's a real important part of our team. It was good to give him an opportunity to get in there, and I thought he came in and made some huge saves, looked good, looked solid, so that's a positive for us moving forward."
Schneider's struggles are no secret to anyone close to the Devils. Coming into the postseason, he was 0-10-2 with a .863 SV% in his last 12 games played. On Saturday afternoon, it was the best he had looked in months. With the Devils' backs to the wall, and with them facing a critical game at home, he may get an opportunity to dig them out of a hole. If he plays the way he did in relief of Kinkaid, the Devils could find themselves right back in this series. 
Devils Need More Depth on Offense
In my series preview, I wrote about how the line of Miles Wood, Pavel Zacha, and Patrick Maroon would need to come up big for the Devils. Through two games, they've done little to help the team on offense — the Devils have been out-attempted 9-20 and out-chanced 3-12 with them on the ice. They've also generated only one high-danger chance, which is not good enough for what is supposed to be the second scoring line. 
There isn't any other way around it — the Devils will need a lot more from their second line if they want to get back into this series. The question now is if these three should remain together. With the margin for error so thin at this point in the season, John Hynes will have to find a quick fix.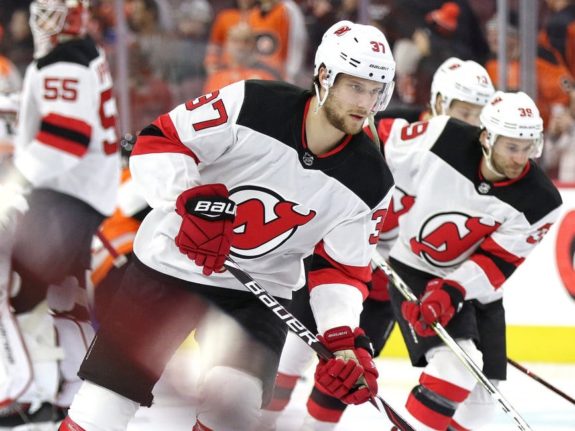 One option he has at his disposal is to reunite Wood and Zacha with Kyle Palmieri. They only logged 78 minutes together at five-on-five this season, so it's no guarantee it will work in the postseason. That said, their results together are much better than what they're currently getting from their second line — the Devils had a 54.9% Corsi (CF%) and out-chanced their opponents 43-41 with them on the ice. 
If the Devils are going to move Palmieri down to the second line, that means he'll no longer be with Nico Hischier and Taylor Hall. Even though he's played well with those two all season long, the Devils do need to find some balance on their scoring lines. Fortunately, Maroon has been a valuable addition to the Devils and has shown the ability to score a bit. He also has some experience playing alongside Connor McDavid in his time in Edmonton, so if the Devils were to play him with Hall and Hischier, it could work and help give them some more depth in their top-six. 
Devils' Defense Has to Tighten Up
One of the main issues for the Devils in the first two games has been their defense. For a team that's given up 10 goals in two games, you wouldn't have expected them to have outshot the Lightning 75-57. However, they've been out-chanced 39-55 at five-on-five, including 8-15 in high-danger chances. Considering the Lightning have the highest scoring offense in the league, the Devils can't afford to be out-chanced by that margin if they want to make this competitive. 
To help limit scoring chances against, the Devils will need better play from their second pair. In game one, John Moore and Mirco Mueller were out-attempted 12-18 and out-chanced 2-6. Hynes decided to mix things up in game two by playing seven defensemen but gave most of the second pair minutes to Damon Severson instead of Mueller. Severson and Moore posted slightly better numbers — they were out-attempted 7-12 but did break even with six scoring chances for and against when on the ice.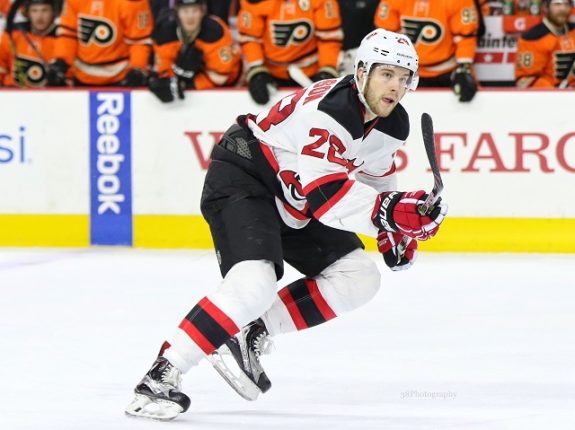 The Devils have been getting killed by the Lightning's second line, and with Andy Greene and Sami Vatanen matched up against the Stamkos' line, this is where they'll need their second pair the most to help limit Brayden Point and his linemates. The Devils do have the last change, since the series now flips to New Jersey, so that should also help Hynes get some more favorable matchups and could help their defense make some improvements. 
In addition to their struggles at five-on-five, the Devils penalty kill hasn't been able to get the job done. The Lightning were three-for-five on the power play in the first two games and had an easy time finding the back of the net. Against a power play as lethal as Tampa Bay's, the Devils will need to stay out of the box as often as they can. Undisciplined penalties have been an issue for them in the first two games. If they can clean that up, as well as limit the Lightning's offense at five-on-five, they'll have a much better chance of making this a series.
  *    *    *
Advanced stats from Natural Stat Trick