There were many times this season where it appeared that the Carolina Hurricanes defense loafed on goaltender Scott Darling. More times than I can recall I read fans voicing their observations that said, "The defense is hanging Darling out to dry." To be honest, at times it did look like the effort being expended on the ice when Darling was in-between-the-pipes was not nearly as intense as it was when Cam Ward was in-goal. But, did they really loaf when Darling was playing?
The Hurricanes held their end-of-season media availability with the players and owner Tom Dundon on Monday, April 9. I had a few moments with the team co-captain Justin Faulk, so I asked him point blank if the blueliners were loafing on Darling.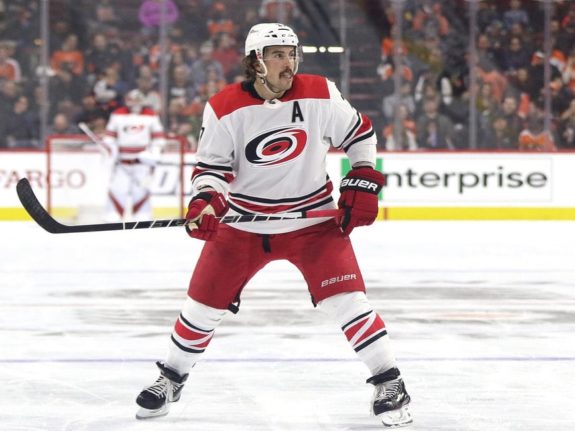 Did the Hurricanes' Defense Loaf on Darling?
Faulk gave a very thoughtful answer and said,
Everyone struggles. It's not like we're perfect and can say we don't have off nights, we' don't have bad games. There's no one in this room that can say they played their game every night. It's not really possible for 82 games. You can be the best player in the league and still have frustrating nights and nights where you look like you can do anything.
Obviously, Faulk is right. Every player in every sport has times when they do not play to their full potential. But, in the case of Darling, it seemed like most of his games could be placed under the heading of, "off nights." At times he was just awful.
A lot of his struggles seemed to be mental, where he just could not find his groove. He proved in Chicago that he can play, but something happened when he got to Raleigh that he never recovered from during the entire season. It did not help that at times it seemed like his teammates on defense had abandoned him.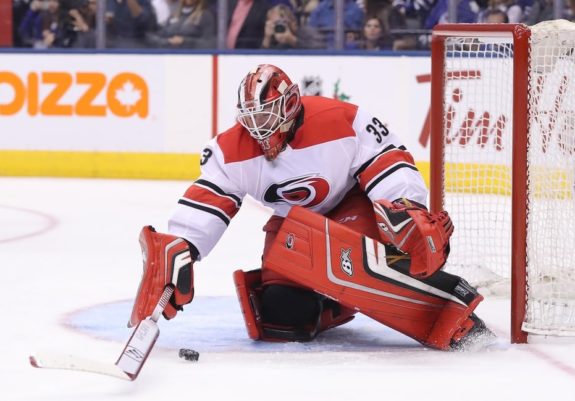 Regarding when his goaltender struggles Faulk said, "When struggles happen, especially as a defender you can't sit there and be like, 'Oh. It's frustrating I think because realistically, the chances they [goalies] give up, how many times did they save us?' We've given up chances and there are breakdowns that happen. Like I said, especially for a defenseman, you want to be comfortable and hope that they're going to make the save. But, their job is essentially to save you, it's your mistakes they're trying to cover up. You can't sit here and get mad at goalies and blame goalies when they cover our behind more times than we can imagine."
And just like that Faulk absolved Darling of all responsibility. The adage that, 'They had to get through five other players to get to the goaltender' comes to mind. There is a lot of truth in those words, but the fact remains that some goalies play well, some play at an elite level, some are average and some play horribly.
Whether or not the Hurricanes defense consciously let their effort drop when Darling was in-goal is something we will likely never know. Faulk says no, the defense can't point fingers at goalies. If they had done what they were supposed to then the goalie would not be in the position to have to try to make a save.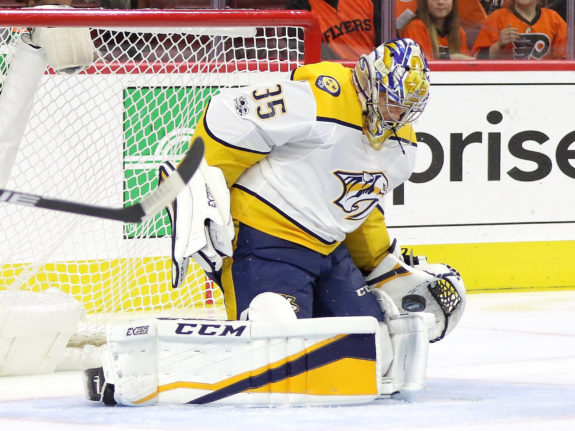 That is true in theory. But, looking at guys like Pekka Rinne shoots holes in that theory. It is normal to expect one's goalie to make saves, at least the ones that everyone watching thinks should be made. Darling let far too many pucks go by that a consensus would agree he should have saved. The expectation for Darling is not to be the next incarnation of Rinne, but to be a goalie that plays well. His being in-goal should not incite a feeling of, "Oh no" every time the opposing team gets inside the Hurricanes' zone.
Darling has an entire offseason to get his game together. No matter how nice Faulk is and how much criticism he withholds, if Darling does not improve, we'll be interviewing the players in April again, and nobody wants that.