Wyatte Wylie
2017-18 Team: Everett Silvertips (#29)
Date of Birth: November 2, 1999
Place of Birth: Everett, Washington
Ht: 6'1″ Wt: 192 lbs
Shoots: Right
Position: Defenseman
NHL Draft Eligibility: 2018 first-year eligible

Rankings
In seemingly every draft class, there is a prospect that is almost entirely off the radar to begin the season that rockets up the Central Scouting rankings by the end of it. Everett Silvertips defenseman Wyatte Wylie began the 2017-18 season in relative obscurity as a depth player for his Western Hockey League club, but he ended it with a ton of momentum and a fair amount of buzz surrounding his draft prospects.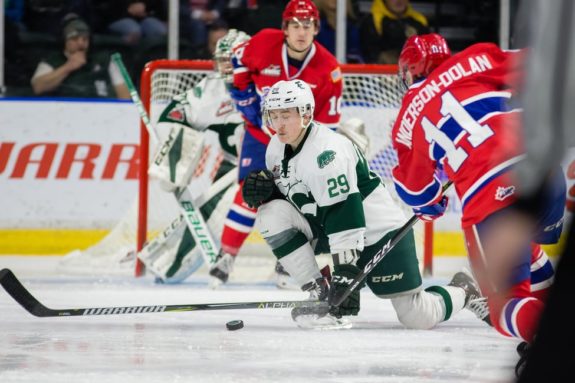 There's a lot to like about Wylie's game. An Everett native selected in the 2014 WHL Bantam Draft by his hometown team, he made his debut in the 2016 playoffs and has missed just one game in his two seasons as a full-time WHL player. After a fairly unremarkable rookie season that saw him accumulate 10 assists, he improved significantly on his offensive output in 2017-18: he had 6 goals and 31 points. However, much of Wylie's offensive outburst was seen in December and January, two months where he combined for 16 points in 25 games. His production throughout the rest of the season was still improved from his rookie output, but more of a moderate increase.
Wylie's bread and butter is his defensive game. Simply put, at the WHL level he's established himself as a reliable, responsible two-way defender. He has effective mobility and skates well, but he's elevated by his superb defensive awareness and ability to anticipate offensive attacks from the other team. He uses his size well, and just seems to know where to be in his own zone to minimize enemy offensive rushes. He's also not afraid to block shots.
His offense is more of a work in progress. His contributions with the puck this past season were sporadic – he went through stretches where everything went in (December and January) and ones where he fought the puck a bit (the rest of the season) – and the key to future success will be finding some consistency in that area. He's a player that's played a safe, simple game at the WHL level thus far and has to seemingly learn to be comfortable taking a few risks (and being a bit uncomfortable) with the puck. If he can channel the confidence he has in his shutdown game into the offensive side, he'll make some progress.
Related: THW's 2018 NHL Draft Guide
An improved offensive performance in the second half of the season saw Wylie shoot up the Central Scouting North American skater rankings from 179th to 71st. He's a reliable, responsible shutdown defender who performed very well in the WHL playoffs. His offensive game is a work in progress, but he's shown signs during this season that he may be ready for a breakout.
Wyatte Wylie – NHL Draft Projection
Drafting Wylie in the fifth round is betting on some moderate offensive growth in the future. Drafting Wylie in the seventh round is betting on the shutdown defender that he already is. He'll probably go somewhere in that range, most likely sometime in the sixth round.
Quotables
"Named the Silvertips' Ironman and Most Improved Player, Wylie has missed just one game since coming into the league last year as a 16-year-old. He plays a tough, grinding, physical game and is just starting to show his offensive upside. A pro mentality in how he works on and off the ice, Wylie grew up playing most of his minor hockey in Everett. " – Sam Cosentino, Sportsnet
#WHL: RHD Wyatt Wylie bangs home a nice centering feed from Connor Dewar to give Everett a 1-0 lead over Swift Current. Physical kid has a lot of tools. One of the hardest passers you'll see among draft-eligible defensemen. pic.twitter.com/vnZvnoy4Fu

— The Draft Analyst (@TheDraftAnalyst) May 12, 2018
Strengths
Good situational awareness in the defensive zone
Uses size effectively
Effective passer
Great work ethic
Under Construction (Improvements to Make)
Could stand to take more risks with the puck to create offense
Needs to shoot more often
Needs to work on his consistency
Other 2018 NHL Draft Profiles
NHL Potential
Wylie projects as a second or third pairing shutdown defender.
Risk-Reward Analysis
Risk – 1/5, Reward – 3/5
Fantasy Hockey Potential
Offense 7.5/10, Defense 8.5/10
Awards/Achievements
Wylie has yet to represent the United States at a major international event or capture a major award or trophy.
Interview/Profile Links
Videos