Vladislav Yeryomenko
2017-18 Team: Calgary Hitmen (#8)
Date of Birth: April 24, 1999
Place of Birth: Mishutki, Belarus
Ht: 6'0″ Wt: 176 lbs
Shoots: Right
Position: Defenseman
NHL Draft Eligibility: 2018 second-year eligible

Rankings
Having additional viewings and a wider array of situations to judge a player on can make a big difference for their reputation come draft time. For Calgary Hitmen sophomore blueliner Vladislav Yeryomenko, a second solid season in the Western Hockey League might end up getting him drafted into the National Hockey League. An import from Belarus who was eligible for selection last year (but not chosen), Yeryomenko's progression and larger role on a rebuilding Hitmen roster has probably won him some fans in the scouting community.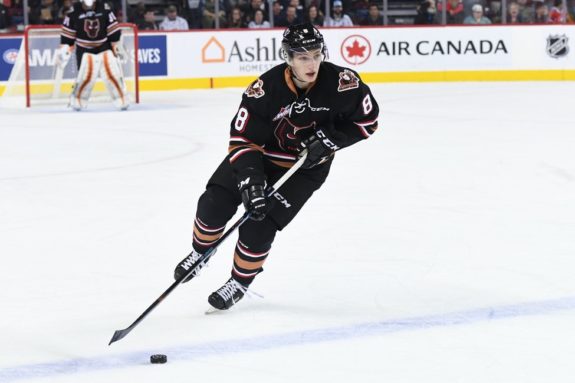 In his first season with the Hitmen (2016-17), the club was pushing for a playoff spot and had a fairly deep roster. As a result, he was given a lot of opportunities to succeed by then-head coach Mark French: lots of offensive zone face-offs, power play time and relatively easy match-ups. He showed some offensive promise, but the sheltering made it difficult to see him in different situations or see how he was able to work through adversity throughout the season. He was ranked 95th among North American skaters following his first season in the Dub, but wasn't selected at the 2017 NHL Draft – scouts were likely a bit concerned about not seeing him in a lot of different situations, as well as dissuaded by his small North American sample size. He was invited to Toronto Maple Leafs camp, but wasn't able to attend due to visa complications.
In his second season with the Hitmen (2017-18), the team was in flux and was without star blueliner Jake Bean for much of the season – he was at Carolina Hurricanes camp, then the World Juniors, then was traded to Tri-City at the WHL trade deadline. His absence, along with the hiring of a new coach (Dallas Ferguson) with new philosophies really put an emphasis on Yeryomenko throughout the season. He was much less protected and, as a result, his warts were out in the open for all to see. But because he was put in new, challenging situations, his game managed to adapt and grow throughout the season. By the end of the season, he was likely the best Hitmen offensive defenseman and one of their more well-rounded players overall.
Yeryomenko can be a fun, exciting player to watch. At his best, he's a very adept offensive defenseman. He's got good foot-speed and reads defensive coverage well, to the point where he's like a fourth forward at times when he joins the offensive rush. That awareness translates really well on the power play, where his mobility and passing does a great job opening up lanes for his teammates; he often wanders around the perimeter of the zone rather than staying stationary. The weaknesses of his game tend to be defensive: he relies on positioning rather than physicality to defend, and he occasionally struggles to keep pace with fast offensive attackers. His play along the boards is improving, in terms of using his frame effectively to protect or steal the puck, but still needs work.
Related: THW's 2018 NHL Draft Guide
Because of his age, Yeryomenko has a slightly shorter developmental runway than many of the other 2018 NHL Draft prospects. That said, he's emerged as a talented offensive prospect within a short period of time in the WHL. If he can continue to develop and round out his game with a bit of attention to the physical side and his defensive zone play, he could be a strong value pick in the mid-to-late rounds of the draft. If he can become merely an average player away from the puck, his offensive prowess could pay some dividends down the road.
Vladislav Yeryomenko – NHL Draft Projection
Yeryomenko could be selected as early as the late third round or as late as the sixth round. He still has a fairly limited sample size in North American hockey, but his performances in the latter half of this season provided clarity regarding where the holes are in his game. Teams that are really optimistic about his offensive game translating to the pros might try to jump on him early.
Quotables
Vladislav Yeryomenko of the Calgary Hitmen is really starting to grow on me as a second-year eligible. Plays a smart game with bits of flash

— Derek Neumeier (@Derek_N_NHL) November 5, 2017
Strengths
Good situational awareness in offensive zone
Effective puck distributor
Good decision-making in terms of risk-taking with puck
Quick, accurate wrist shot
Under Construction (Improvements to Make)
Doesn't play particularly physical
Can be caught flat-footed by speedy attackers
Attention to detail in the defensive zone needs improvement
Other 2018 NHL Draft Profiles
NHL Potential
Yeryomenko projects as a second or third pairing offensive defenseman. He could also prove to be useful on the power play, as long as his shooting and puck distribution continues to develop.
Risk-Reward Analysis
Risk – 1/5, Reward – 3/5
Fantasy Hockey Potential
Offense 8/10, Defense 7.5/10
Awards/Achievements
Yeryomenko has represented Belarus prominently in recent years. He represented them in the Division 1 Under-18 Worlds, earning them a promotion to the top division. He returned for that tournament, which saw them finish outside of the medals but avoid relegation. He played for Belarus in the Division 1 World Juniors and again led them to a promotion to the top division, though they were relegated back to Division 1 when he returned for a second World Juniors appearance.
He also scored the goal that triggered the teddy bears in the Calgary Hitmen's famous 2017 Teddy Bear Toss game, leading to over 20,000 bears falling on the Saddledome ice.
Interview/Profile Links
Videos